Guest Post: Stages of transforming teaching and learning with technology

February 21, 2013 08:52 pm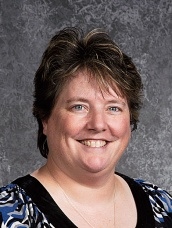 This guest blog post comes from LeAnne Wanger, Teacher Librarian at Bettendorf High School in Bettendorf, Iowa. 
So your district has approved a 1:1 initiative for your building. The device is chosen, the financial part of the equation is solved, and you're a week away from handing every student a device that you are hoping transforms the way they learn and the way your teachers teach. Simple, right?
Not so fast. While the arguments for the use of technology in education have all been made, sometimes what is not taken into account is the reaction of the people who are most instrumental in making this "transformation" occur and how to support those who will ultimately be implementing the technology. Teachers are being asked to create lessons that will encourage critical thinking skills, have real-world implications, and will motivate students to become lifelong learners. How do we help teachers deal with the myriad of emotions that will result from this type of implementation?
As we began our 1:1 iPad implementation, patterns of behavior started to emerge. Staff members were experiencing a variety of emotions and reactions to the change we were requesting. How we handled it was going to determine the relative success of our implementation. Elizabeth Kübler-Ross described in her book 
Death and Dying
 five stages of grief: Denial, Anger, Bargaining, Depression and Acceptance. She suggested that people who are grieving will experience a number of emotions as they deal with a significant change in their life. Every person, she writes, will deal with this grief in their own way but there will be some commonalities.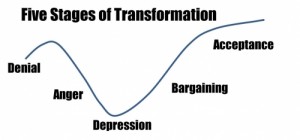 This is not to suggest that the emotions and feelings teachers experience when implementing a 1:1 initiative are akin to the reaction to the loss of a loved one. What I am suggesting, however, is that when administrators, teachers, and even students are asked to make this type of change, recognizing these reactions will aid in providing a support system to minimize the negative impact and create a positive progression toward the common goal, the transformation of teaching and learning.
Stage 1—Denial
What is wrong with the way I teach?
I'm an effective teacher, why should I change?
Adding a computer to my classroom isn't going to help my students as much as lower class sizes.
My methods have been working for years.
If it isn't broke, don't fix it.
I must prepare my students to take standardized tests, how will I do that with a computer?
My students are some of the best performing students in school, why should I change the way I teach?
Veteran teachers usually adopt the teaching strategies and methods that worked best for them as students. Not all of those practices included technology as an integral part of the instructional design. In addition, teachers are professionals that have worked on their craft for years, adjusting their lessons, adding and subtracting information, working with students and parents to give their classes the best chance to succeed. They take pride in the way they deliver information and how they interact with students.
Let's face it: people who choose education as a path in their life have passion for the subject they teach and they enjoy helping young minds discover the same excitement they felt when going through school. Talk to any teacher and they will relay a similar story as to why they decided to enter the profession. Learning, for them, is a lifelong skill and something they enjoy. It is crucial that administrators and technology integrationists capitalize on the fact that teachers will do what is in the best interest of their students. Given enough time and support, teachers will blossom in this environment.
Stage 2—Anger
Just what I need, an administrator coming into my classroom and telling me what is best for my students.
This is one of those educational phases, it will eventually go away.
I am the one who spends every day with my students.
Administrators have forgotten what it is like to be a teacher. 
Why don't we spend the money on more teaching power?
I refuse to spend my own time to revamp my curriculum when I don't think it is necessary.
These feelings are natural and should be expected. Teachers must have the ability to voice their concerns and be reassured that administrators recognize the type of change that will be required. It is important that concerns like these are acknowledged. It would be easy to attribute this type of reaction as evidence teachers are too old to change, stuck in their ways, or just whining.
Stage 3—Bargaining
If I am expected to change the way I teach, you need to take something away. I don't have time to do it all.
We are going to need better support from administration on discipline issues that will occur because of the devices.
I would be ok if we were using a laptop but I don't see how an iPad will work in my classroom.
Something has to give—I don't have time to learn all of these new programs and applications. Are we going to get paid for our time?
Instead of giving me 5 tools I can use, tell me which tool to use so I don't have to waste my time learning something I don't need.
This stage is marked by a feeling of helplessness or powerlessness. Teachers are used to being in control of their own classroom and with the integration of technology and the changing instructional paradigm, some or most of that control is transferred to the students. This is a difficult concept for both teachers and students. Teachers are used to being that "sage on the stage" and now they are being asked to be more of a facilitator or a "guide on the side." Some students also have difficulty at this stage because they are used to the teacher disseminating information and now they are being asked to not only find information but to apply that information and creatively display their understanding. In order to gain back some of that control, teachers will try and make the situation more tolerable and work toward their advantage.
Stage 4—Depression
I am never going to be ready.
There is no way I will get through the content that I am supposed to now.
How will I ever be able to troubleshoot a device I don't understand myself?
My students will know more than I do! I will be embarrassed.
How will I ever have time to learn all of the applications that are available?
This stage is summed up in one word: overwhelmed. Teachers are professionals that have dedicated their life to helping students learn. This internal drive causes pressure and a feeling of inadequacy and ineffectiveness that teachers will see as out of their control. They realize that technology integration will be worthwhile but are doubtful of their ability to be effective.
Stage 5—Acceptance
How did I ever teach before?
I feel rejuvenated—I can't wait to get to work in the morning.
I can't believe what my students are capable of doing.
Did you see this project my students created?
I can't imagine my classroom without technology.
How can I share my students' work with my colleagues?
This stage is marked by a rejuvenation of spirit and mind. Teachers and students alike are thinking and creating "out of the box." Classrooms are a buzz of activity with teachers and students collaborating in all parts of the learning process. Creativity and critical thinking are common place in the classroom.
Support
Professional Development is crucial in this process. Try to create a scenario where the professional development opportunities are consistent, flexible, and differentiated.  Consistency is essential. There must be assurances that professional development will be offered throughout this process and at a variety of times, places and paces. Support must be present at all times so teachers do not feel like they are stranded on a desert island. Professional development should not end when the devices are handed out, rather those opportunities should increase and focus changed to a deeper integration.
Flexibility is also important as you will want to do a number of different types of sessions; individual work, small group and even large group. There will be times where teachers will want to work on their own but there also needs to be an avenue to seek out colleagues that they would be able to learn from and not feel intimidated or embarrassed. Small or large, content or interdisciplinary, a mix of groups are important as ideas are shared among colleagues and an individual teacher who needs to have a little more attention can feel that they are not alone in their learning process.
Differentiation is a key component. Just as classroom instruction needs to be able to reach all types of learners, professional development offerings need to address all types of learners as they will be at different levels on the technology spectrum. The professional development system should support all levels of technology proficiency and at the same time allow for growth.
Involve new and veteran teachers in the professional development program. Use a "train the trainer" model and have members of the teaching staff receive additional opportunities so that they can turn around and help to "tutor" their colleagues. As members feel more comfortable in their role as a peer coach, expand the number of trainers to offer even more resources for staff to rely upon. Teachers will seek out assistance from peers that they trust and have a collegial relationship with, therefore the more staff you involve in this model the better.
Celebrate the current successes while pushing the bar higher. Find those "pockets of excellence" in your building and share them with others. Use a variety of staff to present examples of innovative lessons at department /building meetings or include examples in regular newsletters/announcements to staff. The more exposure to innovative examples of integration a teacher has, the more comfortable they will become and the easier it will be for them to take a risk and try something new. Successful innovation is contagious.
Teachers need time to be able to learn new tools, talk with each other, and plan for the use of technology in their classroom. Carving out specific, dedicated times for these conversations to take place is integral to the transformation of teaching and learning with technology. If possible, combine mandated or required activities with the professional development that is dedicated to technology. When that is not possible, protect the meeting times that are dedicated to technology. Staff must be assured that they will have time to discuss, plan and experiment when it comes to implementing technology.
Patience and Encouragement
Encourage teachers to step out of their comfort zone. Make it clear from the beginning that it is ok to have a "failure" when trying something new. Create a risk-friendly environment where teachers are comfortable stepping out of the norm and potentially having a lesson fail in the first attempt. These experiences are opportunities for growth and should always be encouraged.
Administrators and students may also go through some of these stages. For example, many times students expect to be spoon-fed information because it is easy for them to sit through a lecture but it takes effort to be involved and engaged in the lesson. Administrators, like teachers, were often taught in a more traditional setting. It can be difficult for an administrator to visit a classroom and see multiple conversations happening at once, students out of their seats and a feeling of organized chaos. Regardless of who is going through the stages, there is no correct path, only a desired destination…transformation of teaching and learning.
LeAnne Wagner is the Teacher Librarian at Bettendorf High School  in Bettendorf, Iowa. Bettendorf is in year 1 of a 1:1 iPad implementation. You can also follow her on Twitter at @BHS_TL.