Great Expectations: How Can the Higher Education Act Support the Development of Well-Prepared and Effective Teachers?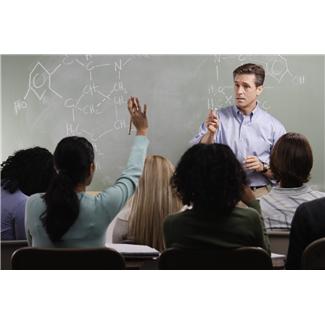 As states continue the process of implementing higher standards for students, so too must they implement higher standards for what is expected of teachers. Teaching is a complex profession that requires an extensive and diverse set of skills. Teachers must create classroom environments that are respectful, well-managed, nurturing, engaging, and provide all students with ongoing opportunities to develop the skills needed for success in college and career. This is no small undertaking.
It also has great consequence. According to a 2012 Rand report, a teacher is estimated to have two to three times the impact of any other school factor, including services, facilities, and even leadership, on student performance. Given this impact, it is critical that teachers enter the profession on day one prepared to meet the needs of all of the students in their classroom.
Unfortunately, students of color and students from low-income families are often taught by teachers who are ill-prepared for the challenges of the classroom. According to the U.S. Department of Education's most recent Office for Civil Rights Data Collection, schools with the highest African American and Hispanic student enrollment are nearly twice as likely to employ teachers in their first or second year of teaching as compared to schools with the lowest enrollment of African American and Hispanic students.
Additionally, many American schools tend to offer a two-tiered curriculum and instruction in which students who are primarily low-income and students of color focus almost exclusively on basic skills and knowledge. Meanwhile, primarily white and relatively affluent students have opportunities for content mastery, as well the ability to develop the crucial competencies of critical thinking, problem solving, effective communication, and collaboration. In order to increase student access to this type of learning and competency-development, it is critical that all teacher candidates are fully prepared to provide opportunities to develop these skills in their classroom.
As Congress prepares to reauthorize the Higher Education Act (HEA), which funds programs that prepare the nation's teachers, there are number of recommendations for ensuring that these programs reflect the complexity and rigor required of effective teaching. Through HEA, teacher preparation programs should:
Strengthen teacher capacity to implement standards for college and a career and develop student acquisition of twenty-first-century competencies, including strong content knowledge, critical thinking, complex problem solving, effective communication, and collaboration.
Provide extensive opportunities for teacher candidates to acquire the skills necessary to enter classrooms fully prepared, measured in part by full completion of a rigorous program that includes significant clinical experience.
Encourage the use of the edTPA (Teacher Performance Assessment) upon program completion to assess how well prospective teachers are able to engage learners, assess knowledge and skill development, and provide feedback to enable learners to develop increased skill in directing their own learning.
Provide ongoing opportunities for teachers to develop the skills needed to implement and fully utilize a comprehensive set of student assessments.
Encourage preparation program alignment with the Council for the Accreditation of Educator Preparation (CAEP) standards.
Provide opportunities for teachers to develop culturally relevant competencies and strategies for teaching diverse learners.
Provide teacher candidates with opportunities to develop instructional strategies for meeting the needs of diverse learners, particularly English Language Learners and students with disabilities.
Increase opportunities for teacher candidates to participate in professional learning communities or other opportunities for collaboration.
Teacher-preparation programs have a responsibility to raise the bar on what is expected of teacher candidates, and in turn, what is expected of programs themselves. All programs must provide teacher candidates with the full preparation and support necessary to meet the expectations of the students for whom they will be responsible for teaching. This is the only way to ensure that all students have access to an effective teacher – each and every day.
The Alliance's complete HEA recommendations are available at https://all4ed.org/wp-content/uploads/2014/06/HEARecs1.pdf.

Jessica Cardichon is senior director of policy and advocacy for high school reform at the Alliance for Excellent Education.
Categories:
Uncategorized