Govs. Huckabee and Engler Praise Common Core State Standards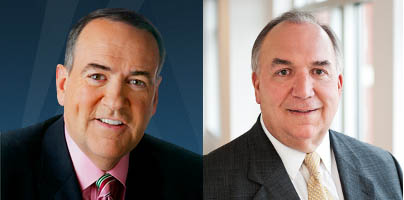 Amid misinformation campaigns against the Common Core State Standards, former Republican governors Mike Huckabee (Arkansas) and John Engler (Michigan) repeatedly praised the Common Core State Standards as good for the country and rebutted criticism of the standards during a May 1 radio broadcast of the Mike Huckabee Show.
Saying that education standards were "near and dear" to his heart, Huckabee noted that the Common Core State Standards were "very carefully thought through" as a way to "elevate education in the country."
Pointing to the need for the Common Core, Engler, who is current president of the Business Roundtable, an association of chief executive officers of leading U.S. companies, noted that far too many of the nation's students are not currently reading at a proficient level. "If anyone wants to dumb anything down, I think they've already succeeded," Engler said. "What I'm trying to do is reverse the trend."
Throughout their conversation, Huckabee and Engler repeatedly stressed the state-owned nature of the Common Core State Standards, making clear that the federal government was not involved in their development. And, as Engler noted, conversations about the standards were already going on when "Barack Obama was a senator from Illinois."
At the time, he said, governors and state leaders were talking about what they could do together to raise standards. "Not a Washington solution, but a voluntary effort on the part of the leaders of the states," Engler said. He also noted that states and school districts will determine how they want to teach kids, what curriculum to use, and which textbooks to use.
And, to drive the point home even further, there was this exchange:
Huckabee: "I think there are people who think Common Core standards are an imposition of federal law and it forces every school district and every state to have to conform to some government mandate from above and that's really not at all what common core is about…"
Engler: "There's no federal law on Common Core State Standards. None whatsoever. Can't be found. Doesn't exist."
Huckabee then addressed the Republican National Committee's (RNC) recent decision to pass a resolution against the Common Core State Standards.
"The Republican National Committee of all places, they got into this," Huckabee said. "They were worried about the influence of a large private organization. Who are they talking about? The National Governors Association? Thirty of those governors are Republicans today. These are voluntary actions on the parts of governors and states.
"It is disturbing to me that there have been criticisms directed by the RNC," Huckabee continued. "I'm thinking that is very short-sighted. It would have been nice if some of the people from the RNC talked to a number of Republican governors and gotten a perspective."
Both former governors saw the Common Core State Standards as a way to reduce the large number of high school graduates who have to take remedial courses in college. "You don't want to find out when you take the SAT test that, gee, my score isn't going to get me into college at all," Engler said. "I got an 'A' in the class, but I didn't learn anything."
Huckabee agreed. "Some kid takes his parents' money, goes to college, spends a fortune, gets there and finds out he's not prepared to even enter the freshman class, has to be remediated, which means his folks are going to be paying university prices to repeat high school education that he was supposed to get for free. It just doesn't make any sense."
In discussing why business cares so much about the Common Core, Engler noted that the innovation driving successful companies requires them to have the best people. "When I was governor, I used to say, 'the state with the best schools wins,'" Engler said. "[For companies], the [one] with the best workforce, with the most talented engineers and scientists, [is] going to win. When you're competing globally, you have to have that talent at your disposal. If it isn't here locally, you have to go somewhere else."
Engler also tied the performance of today's students to the future of the nation's economy. "What is the future for a country if 25 percent of its young people don't even finish high school and are walking around without any skills?," he asked. "Then you say it's no wonder that food stamp rolls are rising and we have people in prison."
Huckabee finished the interview with a direct message to parents to support the Common Core State Standards. "I hope that parents and people involved with their local schools will let it be known that core standards are valuable and they're not something to be afraid of, they're something to embrace."
The complete interview is available at here.
Jason Amos is Director of Communications at the Alliance for Excellent Education.
Categories:
Uncategorized