Governors Call Education the Key to a Strong Economy and Better Lives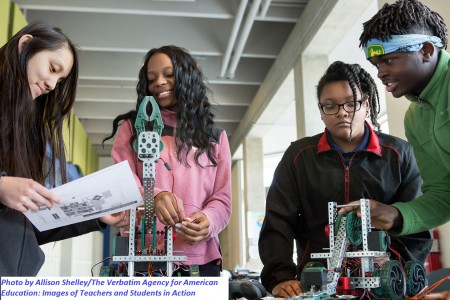 What better way to wrap up the 2018 state of the state addresses than to focus on governors calling education the key to a strong economy and a pathway towards better lives for Americans?
Governors in Oregon, Tennessee, Illinois, Pennsylvania, and Arkansas focused on the connection between education and the workforce and emphasized the importance of career and technical education, apprenticeships, and partnerships with local businesses during their recent state of the state addresses.
Oregon: Gov. Brown Says Key to a Better Life is "Education, Education, Education"
In her state of the state address, Oregon Gov. Kate Brown (D) added a personal touch by sharing a story about her grandmother, who taught her children that "the key to a better life was education, education, education." Brown shared that this mantra is founding principle of a new program, announced during her remarks, called "Future Ready Oregon."
The goal of Future Ready Oregon is to "close the skills gap between the workforce we have and the workforce we need to fuel Oregon's economy," explained Brown. The Portland Tribune reports that the project would earmark $300 million to career and technical education, with the goal of "making hands-on learning programs available at every public school district in the state."
The program would include apprenticeships for in-demands jobs areas in growing fields including:
advanced manufacturing
bioscience
energy, solar, and wind
healthcare, and
information technology
Brown emphasized that not all jobs in these fields require a college degree, and if adequately prepared, students could be filling these positions after graduating from high school.
"We must understand that not every student is headed towards a four-year college degree," said Brown. "But if we arm students with marketable, in-demand skills, and a plan to use them, we light the path toward graduation and a good job."
While Brown highlighted that post-secondary degrees may not be part of every students' plan for success, she did stress the importance of a high school diploma as a necessary step and jumping off point.
"Today, every student's future begins with a high school diploma and a plan for their next step," she said.
Tennessee: Gov. Haslam Connects Job Success to Education
In his state of the state address, Tennessee Gov. Bill Haslam (R) drove home the strong connection between education, jobs, and the success of the state.
 "I want to be really clear – when we talk about jobs, we are also talking about education. We are talking about the ability for every Tennessean to fully realize his or her potential… when we talk about education, we are talking about the very future and success of Tennessee," said Haslam.
Haslam called Tennessee a "change agent" and "innovator" in the public education space, citing academic gains and progress on reform. Haslam emphasized that Tennessee "has not compromised" on core principles around high standards, assessments that measure those standards, and educator evaluation tied to assessments.
He urged Tennesseans not to "back up" on progress. "Not now. Not this year. Not next year. Not ever."
Haslam's goal? To ensure that "no matter how much money a family has, and no matter what neighborhood a child grows up in, every student will have an opportunity to learn."
Quick Highlights
 Arkansas Gov. Asa Hutchinson (R) highlighted the state's approach to preparing students for the workforce during his state of the state address. He said that "education is key to a strong economy," and mentioned efforts to expand computer science education to all public high schools and teaching all students to code, noting that Arkansas is a "leader among states in computer science education."
Illinois Gov. Bruce Rauner (R) explained that the key to job creation is "education and training" as part of his state of the state address. Rauner cited increased funding for K-12 schools as one of the steps designed to prepare students to be "prosperous participants in the 21st century workforce," so that when jobs are created, "Illinois' young people will be ready to fill them."
Pennsylvania Gov. Tom Wolf (D) called for a significant investment in career and technical education opportunities in his state of the state address, to "help make Pennsylvania a better place to learn, a better place to work – and a better place to do business." He noted that preparing students for success in today's economy is "the single best way to help Pennsylvania businesses grow – and attract new businesses."