Gov. Wise Celebrates a West Virginia PROMISE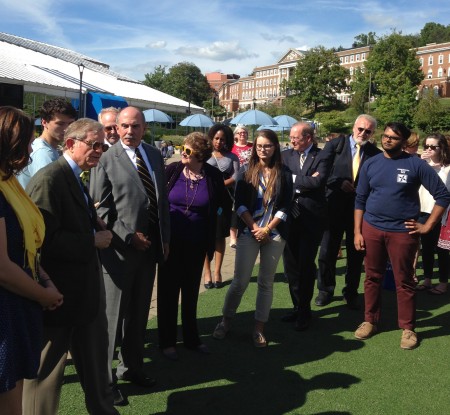 This week, Bob Wise, former governor of West Virginia and current president of the Alliance for Excellent Education, celebrated the fifteenth anniversary of the funding of the PROMISE scholarship, signed into law by Wise during his first year as governor. The PROMISE scholarship is a state-sponsored, merit-based scholarship program that enables eligible West Virginia residents to attend any public or private college or university within the state. Wise, West Virginia University (WVU) President Gordon Gee, and several current and former PROMISE recipients gathered on Tuesday for a roundtable discussion and cake-cutting celebration at WVU to mark this milestone anniversary.
Wise shared some reflections after the event:
This anniversary celebration reminded me of how inspiring young people are. These young scholarship recipients come from different backgrounds, many are from low-income families, and this financial aid opportunity is giving wings to their dreams. One of the most important things we can do for West Virginia students is to provide them with every opportunity to succeed. That was my primary goal for fighting to fund the PROMISE scholarship in 2001 when I was governor. West Virginia has some of the hardest working students in the nation; through PROMISE it is my hope we are giving them every opportunity to be successful and contribute back to the state.
For many states, one of the greatest needs is to provide opportunities to its young people so that they may stay and thrive in their communities and state. The PROMISE scholarship not only provides an educational opportunity, it is also a major economic development strategy that creates the knowledge base and skill levels required for a twenty-first-century workforce.
While advocating for PROMISE, one of my goals was to encourage state residents to stay in West Virginia after college. Data shows clearly that students who attend college in West Virginia are more likely to stay in state after graduation. PROMISE was created to offer more students an opportunity to attend college without going into massive debt and, hopefully, put their education to use in West Virginia after they graduate.
To support this, a recent study concludes that PROMISE is encouraging scholarship recipients to stay in West Virginia, with an estimated 80 percent of the PROMISE recipients from the 2003–04 school year working in the state in 2012. The impact also led to increased enrollment at state colleges and universities.
From the most traditional to the most transformational occupations, skill demands are steadily increasing. The importance of access to postsecondary education, regardless of income status, is vital to both the economy and individuals. At one time, a high school diploma could yield a well-paying job, but in today's modern information-based world, most high-paying jobs require additional education and training.
During the panel discussion of PROMISE scholars this week, I cited the recent report by the Georgetown University Center on Education and the Workforce, which finds that more than 95 percent of jobs created during the economic recovery went to workers with at least some college education. As a guest on the statewide WV Metro News's Talkline with Hoppy Kercheval discussing the PROMISE anniversary, I made the point that the single greatest economic development strategy a state can have is its education system. We must make sure that our children are prepared for and have access to postsecondary education.
At a time of limited resources, West Virginia is one of the nation's leaders in providing financial assistance to students for postsecondary education. The merit-based scholarship is designed to be joined with the state's needs-based scholarship; and currently 40 percent of PROMISE scholars are from low-income families.
As a room full of state policymakers, education officials, and business leaders listened to current and former PROMISE scholars talk about the financial support and recognition and what that means for them, I was inspired listening to the future of my home state already moving forward. The promise to K–12 students is if they work hard, get the necessary grades and test scores, they can attend any West Virginia institution of higher education. By keeping this promise to our young people, the state creates the promise of a much stronger economy and future.
The Impact of PROMISE

According to the West Virginia Higher Education Policy Commission, the scholarship program has distributed $548 million dollars to approximately 40,000 students since inception, and currently pays $4,750 per student, per year. Thirty-five hundred students who graduated from high school in 2016 are receiving a PROMISE scholarship to apply toward their college costs this fall.
"This semester alone, more than 3,100 PROMISE Scholars are attending West Virginia University," said West Virginia University President E. Gordon Gee. "These talented and hard-working students make our campus a better place."
One of these students, twenty-six-year-old doctoral student Rachel Nieman, who attended the anniversary program told The Daily Athenaeum, "I don't know if I could have gone to school without it. Now I'm getting my doctorate degree. It's crazy to think that I wouldn't be taking this step if it wasn't for PROMISE—I'm very grateful."
Categories:
Uncategorized