Gains in High School Graduation Rates Mask Persistent Gaps in Postsecondary Education Enrollment for Students of Color

February 12, 2018 03:46 pm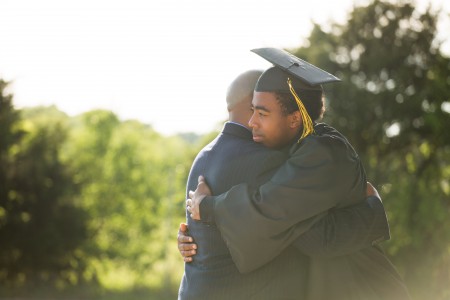 Recent national data shows that high school graduation rates for African American and Latino students continue to climb, narrowing gaps in achievement between these students and their white and Asian peers. Yet these gains in high school graduation rates have not yet translated to comparable increases in postsecondary education enrollment and degree attainment.
In fact, college enrollment rates for African American students lag those for Asian students by nearly 24 percentage points among a cohort tracked by the National Center for Education Statistics (NCES). The NCES study, known as the High School Longitudinal Study of 2009 (HSLS:09), follows a nationally representative sample of approximately 20,000 students from their time as ninth graders in 2009 into postsecondary education and the workforce. This latest report, High School Longitudinal Study of 2009 (HSLS:09) Second Follow-Up: A First Look at Fall 2009 Ninth-Graders in 2016, includes data collected approximately three years after the cohort's high school graduation.
By February 2016, 92 percent of all students in the cohort had earned a high school diploma and 72 percent had enrolled in postsecondary education. On high school graduation rates, Latino students lagged white students by only 3 percentage points, while African American students lagged white students by just 5 percentage points, as shown below in the table from the report. The Asian–Latino and Asian–African American high school graduation rate gaps were about 8 percentage points and about 10 percentage points respectively.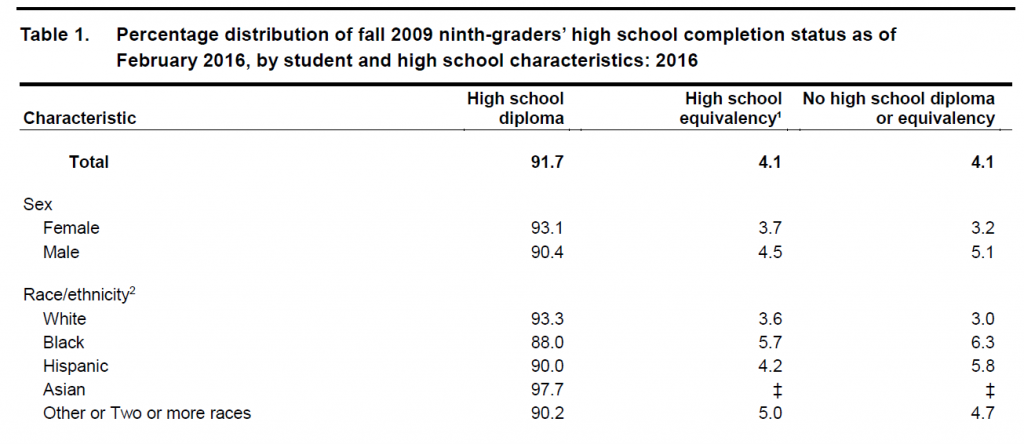 By contrast, the African American and Latino gaps in postsecondary education enrollment were more than twice the gaps in their high school graduation rates. Latino and African American students lagged white students by almost 8 percentage points and 11 percentage points respectively. Meanwhile, the Asian–Latino gap was 20 percentage points, while the Asian–African American gap was nearly 24 percentage points as the table below shows.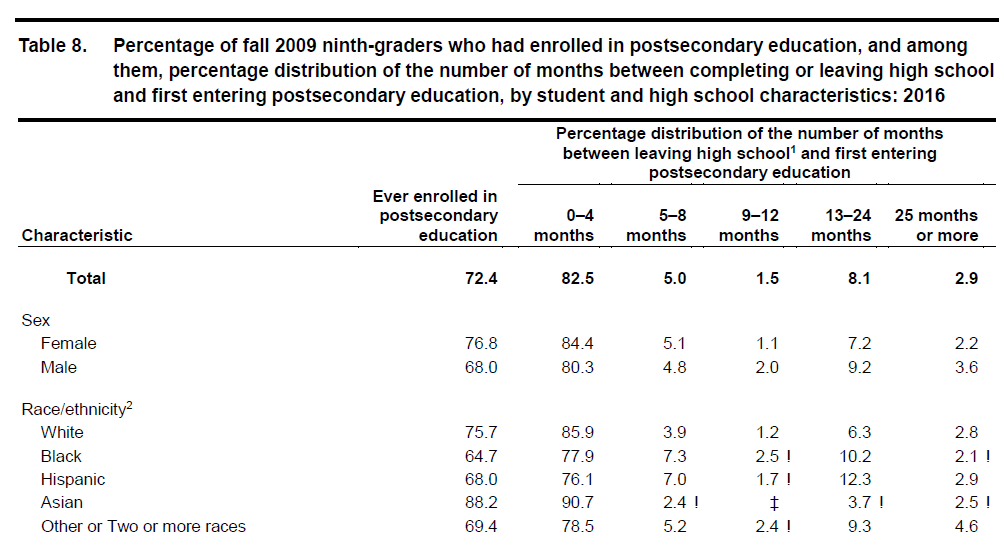 Among all NCES cohort students who enrolled in postsecondary education, 12 percent had earned either an undergraduate certificate or associate's degree by February 2016, while 47 percent still were continuing their education at a four-year institution.
Approximately one-quarter of students, though, no longer were enrolled in any postsecondary education program, even though those students had not earned a credential. African American and Latino students had the highest college drop-out rates, at 29 percent and 27 percent respectively. By comparison, about 19 percent of white students and 14 percent of Asian students left postsecondary education without a degree or certificate. Nearly half of all college leavers from the NCES cohort cited family or personal reasons for discontinuing their education, while 40 percent cited financial reasons.
Meanwhile, students in the study who never enrolled in postsecondary education faced their own share of financial challenges. Sixty percent of these students said they worried about having enough money to meet their expenses and only one-quarter worked full time by February 2016. Moreover, almost 40 percent of those employed full or part time earned less than $10,000 in 2015.
This latest report builds on NCES's first follow-up report, which featured data collected when most students from the study's cohort were in eleventh grade. That report, released in 2013, examined students' educational expectations, math performance and gains since ninth grade, and initial plans for applying to and enrolling in postsecondary education.
Kristen Loschert is editorial director at the Alliance for Excellent Education.