Future Ready New Jersey Leverages Community Leaders and Brings Partnership to a New Level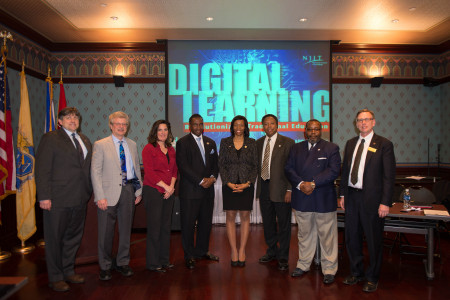 Community partnerships is one of seven gears in the Future Ready Framework and recently I saw this gear in action. I joined a group of mayors from the New Jersey Black Mayors Alliance for Social Justice as they met alongside their superintendents to learn about the new Future Ready New Jersey certification program being developed by a consortium of organizations including the New Jersey Department of Education (NJDOE), the New Jersey School Boards Association (NJSBA), and the New Jersey Institute of Technology (NJIT).
As one of eighteen states actively engaged in the Future Ready Schools (FRS) initiative, New Jersey is leading the way with a comprehensive program that uses the free Future Ready tools to help district leaders personalize instruction for all students, no matter their zip code. The Future Ready Schools New Jersey certification is just one component of New Jersey's flavor of Future Ready that will be powered by the NJTRAx digital readiness survey and builds on national Future Ready resources including the research-based Future Ready Framework, in-person events (including summits and workshops), the Future Ready Interactive Planning Dashboard (an online planning tool), and The Hub (a one-stop shop for ongoing professional learning opportunities).
The enthusiasm and collegiality at the gathering were palpable. I saw firsthand how important it is to engage community leaders outside of education, specifically mayors, in the Future Ready planning process. Such engagement and partnership, particularly in large urban districts, is vital to ensure that both political and district leadership collaborate to support a community's children. This particular group of mayors included ones from large urban school districts, such as Trenton and Newark, and represented more than 40,000 students from low-income families. Their vision was clear—to improve student outcomes by personalizing instruction for every student by implementing accelerated high-quality teaching and learning through technology.
The leaders of this dynamic group fully recognized that school transformation espoused by Future Ready is not accomplished by simply buying each child a laptop and digitizing previous practice. Policies and systemic practice need to shift to support teachers properly, select curriculum, assess student progress, budget efficiently, and build school-based leaders—all in an effort to create a culture of innovation and collaboration in the schools they serve. This group also revealed how "equitable access" is imperative and broadband access needs to extend beyond the school walls to include community centers, libraries, and low-income households. Taking advantage of such programs as ConnectHome and a modernized Lifeline program, combined with resources from Future Ready partners such as EveryoneOn, will connect the unconnected.
It was amazing to see how this unique partnership between these mayors and school district leaders will localize and leverage the robust Future Ready tools with support from state institutions of higher education (NJIT), state-level educators (NJDOE), and school boards (NJSBA). The students of New Jersey undoubtedly will benefit.
At the end of the day, each district leader and each mayor supported the Future Ready Pledge initiative and committed to advancing the following next steps: 1) develop the Future Ready Schools New Jersey certification program, 2) utilize national Future Ready tools together as a model for the nation, and 3) continue to share and learn from one another—gear by gear—to ensure New Jersey schools are Future Ready.
Participating districts from the New Jersey Black Mayors Alliance for Social Justice included the following:
East Orange Public Schools
Hillside Public Schools
Irvington Public Schools
Linden Public Schools
Newark Public Schools
Orange Public Schools
Plainfield Public Schools
Trenton Public Schools
Westhampton Public Schools
Willingboro Public Schools
Sara Hall is vice president for policy and advocacy for digital learning and executive director of Future Ready at the Alliance.