From Rocks to PowerPoint: Technology is a Tool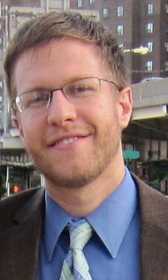 It's Thursday, and that means it's time to talk digital learning! Today's post comes from Stephen Lazar, a teacher at Harvest Collegiate High School in New York City and a member of the Project 24 Team of Experts. 
One of the earliest lessons I teach students in my Global History courses is that technology is not something that was newly invented, but rather, it's anything humans create to help make our lives easier. Language was a good starting place for humans.  A lot of progress has been made from there: parchment, ink, pens, paper, the printing press, telegram, computer, iPhone, etc. Thanks to technology, the communication that defines our humanity became more powerful over time. 
Another lesson I teach my students is that we've also made pretty big advances in the technology of murder.  For thousands of years, humans used technology like rocks and sticks to kill people.  Humans worked their way up from there as well: slingshot, bow & arrow, sword, rifle, machine gun, nuclear bomb.  Over time, we got a lot better at destroying humanity as well.
I think it's important to keep these two extremes in mind when thinking about building up a technological infrastructure for schools and districts.  Technology has the power the amplify our humanity, but it also can deaden it. Technology is the tool, but it's not an end in itself.
I am reminded of one of my first observations in my first year in the classroom.  My Assistant Principal came and observed my class and was satisfied with 90% of what he saw. I don't remember the exact lesson, but what he probably observed was students working in small groups to analyze complex historical documents, perhaps an excerpt from Hamarabi's Code, before having an all class Socratic Seminar where we inquired what the Code told us about class relations in ancient times and what parallels we saw to society today.
He liked what he saw: students were actively constructing knowledge; they were developing their reading and critical analysis skills; and they were using a social constructivist approach to creating knowledge for their selves. His only suggestion was that I find a way to incorporate technology into my lesson. He suggested that I go observe another teacher in the school who "did great things with PowerPoints." Always looking to improve, I happily obliged.
The classroom I observed could not have been more different from mine. Students were all focused on the PowerPoint at the front of the room. The teacher provided them with printouts of the slides, with some keywords removed and replaced with underlines. The students' task was to listen to the teacher and fill in the missing words. They were then told to take the notes home to study for a quiz the following day, where they were asked to fill in the same blanks using a word bank.
In this classroom, students were passive vessels who existed merely to be temporally filled with arbitrary knowledge which they would regurgitate on command, and then likely forget soon after. They were not asked to take risks, be critical, use what they have learned in anyway, or connect history to today.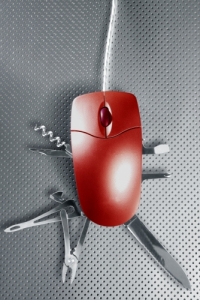 My supervisor's mistake was seeing the use of technology as an end in itself. He did not considered what was being built with this tool. And what is built with this tool is all that matters. I've seen this same mistake made by countless teachers and administrators since.
I am a huge fan of using technology in my life, and in my classes. I blog and am on Twitter because I want to connect with other teachers to get ideas and feedback so I can improve as an educator. I have my students "publish" their work online because it adds an extra layer of accountability and gives them a real audience, which motivates them to improve their writing and deepen their thinking.
I encourage other teachers to find ways to use technology to make their classes more inquiry-based and student centered. But technology is merely a tool in all these situations. Technology, in itself, will not make you a better teacher or make students better learners.
I encourage administrators to give their teachers all the tools necessary to help their teachers succeed in their classrooms and engage students. At the same time, technology, like any other tool that teachers have at their disposal, is only valid and useful if it's being used to help students become better writers, readers, thinkers, and people. It is these ends that matter, regardless of how we reach them.
Stephen Lazar is a National Board Certified social studies and English teacher and cofounder of Harvest Collegiate High School, a public school in New York City, where he is an assessment coordinator, union chapter leader, and teacher mentor. Mr. Lazar began his teaching career in Fairfax County, Virginia. He is passionate about helping students to think deeply about the complexities of the world as they develop their communication skills. Mr. Lazar is also an expert in curriculum and assessment development, regularly delivering workshops for teachers around the country for such organizations as the Gates Foundation, the National Council for Social Studies, National Council of Teachers of English, and the Institute for Student Achievement. He previously taught at the Academy for Young Writers in Brooklyn and the Bronx Lab School, where he served as department chair, instructional coach, and UFT chapter leader. Mr. Lazar holds a bachelor's degree in political philosophy and religious studies from Brown University and a master's degree in African American studies from Columbia University. His writings on teaching and education policy have been published in Gotham Schools, Schoolbook, and Education Week Teacher. You can learn more about him as his blog, Outside the Cave, at http://stephenlazar.com/blog/.