From Detroit to the Rio Grande, Parents Want the Same Opportunities for Their Children

September 20, 2017 12:59 pm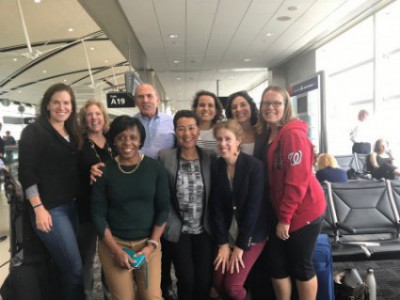 Last week was one of the most rejuvenating weeks I have experienced in a long time; it began in Detroit, Michigan, and finished in the Rio Grande Valley of Texas. Despite great differences between the two in cultures and contexts, I saw a steady and strong commitment to improving equity in education despite significant hardships that educators and advocates face.
Detroit was the site of the annual Hewlett Foundation's deeper learning gathering of grantees (some pictured above), during which one day was dedicated to meeting, interviewing, and reviewing meetings with different groups and schools involved in the Detroit education process. My group met with representatives of 482 Forward, a coalition of community groups advocating for education improvement. With all the problems Detroit has endured, these mostly volunteer organizations have a daunting task of achieving quality education for largely students of color who are also from low-income families. In a relatively unregulated system that could be a case study on how not to implement school choice, parents are confronted with difficult decisions related to their children's education and are then compounded by the challenges of transportation and support services.
Later in the week, Harlingen, Texas, was home to a meeting arranged by Mexican-American School Board Members Association, the Leadership Empowerment group, and the McNeil Educational Foundation to have the Alliance for Excellent Education (the Alliance) present to business leaders and educators on the positive economic impact that would come from improving high school preparation for all students in the four-county Rio Grande Valley. One of the lowest-income areas of the country, the Rio Grande Valley is almost entirely Latino yet several of its school districts, including Harlingen Consolidated Independent School District, have achieved 90 percent overall high school graduation rates. Yet postsecondary persistence remains low.
Despite the seemingly major differences between the two geographic areas, I found much in common that gives me hope for improving education outcomes for this generation of students.
First, advocates, educators, and business leaders all expressed the same goals for student learning; core content knowledge, critical thinking, collaboration, communication, self-learning were at the top of everyone's priority list. One-size-fits-all education approaches no longer apply. In different ways and different terms, each spoke of the importance of meeting individual student needs and learning styles.
Second was the determination to persevere. Meeting in a crowded community center, I listened to Arlyssa Heard, a dynamic African American parent in Detroit, who, more than a decade ago, began navigating a complex and seemingly chaotic education system on behalf of her sons. What she learned fighting for their education opportunities, she now puts to work for all Detroit children. Her battles have taken her to many different advocacy settings from schoolhouses to the state house. Driven by frustration and desire to provide for her children, she is vital for the many parents who are not experienced in working through a disorganized system. She is equally vital to educators as a parent's voice supporting what will enable them to be truly effective. Through her struggles, Ms. Heard developed a solid sense of the type of education for which she is fighting.
That same determination is present in the Rio Grande Valley, a fast-growing area of Texas, where population growth does not automatically translate into economic progress. Alliance data joined with statistics from the Georgetown Center on Workforce and the Economy documents how the region's economic growth depends on many more Valley students successfully completing a postsecondary education experience. Already, business organizations and local higher education institutions are coordinating efforts, but there was widespread agreement that much more must be done in a region where immigration and fear of the Deferred Action for Childhood Arrivals (DACA) policy repeal further complicate an already challenging environment.
The depth of different cultures must be appreciated at the same time different races and ethnic groups must come together to be effective. Context matters. The culture in largely Latino south Texas varies greatly from the predominantly African American culture in urban Michigan. Yet both face common obstacles in racism, low expectations, and navigating confusing education systems. If public education is largely driven by a political process that starts with the election of local school boards, then increased parent expectations and willingness to become involved need to become a common bond across all cultures.
In both Detroit and Harlingen, as well as countless other communities, advocates in different cultures and conditions are seeking similar ends. They are increasingly seeking the same learning outcomes for their children, no matter what terminology describes them. Learning from tough experiences to self-education, advocates are waging increasingly effective campaigns and forging effective coalitions. And in the next two years with school districts undertaking required planning for improving low-performing schools under the Every Student Succeeds Act, advocates, educators, and business and community leaders can press for actions that will address learning needs of all of America's children.
Last week's travels showed incredible commitment and energy; I start this week determined to support these efforts even more effectively.
Bob Wise is president of the Alliance for Excellent Education and former governor of West Virginia.