From Communications to Diplomacy: A Farewell to the Alliance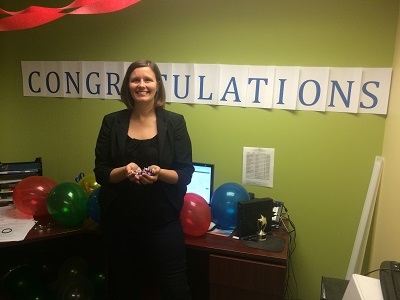 Today is my last day at the Alliance for Excellent Education. I write this as I unwrap one of about 100 Hershey's kisses overflowing my keyboard, kick balloons out of the way of my feet, glance up at over-sized letters spelling out, "Congratulations," and as red and purple streamers twirl their way down near my keyboard. That image describes in better words than I could ever say what working at the Alliance has been like – and what working with the people that fill this office space is like every day. But because I want to fill at least a few hundred more words here, I'd love for you to lend me your ear and let me share a little bit more about why I'm leaving and what this organization means to me.
Working for the Alliance has been an incredible experience for me, both personally and professionally. I have never worked at an organization or company in which people care about each other more and are as passionate about the work they do. The Alliance is a close-knit team, and becoming a part of that fray – a part of this professional family – has been a true pleasure.
Editing with the experts and incredible writers that we have on staff has allowed me to grow as a writer and thinker. For instance, every time I received a blog post from Robert Rothman, a former Education Week reporter and author of several books on deeper learning and the Common Core, I read it multiple times. I had this hope that through some sort of osmosis, his talent and expertise would seep through to me.
Additionally, editing with Bob Wise is a one-of-a-kind experience. Can I let you in on a secret? Bob Wise is a brilliant editor; I could spend all day discussing a particular phrasing with him, and hearing him explain what a word once meant or the connotation it once had and how words have evolved. He has taught me so much, and what a privilege it has been to have such an incredible mentor.
Having the opportunity to advance my communications and social media skills, while diving into the Alliance's body of work, has also been enriching and rewarding. I remember my first Alliance meeting well. I don't come from an education background – rather, a reporting and producing one. I panicked and jotted down somewhere around 23 words and phrases to research as soon as I returned to my desk — things like deeper learning, blended learning, connected learning, linked learning, digital learning… and the list went on. Now I can not only talk about these educational approaches intelligently, I can use them seamlessly to drive our mission of ensuring that every single child graduates from high school ready for college and a career.
I did not anticipate leaving the Alliance any time soon, but I have been given an opportunity I can't pass up. I am leaving the Alliance to attend graduate school full time at Georgetown University's School of Foreign Service. In coordination with grad school, I have been chosen as a Rangel Graduate Fellow. The Rangel Program was founded by Congress member Charlie Rangel. It is funded by the State Department and run out of Howard University. It provides funding for graduate school, a summer internship on Capitol Hill, a second summer internship at an overseas embassy, and a five-year contract with the US Foreign Service. The program's mission is to encourage low-income and minority students to apply for and join the Foreign Service – to diversify America's diplomatic corps.
In my career in the Foreign Service, I will be a public diplomacy officer, a fancy way of saying I will be on the communications team at embassies around the world. My colleagues in Beirut, San Jose, Cape Town, or wherever I am stationed, are sure to receive news clips every morning and nagging emails about writing blog posts from me, just like my colleagues at the Alliance do! I'll be running social media accounts, blogs, liaising with media, writing press releases, and writing op-eds for embassies, just as I have done at the Alliance. The skills I have gained and honed at the Alliance will be the ones that I use for the rest of my career.
Thank you to every person who participates in Alliance webinars and events, reads and shares the Alliance reports, and comments on, or engages with the High School Soup blog. Becoming a part of this community and driving a mission so deeply rooted in my heart will always be one of the greatest joys of my professional life.
Thank you to the warm, welcoming, passionate staff at the Alliance. I am so proud have worked alongside every one of you.
Now, who wants to help me eat all of this Hershey's chocolate?
Cyndi Waite is the communications associate at the Alliance for Excellent Education.
Categories:
Uncategorized