Four Years of Progress, Five Lessons Learned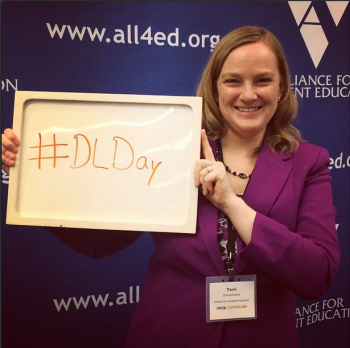 When I crossed the threshold at 1201 Connecticut Avenue in May 2011, the nation's graduation rate stood at 72 percent. The best data we had on the use of technology in education was from 2009 and indicated that only 40 percent of teachers used technology "often" during instructional time. The term "digital learning" was not well-defined and could be construed to mean online learning, blended learning, or the use of calculators.
This week is my last at the Alliance as I prepare to depart for a three-year overseas tour with my diplomat spouse. But looking back at the last four years, I'd say it was time well spent. The graduation rate is now 81 percent. Students of color have made significant leaps. And digital learning, for lack of a better word, is a "thing."
In May 2011, Alliance president Bob Wise had just finished working on the Ten Elements of High Quality Digital Learning, and was struck by a profound need to do more to raise awareness about the power and promise of digital learning strategies. Digital Learning Day was born, and I had the amazing opportunity to be a part of the team that shaped this incredible event. And oh, what a day we had with 18,000 teachers and 2 million students participating and thousands of tweets using the Digital Learning Day hashtag #DLDay.
What was really powerful was the excitement and positive energy revealed in all those tweets. That stood in stark contrast to some of my earlier experiences. For the first three years of my career, I worked with states to develop standards, back in the day when the Common Core was not even a gleam in anyone's eye. But the teachers I worked with rarely were excited about the process of writing standards. Standards were just another set of requirements they would have to manage. Then I spent five years working with superintendents on implementing No Child Left Behind. I rarely saw excited faces as I provided the latest updates from Washington, DC, on Adequate Yearly Progress. But when I worked with educators who had seen the potential of digital tools to help them rethink instruction, and who had seen their students become engaged and excited about learning, I saw teachers who had rediscovered why they went into teaching in the first place. They had that light in their eyes that comes from seeing a student have that "ah-ha" moment.
That energy is contagious. I look around now and it's clear that digital learning is sweeping the nation. When the Alliance and the U.S. Department of Education launched the Future Ready Schools effort at the White House in November 2014, it was a sure sign that we were on to something. The maxed-out registration at the Future Ready summits confirms it. People are hungry for this, and they are ready for this. Teachers are excited about reaching their students in new and more effective ways, and schools are seeing real and positive results, from higher graduation rates to more engaged students to better attendance to an increase in the kind of deeper learning we know students need. While it is not always an easy transition, and there have been districts and schools that stumbled along the way, there is zero question in my mind that this is absolutely the right thing to do to ensure that all children graduate college and career ready.
We know what kind of learning works for students. It's learning that's relevant, that has meaning in the real world, that students own, and where students are creating content rather than being empty vessels for it. That kind of learning is vastly more accessible because of digital tools. Sure, a school can simply exchange paper worksheets for digital ones. But most don't, at least not for long. Sometimes the simple substitution is what gets a teacher started, and ignites the flame that encourages further exploration of tools that work for teachers and students alike.
Here are five things I've learned along the way of this journey into digital learning:
Access matters. Other than Digital Learning Day, the single most important accomplishment during my time at the Alliance is definitely the improvements made to the E-rate program. When I started at the Alliance, the biggest barrier we heard about was lack of access to high-speed internet. The improvements to E-rate should connect our schools to the resources they need to facilitate high-powered learning.
It's about the teaching, not the tool. But, sometimes you need a shiny, exciting tool to get teachers hooked on the power of technology and that's okay. Just make sure you move beyond that one shiny thing.
Staffing matters. Every single successful school district I've visited had school-based instructional technology coaches or specialists. Whatever you call them, having that school-based support is clearly essential for success.
One word: Twitter. Over and over again, I have met teachers and administrators doing cutting-edge, powerful work, and asked them how they got started on their journey. Over and over, they said: Twitter. I believe this is the first and most important step any teacher, school, or district can take on a digital learning journey. First, it helps educators model the behaviors they want to see in students and encourage them to take control of their own learning. Second, it quickly connects them to a massive community of energized, inspiring, amazing educators who are doing amazing things, and they will realize they are not going on this journey alone.
Don't give up. The first time a teacher tries a tool or strategy may not work. The first time a district deploys tablets or laptops it may stumble. But this work is too important to give up.
I've worked in the education nonprofit space since 1997. I have dedicated my professional life to improving outcomes for students. In the last four years at the Alliance, I've seen education move by leaps and bounds in the right direction.
It's ironic that I'm moving to Beijing, where the internet is heavily censored and download speeds are a real problem, but where my children will attend one of the first schools in China to adopt a one-to-one student-to-laptop policy. But I like to think that by the time I return to the States, digital learning will be so ubiquitous, so seamlessly integrated into schooling, we won't think of it as digital learning. We'll just call it learning.
Categories:
Uncategorized