Former Alliance Intern Discusses his Teaching Experience with the Common Core State Standards

September 03, 2014 02:16 pm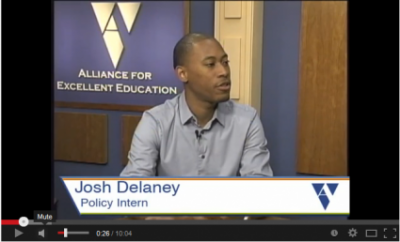 Former Alliance policy intern Joshua Delaney experienced first-hand what the Common Core State Standards could do in the classroom. As a high school algebra and special education teacher in the metro-Atlanta area in 2012, Delaney watched students who had previously struggled in his classroom engage critically and collaboratively in learning under the new standards.
In a video interview with Elizabeth Schneider, the Alliance's senior vice president of strategic initiatives, Delaney further discusses his "Core of the Matter" blog focusing on the implementation of the Common Core State Standards and struggling students.
"Finally, our students were held to the same high expectations as their peers across the country," Delaney wrote in his blog. "This was particularly meaningful to them given most were English language learners, had learning disabilities, and/or were eligible for free or reduced-priced lunches, all of whom have historically been held to lower expectations. The fact that they would be held to the same academic expectations as their more affluent peers inspired us to work even harder to ensure they had the same opportunity to achieve as any other student in this country."
Delaney said when he started listening to the criticisms of the Common Core, he noticed there wasn't a lot of criticism of the standards themselves. He said he wanted to use his blog to challenge audiences to better understand the English-language arts and math curriculum. Delaney asked two things of readers who might have any concerns about the Common Core implementation:  Learn what the Common Core State Standards are and read the actual standards.
Click the embedded link below to watch Delaney speak on his teaching experience with the new standards and how he said they positively affected his algebra classes in Georgia.