Federal Literacy Funding Still Available to the States Despite Proposed Budget Cuts from Trump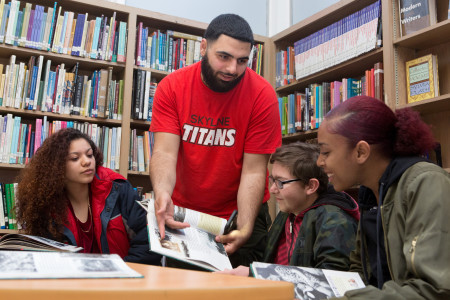 Last month, the Trump administration released its first full budget proposal recommending a $9.2 billion, or 13.5 percent, cut in funding for the U.S. Department of Education (ED) for Fiscal Year (FY) 2018. The suggested cuts raised many eyebrows on Capitol Hill when U.S. Secretary of Education Betsy DeVos testified about the budget before the House of Representatives Appropriations Subcommittee responsible for funding ED. In particular, Congresswoman Rosa DeLauro (D-CT), the Ranking Member on the subcommittee, voiced concerns regarding proposed cuts to literacy funding. She stated, "Literacy is a mark of a civilized society—we spend money to spread literacy internationally, yet [the budget eliminates] $190 million from the largest reading program for low-income children and youth and $96 million from grants that help low-skilled adults become literate." The Alliance for Excellent Education (the Alliance) shares Congresswoman DeLauro's concerns with the administration's recommended cuts to literacy funding.
On the 2015 reading assessment of the National Assessment of Educational Progress (NAEP), also known as the Nation's Report Card, only 36 percent of fourth graders, 34 percent of eighth graders, and 37 percent of twelfth graders performed at or above the proficient level. Moreover, many of the nation's young people who graduate from high school do so without the advanced literacy skills needed to succeed in college and a career. Roughly one-third of high school graduates are not ready to succeed in an introductory-level college writing course and about 61 percent of employers request or require high school graduates to get additional education or training to make up for gaps in their ability to read and write effectively.
Encouragingly, since 2011 six states have worked to improve literacy development and education from birth through grade twelve with positive results. Georgia, Louisiana, Montana, Nevada, Pennsylvania, and Texas each received a five-year federal Striving Readers Comprehensive Literacy (SRCL) grant to award subgrants to local school districts serving high-need students at elevated risk for reading and writing failure. States receiving these grants must allocate 15 percent of the funds to children from birth through age five; 40 percent to students in kindergarten through grade five; and 40 percent to students in grades six through twelve.
After five years of implementation, all six SRCL states reported increases in literacy achievement for participating students. For example, 82 percent of participating four-year-olds in Texas achieved significant gains in oral language skills. In Louisiana, fourth-grade students achieved the highest growth among fourth-graders in all states on the 2015 NAEP reading assessment. Louisiana also was among the top states in narrowing white-Latino achievement gaps in fourth- and eighth-grade reading. In Pennsylvania, high school students in SRCL grant-funded programs outperformed high school students not in such programs on the state assessment in literature for the last three school years.
SRCL states also reported increased resources and positive outcomes for educators. Georgia used SRCL funds to contract with three university researchers to develop a website to provide all teachers online-accessible professional literacy resources. In Nevada, nearly 2,000 teachers received professional development on applying effective literacy instructional strategies and analyzing student data to inform instruction. Participating teachers consequently reported more frequent use of data to improve literacy instruction in Nevada. In Montana, staff members in SRCL schools overwhelming reported "buy-in" to the SRCL grant project, according to staff survey results.
Given the positive results for students and educators participating in the SRCL program, in 2015 Congress included the Literacy Education for All, Results for a Nation (LEARN) Act within Title II of the Every Student Succeeds Act (ESSA). Based on the SRCL program, LEARN provides competitive grants to states to help local school districts develop comprehensive birth-through-grade-twelve literacy instructional plans. A state must distribute at least 95 percent of LEARN funds to local school districts with priority given to entities serving the greatest number/percentage of disadvantaged students in low-performing schools. Local school districts must use grant funds they receive under the LEARN Act to support high-quality professional development for teachers, teacher leaders, principals, and specialized instructional personnel to improve literacy instruction for struggling readers and writers in early childhood, elementary, and adolescent literacy programs. For more information on the LEARN Act, see the Alliance's new fact sheet "Every Student Succeeds Act Primer: Literacy."
Despite the positive results of the SRCL program and the intent of Congress to support literacy instruction through ESSA, the Trump administration failed to include funding for SRCL or LEARN in the FY 2018 budget proposal. Luckily, however, SRCL funds were provided through the FY 2016 appropriations but will be distributed in FY 2017. The priorities, requirements, definitions, and selection criteria for the 2017 cohort of SRCL grant recipients were updated to align with those under the LEARN Act. ED is accepting applications for the 2017 SRCL cohort until July 17, 2017.
The Alliance encourages states to apply for this important literacy funding. As Congresswoman DeLauro stated, "literacy is a mark of a civilized society," and unfortunately the nation has a long way to go to ensure that all students have the reading and writing skills essential to succeed.
Rachel Bird Niebling is director of policy development and federal government relations at the Alliance for Excellent Education.
Photo by Allison Shelley/The Verbatim Agency for American Education: Images of Teachers and Students in Action
Categories:
Uncategorized