Federal Communications Commission Votes to Modernize E-Rate, Expand Wi-Fi Access in Schools and Libraries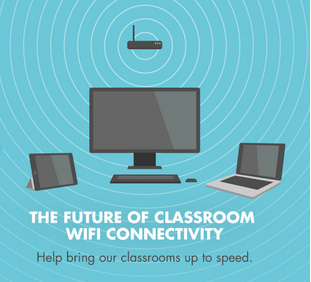 In a landmark move, the Federal Communications Commission (FCC) voted today to modernize the federal E-rate program with the goal of providing greater Wi-Fi access to millions of students. The vote represents the first major change to the E-rate program since its creation in 1996.
E-rate, the federal government's largest educational technology program, has been a tremendous success in supporting internet connectivity and other communications services for the nation's schools and libraries. Today, more than 95 percent of schools have some basic internet connectivity, compared to just 14 percent when E-rate was enacted in 1996. Likewise, most public libraries today are connected to the internet with 98 percent offering public internet access.
As it was previously structured, however, E-rate provided little support for Wi-Fi even as students, teachers, and library patrons increasingly rely more on tablets, laptops, and other devices to access the internet.
In response to the FCC's action, Bob Wise, president of the Alliance for Excellent Education and former governor of West Virginia, made the following statement:
The E-rate program has been remarkably effective, but like an old cellphone, it was becoming steadily obsolete. Today, the Federal Communications Commission delivered the next generation upgrade of education.
Currently, many classrooms only have sufficient internet access for a few students to be online at the same time. That's like packing Disney World with children, then announcing only one ride is working.
Today's action will be one of the most dramatic improvements for U.S. education in decades. This is a huge victory for the nation's teachers and students because it delivers Wi-Fi services to millions of students and thousands of schools and libraries.
The fact that the FCC has taken a leadership role in education reform demonstrates how vital the effective use of technology has become to delivering a quality learning experience.
By expanding access to Wi-Fi, the FCC will enable students and teachers to access the internet from the classroom through tablets, laptops, and other devices—a critical step forward to ensuring that they have access to specialized technology and tools to make learning more personalized and engaging. No modern business expects to function without access to high-speed internet, so why should we expect it of our schools?
Most importantly, the FCC's action lays the foundation for the permanent expansion of E-rate that the nation's schools and libraries so desperately need. Reliable access to high-speed broadband is as important to learning today as traditional textbooks were twenty years ago. Today's vote was a critical first step. I urge the FCC to quickly take the next step and permanently increase funding for E-rate so that at least 99 percent of the nation's students will have access to high-speed broadband in their schools and libraries within the next five years.
To see what educators are saying about the need to upgrade E-rate, or for more information about the program, visit http://www.99in5.org.
Categories:
Uncategorized