MOOC Participants Share Ways to Overcome Fear Of Change

December 06, 2013 04:58 pm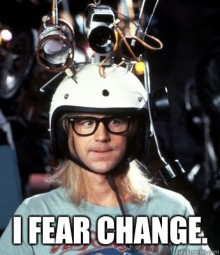 A theme that has come up over and over again in recent Project24 webinars as well as in the DLT MOOC is how to overcome fear. It also came up in a recent #edtechchat with Secretary of Education Arne Duncan: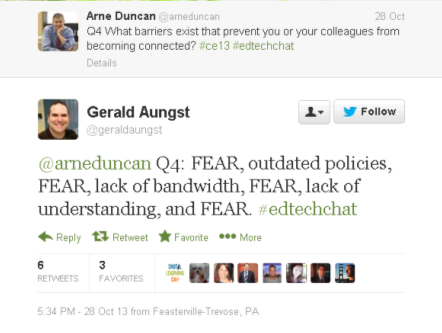 Teachers, adminstrators, and parents all worry:  What if the kids go to inappropriate sites? What if it's a dismal failure? Some of our DLT MOOC participants articulated these fears:
Teachers like to stick to what has worked in the past even if it is not currently working. People are scared of change.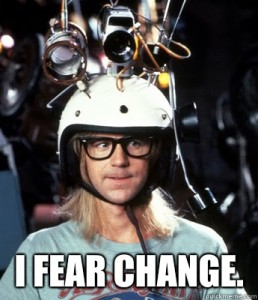 You have to understand one thing fear comes from lack of knowledge and comfort level. They may be great in their subject knowledge but when it comes to using technology they are bit fearful.
Clearly this is something that many people encounter. Fortunately, within the supportive community of the MOOC there were a lot of voices providing suggestions and ideas for helping overcome fear. The suggestions focused on several areas: Good mentoring, lots of listening, and lots of support.
I have worked with some teachers who were truly phobic. For one in particular she found it too embarrassing and uncomfortable to learn in a group workshop environment. I was able to work with her one to one and as a result she became one of my biggest success stories. She is an art teacher and has even gone on to teach digital photography courses.
Agree – fear of change is one of the most prominent reasons for not doing anything. Even when teachers know they need to move in a new direction. But with really good mentoring – and the vision of the district to actually make sure they have good mentors and good teacher PD, the transition becomes much easier.
The MOOC-ed provided not only a safe place to voice these fears, but to share ideas on how to overcome fears and move forward. While it was comforting to see that many educators faced the same set of challenges around fear, it was even more exciting to see them working together to find solutions.
Change is a big inhibitor. I always try to convince teachers and students to just try something new. One great thing about all this technology is that there are 23 ways to do anything. So, if one tool or process does not capture their interest, we can always try a different approach.
Resistance to change is common and natural — we all have it to some degree. The question is how to productively support changes, recognizing that people need to start the process where they are and proceed at their own pace, with guidance, support and encouragement readily available as they need it. Differentiated learning applies to educators as well as students.
Overcoming fear is part of the culture shift. In successful districts and schools, leaders are able to create a culture that supports teachers, administrators, and students and helps individuals overcome their fears. Sometimes, it is about figuring out how to meet an individual's learning style. Other times, it is about just trying different approaches
The MOOC community shared something else: a belief in the value of the work everyone is engaged in – transforming teaching and learning. The commitment to that goal helped everyone see that fear can – and must be- overcome.
In a sense, that is the driving force behind Digital Learning Day. By showing where digital learning is making a difference, it becomes more real and less scary. When teachers see what is possible, and how it might help their own students, the fear is much more easily pushed aside. When schools an districts highlight and showcase what's working, and encourage people to try something new, fear is more quickly replaced by hope, enthusiasm, and feelings of success.
In response to demand, the Alliance and the Friday Institute will run the MOOC again in January 2014! Registration is open now!