Expanding College Access for Traditionally Underserved Students

October 20, 2016 01:07 pm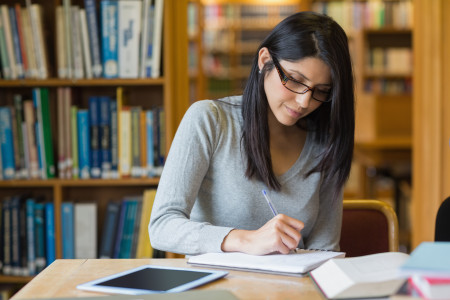 Ninety-nine percent of the jobs created since the Great Recession have gone to workers with at least some postsecondary education. Despite this growing demand for workers with education and training beyond high school, the percentage of high school graduates enrolling directly in postsecondary education has declined, particularly among high school graduates from low-income families, according to a new analysis from the Education Commission of the States (ECS).
Research suggests, though, that early college high schools represent an effective strategy to increase postsecondary participation and attainment rates, according to Early College High Schools: Model Policy Components. Early college high schools offer traditionally underserved students—including those from low-income families, those of color, first-generation college-goers, and English language learners—a cohesive curriculum that integrates high school and college-level course work into a single program. These programs, which start in ninth grade, allow students to earn a high school diploma as well as an associate's degree, technical credential, or sixty credit hours of postsecondary course work within five years.
From 2008 to 2013, the percentage of high school graduates from low-income families who enrolled directly in postsecondary education declined from 55.9 percent to 45.5 percent, according to the ECS report. Students who participate in early college high schools are "significantly more likely than other disadvantaged students to graduate from high school, enroll in college immediately after high school, and earn a degree," the report notes. In fact, 76 percent of graduates from early college high schools enroll in postsecondary education immediately after high school, compared to 68 percent of all high school graduates and just 50 percent of high school graduates from low-income families, as the graph from the report shows below.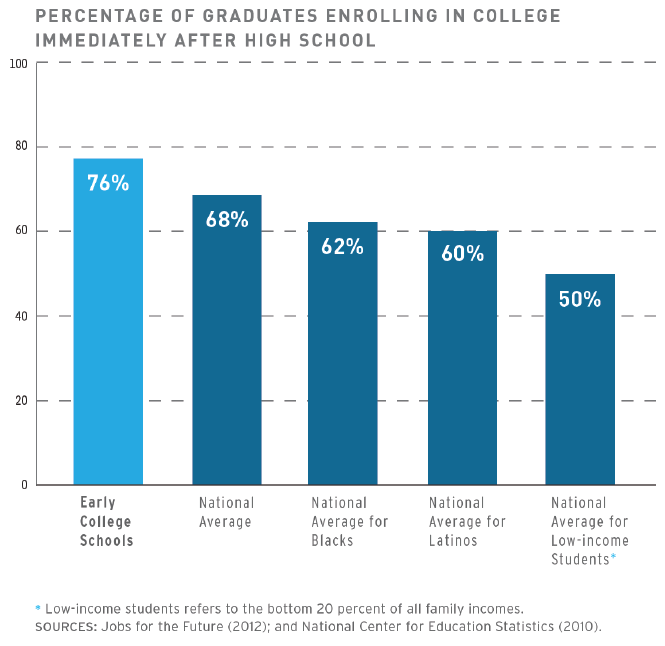 State policies that support program access, quality, financing, and credit transfer can expand early college high schools to more students, the report explains. For instance, Texas state policy requires school districts to notify the parents of all high school students about programs that allow students to earn college credit. Meanwhile, policies in North Carolina and Tennessee require early college high schools to identify potential student participants in the middle grades.
Traditionally underserved students are more likely to be the first members of their families to attend postsecondary education. Consequently, North Carolina and Tennessee also require early college high schools to provide students with extra counseling and parent conferencing to help students and their families navigate the college-going process together. Tuition costs associated with postsecondary course work also can prevent students from low-income families from participating in early college high schools. To allow more students to participate, states such as North Carolina and Texas prohibit higher education institutions from charging tuition to early college high school students. Both states also provide school districts with the same level of per-student funding for early college high school students and traditional students to incentivize school districts to offer such programs.
The Every Student Succeeds Act (ESSA) of 2015 offers states and districts several opportunities to provide students with greater access to early college high schools and other programs that offer advanced course work. States also may use funds from the new Student Support and Academic Enrichment Grants program created under ESSA to support their efforts. The Alliance for Excellent Education has created a series of toolkits on topics like early college high schools to help school leaders leverage these new opportunities to transform their schools.
Kristen Loschert is editorial director at the Alliance for Excellent Education.