Executing continuous improvement strategies with intentional purpose and urgency

January 18, 2013 04:45 pm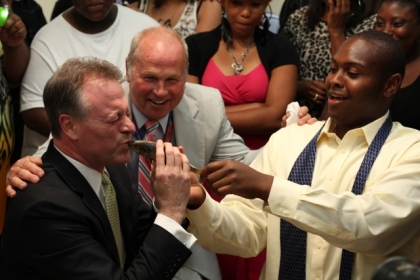 The following blog post comes from Dr. Michael J. Martirano, superintendent of St. Mary's County Public Schools in Leonardtown, Maryland.
On July 1, 2005, I was appointed to the position of Superintendent of Schools for the St. Mary's County Public School System. With a sense of driven purpose and urgency, I feverishly set out to implement my entry plan strategies. One of the myriad of tasks that I began was a complete review and continuous improvement audit of programs that were designed to aid and support at-risk students.
When I inherited the reigns of my current school system, I was also the benefactor of an alternative learning center that was intended to provide interventions for students who were at-risk for dropping out of school. Upon review of the longitudinal data of the program, the results were alarming. Over the previous five year period, the graduation data and achievement data from the program was abysmal. No more than five students graduated from high school and the perception of the program was of a "holding tank" for students who were not going to graduate. In other words, if students entered this program it was a sure bet that they would not graduate. 
In the fall of 2006, we set out with a fierce sense of urgency to change the program's culture and delivery model. We began to implement a model that was built on a clear mission with the core value that all students could and would learn, and that each young person who entered the program would indeed graduate from high school.
To start, we zero-based the staffed and changed the leadership. We changed the name of the program to the "Fairlead Academy." A fairlead is a nautical term that refers to a ring mounted on a boat to guide a rope keeping it clear of obstructions. We created a culture of expectation in which every student who was identified for the program would graduate from high school in four years. We hired teachers who supported this belief, and we began to identify students from our middle schools who were most at risk for dropping out of high school. We identified sixty rising ninth-grade students who, as a cohort, had a predicted rate of 10-15% for graduating from high school in four years.
We systematically and intentionally involved parents. We provided longer blocks of instruction, hands-on and experiential-based learning, smaller class sizes (one to twelve teacher to student ratio), opportunities for recovery, teachers who believed in our students, technologies to support their learning, and differentiation that addressed the various learning styles of each student, and a constant review of student performance data to keep students on track.
We utilized blended learning and online resources to assist in the recovery process of credits and grades. Our counseling staff addressed the many social and emotional challenges that our students presented, and we provided on-going relevant professional development to support teachers. Personally, I met with each student, and I signed a contract with each student that held them accountable for their personal choices and memorialized their desire, commitment and intent to graduate from high school in four years.
The work was challenging and invigorating. I am happy to report that our first cohort graduated last year. Our four year graduation rate of our original cohort of students was 84% and our five year graduation rate will be well over 90%. Today, we have close to 400 students involved in this program delivery model. We have two program sites, and we are linking our efforts with the programs and services of our career and technology center. Students are truly finding success as they are being prepared with the skills to attend college and with the skills to be career ready.
My philosophy: "that if you believe they can, they will," is being realized daily with the students who are attending the Fairlead Academy in St. Mary's County, Maryland.
Once again, I challenge superintendents and educators all across America to examine the tenets and core values of the Fairlead Academy and consider opportunities that will serve the students in your school districts in a more urgent and purposeful way. As stated in St. Mary's County, we are truly doing whatever it takes to ensure that each of our students succeeds.
Read more about Fairlead Academy here.
Dr. Michael J. Martirano is superintendent of St. Mary's County Public Schools in Leonardtown, Maryland. Read his previous post here.