Examining the Many Educational Challenges Facing Homeless Youth

October 07, 2016 02:31 pm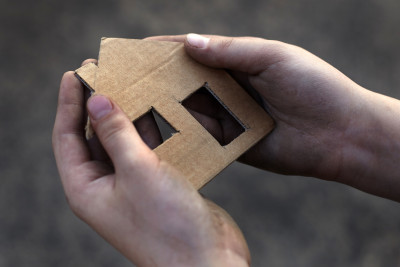 Adolescents in families that experience homelessness are more likely to change schools and have more frequent school absences than peers in stable housing, factors that contribute to lower academic and social outcomes for homeless youth, according to a report from the U.S. Department of Health and Human Services (HHS). Among the teens studied for the report, 70 percent changed schools once and 23 percent changed schools two or more times during the twenty months following their family's stay in a homeless shelter, according to Adolescent Well-Being After Experiencing Family Homelessness.
While most research on homeless adolescents focuses on the experiences of unaccompanied youth—young people not in the physical custody of a parent or guardian—most adolescents experience homelessness as part of a family that includes at least one adult. The HHS report examines the outcomes for this broader group of homeless teens using data collected from the U.S. Department of Housing and Urban Development's Family Options Study. The Family Options Study followed 2,282 homeless families in twelve cities and tracked the housing situations, academic development, and social development of 791 ten- to seventeen-year-olds over a twenty-month period.
The families studied experienced higher levels of mobility than other low-income families and that increased mobility was associated with more school moves and lower academic performance for teens in those families, the HHS report explains. Among adolescents who had experienced homelessness, 35 percent had moved at least once during the six-month period preceding the survey, compared to an annual mobility rate of 14.5 percent for all families living below the federal poverty level nationally, the report says. Changes in residence resulting from homelessness or housing instability often move families between school districts, forcing homeless students to change schools despite federal protections that allow them to remain in their original schools. Such frequent school moves impact students' academic performance.
"Each additional school change adolescents made was associated with slightly lower grades, less positive attitudes toward school, less effort at school, and slightly more social behavior problems," the HHS report notes.
Adolescents who experienced homelessness also had more school absences and were more likely to miss three or more school days in a month than national averages for their age group, as the graph from the report shows below. Students who are chronically absent have lower academic performance and are more likely to drop out of high school.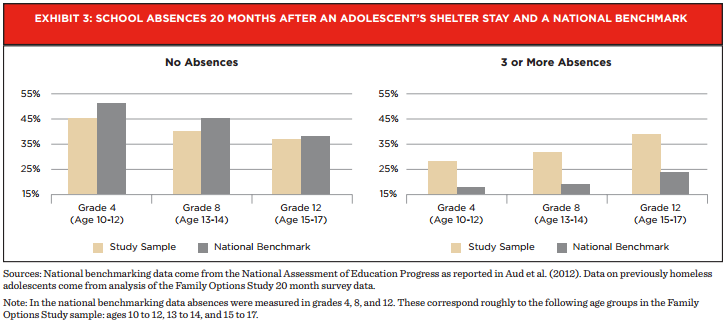 To help schools address the unique challenges homeless students face, this summer the U.S. Department of Education (ED) released guidance on new provisions in the Every Student Succeeds Act (ESSA) that support homeless students. ESSA reauthorized and amended the McKinney-Vento Education for Homeless Children and Youths (McKinney-Vento) program, the primary federal program serving homeless students. ED's guidance clarifies the new requirements for identifying homeless students, improving access to and coordination of support services, removing barriers to school enrollment, and emphasizing college and career readiness, among other provisions. ESSA also requires all states to track and report high school graduation rates for homeless youth starting this school year. The new McKinney-Vento provisions took effect October 1.
"Homeless children and youth face a number of barriers to getting the education they deserve and the services they need to succeed in school and beyond," says U.S. Secretary of Education John B. King Jr. in a statement about the new guidance. "As a kid, home was a scary and unpredictable place for me and I moved around a lot after my parents passed away. I know from my own experience and from my conversations with homeless students that school can save lives. It is our hope that the guidance we are releasing today will serve as a tool to help states and districts better serve homeless children and youth—we can and we must do better."
Kristen Loschert is editorial director at the Alliance for Excellent Education.
Categories:
Uncategorized