EPI's 2013 International Forum on Education & the Economy theme "return on investment"

February 27, 2013 05:05 pm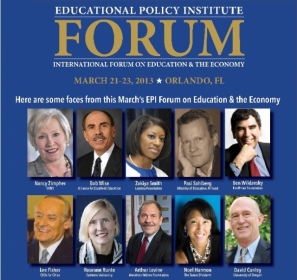 It's not surprising that the Education Policy Institute's (EPI) 2013 Forum on Education and the Economy theme is "return on investment." Students today will drive our economy tomorrow – as workforce members and consumers; the way to ensure theirs and the continued success of the U.S. economy is through a quality, equitable education for all students.
I have been invited to participate in this year's conference and am honored to share my thoughts, along with research from my organization – the Alliance for Excellent Education, on the link between graduating our students and growing our economy. I will be in excellent company, presenting alongside experts and academics such as Nancy Zimpher from SUNY, Zakiya Smith with the Lumina Foundation, Pasi Sahlberg – who will offer us a global perspective as an official from Finland's Ministry of Education, and Arthur Levine of the Woodrow Wilson Foundation, among others.
The annual International Forum on Education and the Economy will take place March 21-23 this year in Orlando, Florida. Throughout the forum, we will discuss college and career readiness, college costs and affordability, education and the economy, student retention, persistence, & completion, and science, and STEM (science, technology, engineering, and mathematics), all with the end goal of providing world-class education for all students, everywhere.
The Forum welcomes interested elementary, secondary, postsecondary, and workforce education program stakeholders from within the U.S. and around the world to join. If you'd like more information on participating, visit EPI's website at http://www.educationalpolicy.org or email info@educationalpolicy.org. There are discounts available for institutional groups of four or more from one school, institution, or organization.
I'm looking forward to engaging with other education leaders and practitioners on maximizing our investment and return in our educational system at Education Policy Institute's annual International Forum on Education and the Economy. Please stop and say "hello" if you attend!
Bob Wise is president of the Alliance for Excellent Education
Categories:
Uncategorized