Ensuring Readiness to Teach: edTPA Support and Assessment

October 21, 2013 10:22 am
On October 9, the Alliance held a webinar on the new teacher assessment tool edTPA—a performance-based assessment that shows how teacher candidates develop and evaluate student learning and aligned with the Common Core State Standards. edTPA became fully operational in early September 2013 and captures multiple measures of teaching practice in twenty-seven subject areas, providing insight into a candidate's ability to effectively teach his/her specific content area to diverse learners. The webinar attracted a nationwide audience and raised many important questions that we did not have time to address. Happily, our panelists agreed to answer a number of these questions in this blog.
If you missed the webinar, you can watch the archived video. Below are additional responses provided by our panelists: Dr. Amee Adkins, Associate Dean of the Illinois State University College of Education, Becky Pringle, Secretary-Treasurer of the National Education Association, Nicole Barrick Renner, teacher with Metro Nashville Public Schools, and Dr. Sharon Robinson, President and Chief Executive Officer of the American Association of Colleges for Teacher Education.
What evidence can you provide of the predictive validity of the edTPA?
The best way to improve student learning is to put an effective teacher in every classroom. Moreover, well-prepared teachers are more likely to be effective and stay in the profession, thus reducing the high turnover that plagues many of our schools.
In 2001, the National Research Council report on teacher licensure called for research and development of broad based indicators of teaching competence including assessments of teaching performance in the classroom. Research has shown that rigorous, validated, standards-based performance measures can be a powerful tool for capturing high-leverage teaching behaviors linked to improved student learning.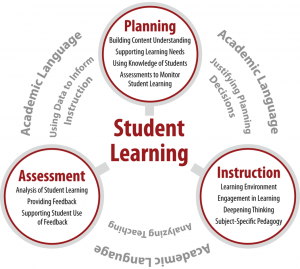 edTPA shares a common architecture and lineage with other successful performance assessments such as the National Board, California's Performance Assessment for California Teachers (PACT) for initial licensure, and Connecticut's Beginning Educator Support and Training (BEST) for professional licensure. Over the last two decades, validity studies have shown that well-designed teacher performance measures can differentiate between effective and ineffective teachers and predict gains in their students' learning and achievement.
How are metrics to measure pre-service educators' skill in effectively engaging all students with different learning needs and backgrounds and in promoting healthy learning environments integrated into the edTPA?
Of the five teacher competencies at the center of edTPA, the dimension of Instruction promotes pre-service skills in this area by focusing on classroom learning environments, student engagement in learning, deepening thinking and subject-specific pedagogy. Rubric 6 in the instruction task explicitly addresses evidence that the candidate demonstrates mutual respect and rapport with students and engages them in a positive and intellectually challenging learning environment.
Last year, Maria Hyler, Assistant Professor and colleagues at University of Maryland, set out to study if edTPA preparation materials discouraged or inhibited the preparation of teachers to respond to the needs of diverse students. She concluded that, "About 70 percent of text from [edTPA] handbooks provides either an opportunity or prompt for candidates to reveal practices that reflect the elements of culturally relevant pedagogy. That's pretty significant."
Which states are fully implementing the edTPA, and how can preparation providers find out which states are planning to use the edTPA for assessing program quality and/or teacher licensure?
Teacher preparation programs in thirty-three states have tried out edTPA, participated in widespread field tests and/or have developed policies requiring performance based assessments of teaching for licensure, program completion or accreditation.  For more information, see "Frequently Asked Questions" on the AACTE edTPA website.
A number of these states, however, already have developed policies for licensure or program approval using edTPA. For example: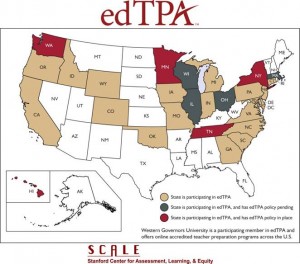 Georgia will require edTPA for teacher licensure beginning in 2015-16.

Hawaii will require a performance-based assessment such as edTPA for teaching candidates beginning in 2017.

Illinois will require a performance-based assessment of teaching for program completion in September 2015, and most teacher preparation programs in Illinois have been phasing in edTPA.

In New York, starting in May 2014, teacher candidates applying for licenses will be required to pass edTPA.

Tennessee now allows edTPA to be used as a substitute for a standardized test of teaching practice.

Minnesota's Board of Teaching, which approves institutions and licensure programs to prepare teachers, now uses edTPA as one measure.

Washington state will require teacher candidates to take edTPA to complete teacher preparation programs and receive licenses for most subject areas starting in January.

Wisconsin will require edTPA for teacher licensure starting in 2016-17. The assessment will be used as one measure for teacher preparation program review beginning in 2015-16.
For additional information, see this USA Today story.
What are important implications for providers implementing the edTPA to ensure their teacher candidates are ready to teach? 
Highly structured teacher performance assessments have a formative impact on teacher learning, instructional practice, and program improvement. For example, following PACT implementation in California beginning in 2007, a number of teacher education programs reported on their success using PACT data to evaluate and improve their programs. Extensive interviews with teacher education faculty highlighted their increased collaboration and deep engagement in revamping coursework, assignments, and fieldwork after closely examining the new kinds of data on candidates' classroom teaching.
Becky Pringle, Secretary-Treasurer of the National Education Association, noted that as institutions and states move toward developing policies and pilots around pre-service performance assessments, like edTPA, it is important that they engage their P-12 partners. edTPA has the potential to bridge teacher preparation and practice by dramatically changing the way pre-service candidates are prepared. It is important to remember that pre-service field experiences occur in the classroom spaces of practicing teachers and their engagement is critical to successful implementation. Thoughtful implementation of a capstone assessment requires discussions with school-based partners about program redesign, assessment timelines, and appropriate opportunities for candidate feedback and support.
Pringle emphasized that consistent with effective teacher evaluation systems, edTPA is part of a pre-service multiple measures system that will be used to demonstrate candidate preparedness. "Connecting the dots between pre-service and in-service evaluation systems is needed to ensure that all educators understand how these systems promote continuous teacher growth and development," she said.
What is the benefit of multiple states using the same assessment?
Serious and systematic efforts are needed to improve the effectiveness of entering and practicing teachers. Development of a nationally accessible teaching performance assessment will allow states, school districts, and teacher preparation programs to share a common framework for defining and measuring teaching performance that forms a valid and robust vision of teaching quality.
Setting a common standard for relevant and rigorous practice is essential to advancing student learning consistent with the Common Core State Standards and producing deeper learning outcomes. The edTPA process illuminates how well prospective teachers are able to engage learners, assess students' current knowledge and skill development, and provide feedback to students to enable them to develop increased independence and skill in directing their own learning.
What technology platform is needed to submit the edTPA?
Candidates can develop and submit their edTPA materials directly to the edTPA electronic portfolio platform provided by Pearson, or if already in use at their campus, via one of many integrated platform providers. Regardless of pathway, all candidate materials are kept secure and confidential throughout the scoring process. Score reports are sent to candidate and campuses via the Pearson system.
Will it be possible to retake the edTPA is candidates do not pass?
Candidates whose performance does not meet the passing standard for edTPA will be able to choose to retake either the entire edTPA or retake edTPA by submitting one task. Candidates and program faculty will be provided with guidelines that support thoughtful examination of candidate performance and decision making about retaking edTPA so that candidates continue to develop the knowledge and skills of effective teaching.
Categories:
Uncategorized