edTPA Affirmed as Measure of Readiness to Teach

September 30, 2015 02:57 pm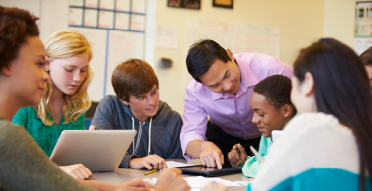 Researchers and educators are learning that the differences in student academic performance that they observe between schools often mask even greater variations in student performance schools. The issue appears to be less about unequal schools and more about unequal classrooms. The teacher to which a student is assigned matters more than the school he or she attends.
Ensuring teaching attains the status as a true profession poses a central challenge for the United States in providing equitable educational opportunities for all students. Schools are inherently crafted-based institutions and craft-based approaches contribute to the inconsistency in teaching practice and the wide variation in student learning and performance.
Nevertheless, enough is known about effective teaching to act on a broad scale. The good news is this is taking place across the country.  Beginning in 2009, teacher educators from forty states and more than 600 campuses have been using a research-based, teacher performance assessment known as the edTPA to deepen faculty and teacher candidates' understanding of research-based practices.
Today, Stanford Center for Assessment, Learning and Equity (SCALE) in partnership with the American Association of Colleges for Teacher Education (AACTE) released an administrative report on edTPA.  It presents all candidate performance data from more than 18,000 candidates who participated in edTPA during the first full operational calendar year—January 1 to December 31, 2014. The associated analyses provide compelling evidence supporting edTPA's intended use as a measure of readiness to teach and an indicator for informing program approval and accreditation.
edTPA shares a common architecture and lineage with other successful performance assessments such as the National Board for Professional Teaching Standards' system of advanced certification and the Performance Assessment for California Teachers (PACT) for initial licensure. Over the last two decades, numerous studies have shown that well-designed teacher performance measures can differentiate between effective and ineffective teachers and predict gains in their students' learning and achievement.[1]
SCALE's extensive Review of Research on Teacher Education provides the conceptual framework for edTPA's three-task design aimed at subject-specific learning goals. It captures critical dimensions that research shows are linked to teacher effectiveness and student learning in each of its twenty-seven certification area versions.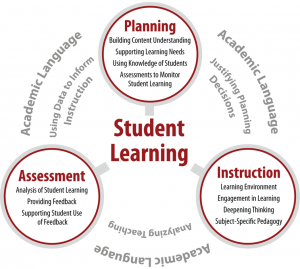 Source: EdTPA Assessment Handbook (Stanford: Stanford Center for Assessment, Learning and Equity with assistance from Evaluation Systems, September 2015).
Teacher educators emphasize the educative value of edTPA and the importance of empowering professional educators—within educator preparation programs and within K-12—to lead edTPA implementation and its use. Amee Atkins, professor and senior associate dean in the College of Education at Illinois State University, writes "We have been committed to moving beyond compliance with state policy to using edTPA as a positive force to support critical faculty inquiry into teaching and learning…As teacher educators it is our responsibility to commit to ensuring that all students have access to a highly qualified competent teacher—a civil right that all students and parents deserve and should demand."
See the full commentary. For more information about edTPA, go to edtpa.aacte.org that provides a learning community across the country along with a variety of resources and tools.
---
[1] L. Darling-Hammond, Evaluating Teacher Effectiveness: How Teacher Performance Assessments Can Measure and Improve Teaching (Washington, DC: Center for American Progress, October 2010); S. P. Newton, Preservice Performance Assessment and Teacher Early Career Effectiveness: Preliminary Findings on the Performance Assessment For California Teachers (Stanford, CA: Stanford University, Stanford Center for Assessment, Learning, and Equity 2010),http://scale.stanford.edu/ (accessed January 26, 2011); M. Wilson et al., Using Student Achievement Test Scores as Evidence of External Validity for Indicators of Teacher Quality: Connecticut's Beginning Educator Support and Training Program (Berkeley, CA: University of California, Berkeley, 2007).
Categories:
Uncategorized