#Edtech Perspectives: Converting Connection Into Leadership

February 04, 2015 11:00 am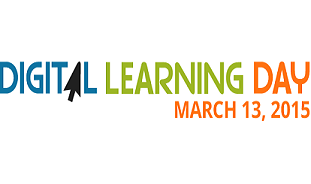 This guest blog post was written by Tara Woodall, a Pre-AP English 2 and English 2 teacher at Golden Valley High School in Merced, CA. This blog appears as part of the Alliance's Digital Learning Day Blog Series. Digital Learning Day 2015 takes place March 13.
---
"I don't think I can do that."
That statement is part of my origin story.  I often tell this story to illustrate how much tech-savvy leaders transformed me.  Why the doubt?  It was my first week as a new English teacher at Golden Valley High School in Merced, California.   My students were in the library getting signed into their Google accounts for the first time.  Jamie Dyra, the teacher librarian at the time, asked me if I was willing to try going paperless.
Frankly, I wasn't willing.  I thought it would increase the time it would take me to read and respond to student writing.  I thought it would be a management nightmare.  Plus as a new employee who knew she had to learn a new school culture, I did not want any extra stress.  I didn't enumerate these concerns; I simply said, "I don't think I can do that."
Jamie decided to show me what was possible.  One of her objectives with my students was to teach them how to fill out a Google Form.  I had never seen one of these in action.  Jamie clearly noted my curiosity and explained how it could be used to collect links to student work.  Instead of just showing me what it was, she showed me how it worked and what its potential could be.
By the end of that period, I had changed my mind.  I looked at Jamie and said, "I'll give it a try."
Suddenly, the possibility that I could be tech-savvy emerged.  During my first year at Golden Valley High, I learned everything I needed to step out and become a leader in our Instructional Leadership Team (ILT) the following year.  This is what I know for sure.
CONNECT!
Jamie connected with me promising assistance with learning to use Google Docs with students.  If I didn't have that connection and promise of future connections, I would not have had the courage to try new tools and ways of teaching.  Jamie was the one who often helped me through my first year at Golden Valley.  During that time, we developed a friendship in addition to a working relationship.  I knew that I could go to her at any time and not feel judged for having questions.  I feel like this is the most important principle in developing tech-savvy teacher.  If you want people to connect with tech, you must connect with them on a personal level first.  The stronger the connections I make, the more willing others will be to take risks.  With risks taken, learning and mastery can follow.
DEMYSTIFY!
When we connect with teachers, we have opportunities to demystify tech.  I liken teaching with tech to presenting the final draft of a piece of writing.  Audiences see the finished product but might not be sure how you got there.  Always willing to break down her rationale for edtech, Jamie helped me realize how I could use the edtech tool for situations in my classroom.
In turn, our ILT works relentlessly to do our best to demystify the thinking process behind the tech we use.  I don't just show teachers how to use a particular tool; I must speak mostly in terms of why.  Something truly transformative happens when you don't just demo the tech but also demo the thinking:  teachers are inspired to find new ways to teach using tech in their own classrooms.  Furthermore, the tech becomes secondary to the educational plan.
EXPERIMENT!
After so many conversations with Jamie, I felt comfortable to start experimenting on my own with building webpages to use as an instructional space. The first year at Golden Valley, I felt this incredible freedom to experiment. I anticipated struggles, but knew that conversations with Jamie would help me overcome them.  I stumbled upon so many best practices during that time.  Mistakes give rise to discovery.  I made many mistakes, so I also made many discoveries.
As a leader myself, I try to provide opportunities for teachers to experiment and play with tech as often as I can.  Sometimes the invitation comes in an email; other times it comes during structured collaboration.  The key is to connect in conversation and celebrate the gifts of those mistakes.
STEP BACK!
One of my favorite professional moments happened in August 2014, a mere two years after I told Jamie that I just couldn't do it.  Our entire faculty were crammed working in the library.  We knew our students would be getting their own Chromebooks that semester, so we were working together feverishly to ensure that every faculty member had a class website.  However, the Instructional Leadership Team weren't the only leaders in the room that day.
The team took a step back.  Because we had spent the last year connecting with others, demystifying our experience, and experimenting with tech, teachers stepped up and helped other teachers.  They were not just showing others how to set up a Weebly or a Google Site.  They were connecting with each other, talking ideas about what to put on their websites and how they wanted to use tech in their classes.
That moment, that image, that culmination of all of our work is one of my favorite moments of my career so far.
MOVING FORWARD
The true job of a tech-savvy leader is to render herself obsolete.  If anyone had walked into our school library on that beautiful moment in August, they would be hard-pressed to identify the tech leaders in the group.  A true tech-leader converts connection into potential leadership.  People connections are always more significant than WiFi connections.  As you do the work that you do, I hope that you remember my story.  Don't give up on a colleague that might show initial doubt or disinterest. Try to make a connection and see where it leads.
Tara Woodall is a Pre-AP English 2 and English 2 teacher at Golden Valley High School in Merced, CA