Documentary Film The Long View Highlights One Community's Efforts to Bring Deeper Learning to Its Students

September 13, 2018 04:24 pm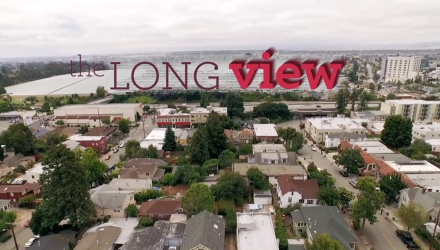 This blog post is written by Susan Zeig, producer/director of The Long View.
One of the most common unifiers of people all over the world is the desire for a good education. Parents and guardians want this for the children in their lives, and young people want this for themselves as soon as they are old enough to appreciate its worth.
There is a lot of media attention paid to what is not working in public schools, but not enough to looking at what conditions create high-functioning public schools or the systemic factors that contribute to struggling schools.
The Long View documentary brings forward the work of community organizing as one of the most effective ways that people without wealth can exercise power to improve their public schools. It provides a look at two public high schools in the same East Oakland, California, neighborhood. One is a high-functioning school where educators, parents, students, community members, and administrators come together with a vision and work to sustain it, while in the other these conditions are not present.
The film's story of a community's sustained effort to transform its schools is not unique to Oakland. Throughout the country, parents and students are partnering with educators to create and advance a shared vision for high-quality schools. The film shows the challenges and impacts of changing leadership and the power of educators, communities, family, and youth. It highlights the importance of deeper learning, real relationships, and full and fair funding.
In the clip from the film below, student Carmen Rivera stands before a panel of teachers and community members to present the findings of her year-long senior research project. She is doing much more than completing a high school graduation requirement. She offers solutions to the proliferation of gun violence, which she and her classmates frequently experience in their young lives. At Life Academy of Health and Bioscience (Life Academy), the school Rivera attends, the curriculum is based on interdisciplinary projects and hands-on learning grounded in the lives and interests of students. Teachers understand that student engagement is key to deep and powerful learning.
In the second clip, the biology and English teachers work together to design a joint lesson on genetic testing, creating a character and storyline that connects the course work in both classes. "It adds a whole different energy to the classroom if you can come up with really engaging and interactive curriculum," says biology teacher Claire Crossett.
As Life Academy teacher Pablo Venturino says in The Long View, "One of our main principles is meaningful action. So, everything that we do has to have a positive impact on our communities and our lives. And that is how our students get familiar with this idea that academic skills are useful to change their realities."
Preston Thomas, former principal of Life Academy and now the high school network superintendent for Oakland Unified School District (OUSD), was a pioneer of the senior defense when he was a classroom teacher. "A performance-based environment engages students as adolescents where they're at," says Thomas. "They want to show you that they're smart. They want to perform. They want to show you that they've mastered something, and they take a lot of pride in it." Life Academy's approach consistently has proven effective. It is one of the highest performing schools in OUSD, with a high school graduation rate 20 points higher than the district average.
The senior defense is just one example of ways in which schools across the country are embracing projects as a strategy for making learning meaningful and helping students build critical twenty-first-century skills, like analyzing research, developing persuasive arguments based on evidence, and being able to communicate their findings in clear and compelling ways.
Gone are the days of using standardized tests as the only gauge of what students know and can do. Instead schools like Life Academy are using performance assessments like the senior defense that require students to demonstrate their knowledge and competencies. Internships, which build connections between academics and real-world tasks, are another way schools make learning meaningful and create spaces for students to apply their new skills and knowledge. In schools that are part of the Big Picture Learning–Education Reimagined Network, for example, students work in internships in nonprofits or local businesses two days each week. Like Life Academy, Big Picture Learning Schools, part of the deeper learning network of schools, serve a high percentage of students whose first language is not English or who come from low-income families—students who are often furthest from opportunity.
As Dr. Linda Darling-Hammond, president of the Learning Policy Institute, notes in the film, high expectations, challenging curriculum, and comprehensive support all contribute to Life Academy's success. "Because of the frame which says, 'nobody is going to get tracked into different kinds of curriculum, everyone here is expected to succeed, and we are going to support you to do it,' most of the students do go on into good careers and college," she explains.
What Life Academy's story and countless others throughout the country share is a deep commitment to ensuring that communities are at the center of efforts to improve and sustain public schools. These students, parents, educators, and partners know instinctively that community organizing provides both the catalyst and the on-the-ground commitment to advance and sustain improvement.
To learn more about The Long View and see additional clips from the film, visit www.communityconcernfilms.org.
Susan Zeig is producer/director of The Long View.