Documentary Film For Ahkeem Highlights the Challenges African American Youth Face in School and the Community

September 28, 2017 10:36 am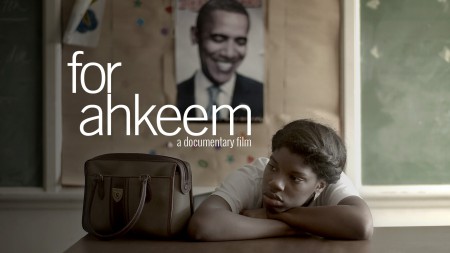 The film For Ahkeem is the coming-of-age story of Daje Shelton, a seventeen-year-old African American girl from north St. Louis, Missouri. Expelled from her public high school, Shelton is sent to the court-supervised Innovative Concept Academy (ICA), which offers her a last chance to earn a high school diploma. The film follows Shelton for two years, as she struggles to maintain focus in school, attends the funerals of friends killed around her, navigates a loving-but-tumultuous relationship with her mother, and falls in love with a classmate named Antonio. As her boyfriend is drawn into the criminal justice system and events in nearby Ferguson, Missouri, shine a national spotlight on racial bias and poor community-police relationships, Shelton learns that she is pregnant and must contend with the reality of raising a young African American boy.
This film illuminates the challenges that many African American teenagers face today. But it also witnesses the strength, resilience, and determination it takes for Shelton to overcome obstacles in her community and graduate from high school. To help the audience better understand these issues, the Alliance for Excellent Education developed a discussion guide that connects the experiences of Shelton, Antonio, and other young people featured in the film with the realities that historically underserved students face in communities and high schools across the country.
To learn more about the inspiration for the film, I spoke with Landon Van Soest, the film's co-director, and Daje Shelton, the film's subject.
Oakes: Why did you focus on this project? 
Landon Van Soest: My co-director Jeremy Levine and I have a longstanding interest in education, specifically the racial and economic disparities we saw working in schools around New York City and the implications of the school-to-prison pipeline. We saw an incredible opportunity when our executive producer Jeff Truesdell introduced us to Judge Jimmie Edwards, a St. Louis judge who was so frustrated with the zero-tolerance policies landing young people in his courtroom that he decided to open his own school. Growing up in the infamous Pruitt-Igo housing projects in north St. Louis, Judge Edwards seemed to have a unique perspective on the pressures facing black youth in America, and we wanted to see what kind of support structures he could create in the community. We spoke to probably thirty or forty different students at the school, but Daje [Shelton] stepped in and stole the show. I think she had a wealth of lived experience for such a young age and an incredibly insightful, articulate way of telling her story.
Oakes: Exposure to violence and trauma can have significant impacts on the social and emotional behavior of students at home and in school. What programs were in place at ICA to ensure that traumatized youth received the support they needed?
Daje Shelton: I think the biggest difference between ICA and my regular school was the afterschool programs. [ICA requires students to participate in afterschool programs until 6 p.m.] Especially groups like Girls Only and Youth Beyond Diversity, which supported me a lot. We could talk with them about anything. Mostly we focused on goals and what we wanted to do with our life. That helped a lot because I didn't know what I was going to do. I was going to a different school when I got shot, and they were nice to me, but nobody really talked to me about what I was going through, like trauma and all that stuff. If I went to ICA, it would have been so much different. I probably would have had one-on-one talks. ICA had grief counselors come in when students were killed, and we didn't have that kind of stuff anywhere else I went to school.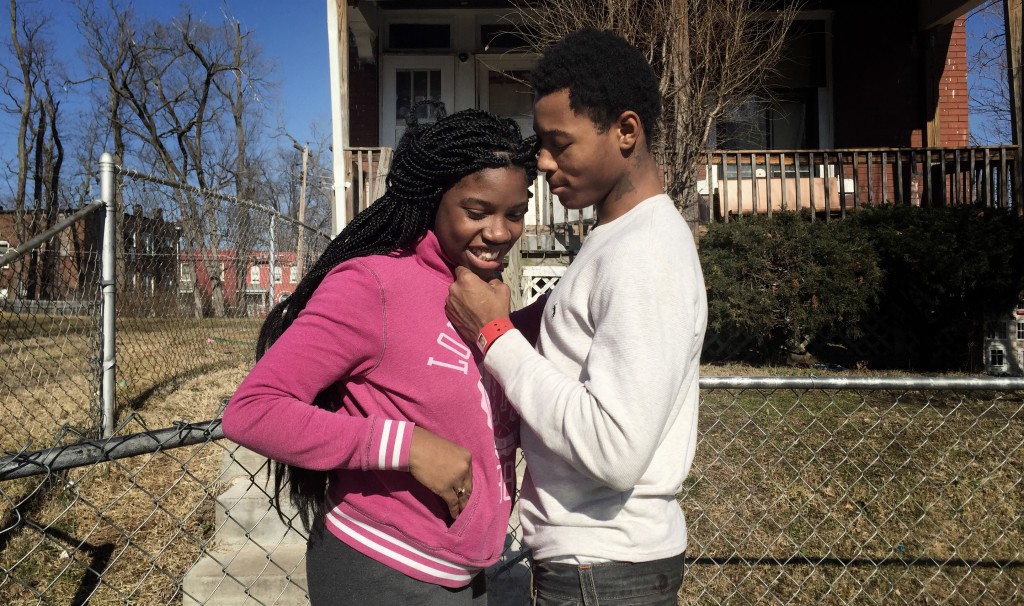 Oakes: There is a very distinct split in the paths of Daje and her boyfriend Antonio—as the film ends Daje receives her high school diploma and Antonio appears at another court hearing. In their stories, what were the specific moments that led Daje down the path toward high school graduation and Antonio toward further encounters with the juvenile justice system?
Shelton: I think it was mostly different because I had support at home too. My momma always talked to me right and pushed me to stay in school, get my work done, and all that. Antonio didn't have one successful person in his life, no kind of role model. He thought he couldn't do it, so he just wanted to give up all the time. Now I think he keeps getting locked up just to escape his real problems.
Van Soest: I think Antonio's experience mirrors the experience of a lot of young people in our country. He started falling behind and getting in trouble at an extremely young age, probably thirteen or fourteen years old, and went through a series of suspensions and was eventually expelled. After that he was shuffled around from program to program, and from what I saw, he got so frustrated and confused that he ultimately decided to drop out altogether. Statistically, his odds of getting in trouble with the law were much higher after dropping out, and sure enough his problems snowballed until he landed where we see him at the end of the film—a seventeen-year-old kid with an adult felony record and an incredible uphill battle to get an education or any meaningful employment.
Oakes: According to a 2015 study from the Center for Civil Rights Remedies, Missouri has one of largest gaps between suspension rates of white and African American high school students, 20 percentage points. Suspension from school greatly impacts the lives of Daje and Antonio. What other issues do students such as Daje and Antonio face in their schools and what have you learned about those issues from making this film? 
Van Soest: I think the challenges in marginalized schools are immense, and it's heartbreaking to see the impact it has on incredibly bright, promising kids like Daje. What has become very clear to me through making the film is that issues in schools, most notably disciplinary policies, mirror larger social problems and instill negative expectation in children at a shockingly young age. The issues we face with mass incarceration and the vastly disproportionate number of black and Hispanic men in prisons has been pretty clearly documented, but we don't talk nearly enough about how that trend is mirrored in the rates of suspensions and expulsions, which have ballooned just as quickly in the last twenty-five years even at the primary school level. I think it's preposterous that Daje was suspended when she was in kindergarten for something as trivial as accidentally spelling a curse word, and the stigma of being labeled a "bad kid" is something that she's trying to shake. I think it shows a sort of conditioning and a criminalization that has a deep impact on the psychology of a child.
Oakes: During one scene in the film, Daje and her classmates watch news accounts of the riots that erupted in Ferguson, Missouri, in 2014 after Michael Brown, an eighteen-year-old African American man, was fatally shot by Darren Wilson, a white Ferguson police officer. The film even shows the students identifying people that they know in the news clips. What were you thinking and feeling as you watched this unfold?
Shelton: Anger. Hurt. It's hard to know what to say.
Van Soest: It was clearly a powder keg moment for St. Louis and our entire nation. When we started the film, we were interested in exploring juvenile justice and the school-to-prison pipeline, but as we went along it became impossible to ignore race, disparity, marginalization, and all the complexities that permeate these issues. I think Ferguson made clear how deep-seated the frustrations are in a community that feels like it doesn't stand a chance of success. We struggled with how to handle these events in the film, but with Daje struggling to graduate and expecting a son, we were taken with a clip of Mike Brown's mother, in tears and screaming at a reporter, "You know how hard it was for me to get him to stay in school and graduate? You know how many black men graduate? Not many! Because you bring them down to this level where they feel like, I ain't got nothing to live for anyway, they're gonna try to bring me down anyway!" That sentiment was really chilling for us. I think it speaks volumes.
Oakes: What do you hope viewers take away from For Ahkeem? What do you hope education policymakers learn from the film?
Shelton: Teachers just need to care about their students, to see them as people. They have to see that everybody doesn't get the support they need at home, so students come to school and seek it—and may come to school and act out, because they're not getting the attention and support needed. I just hope people learn that everybody's got to work together for it to be productive.
Van Soest: For my part, I hope viewers will be as taken with this amazing young woman as we have been. I hope they share our outrage over all the barriers she faces just to succeed in high school and get some kind of solid footing in life. We're so proud of her for sticking with it, for finishing school, and fighting for her future and the future of her son, but I hope it's not lost on viewers just how easy it would have been for her to slip through the cracks. We saw far too many of Daje's peers drop out of school and end up in jail or worse. For educators, I hope it illustrates the incredible power of a supportive community and dedicated mentors. Like Daje was saying, a lot of her peers face incredible challenges on a day-to-day basis outside of school, so having a safe, supportive academic community where they feel that they can succeed is vital. And for policymakers, we need to stress the extremely detrimental effects of zero-tolerance policies and the harsh disciplinary policies that are undermining massive numbers of young people in our country, especially in the most vulnerable communities. It can be overwhelming to tackle the massive problems we face with bias and discrimination across every element of our society, but I think it begins with instilling a belief in young people that they can succeed and be positive forces for change.
Oakes: Why was it so important for Daje to get her diploma? 
Shelton: I had no choice. That just wasn't an option for me—to drop out and become nothing. I always thought I was going to finish and go to college. Especially because I had a child, I didn't have any choice but to succeed. I can't let him look up to me and say, "Well, you didn't graduate." But even before I had a baby, that just wasn't an option for me. Everybody in my household graduated, so I would have felt like I was letting them down if I didn't. Plus, I decided I wanted to be an ultrasound technician, so without a high school diploma, there was no way that was going to happen. I had to get that so I could go on to college and make something of myself.
This fall I'm starting school at community college and getting a degree to be an ultrasound technician. Now, I just want to go to school, graduate, and then get up out of town!
Abner Oakes is the director of outreach and strategic partnerships for policy to practice at the Alliance for Excellent Education.
 Film stills from For Ahkeem courtesy of Nicholas Weissman/Last Resort Doc