#EdTech Perspectives: Isn't every day Digital Learning Day?

January 15, 2015 03:30 pm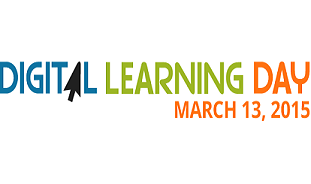 The Alliance for Excellent Education couldn't be more excited about the opportunity to showcase some of the most innovative educators, schools, and programs across the country during its fourth annual Digital Learning Day on March 13.
Often, people ask, "Wait, shouldn't every day be Digital Learning Day?!" While it is absolutely correct that high-quality digital learning opportunities should be available to all students every day, it's also true that technology integration into schools and programs must be an intentional and reflective process.
The Alliance is proud that Digital Learning Day has not only become a platform for encouraging education innovation, but also for allowing the education community to appropriately reflect on strategies, practices, and policy reforms that are helping more students graduate from high school prepared for college and a career. Since its inception in 2012, thousands of teachers and schools across the nation have held activities on Digital Learning Day. And each year, the Alliance organizes a National Town Hall that highlights examples of how great teaching, combined with effective technology, can positively impact America's schools.
From California to Maine, there is an incredible amount of innovation happening in our nation's schools and within the surrounding communities of informal learning institutions. In some schools, teachers are using time and technology differently to implement personalized learning strategies that make their schools far more relevant, engaging, and meaningful for students.
Other schools are using technology to support deeper learning competencies that emphasize an academic mindset and helping students understand how to approach the learning process. Similarly, the connected learning movement seeks to support many of the same learning principles, except with a broader recognition of the role that community partners can play in using technology to shape learning experiences beyond the school day.
Although there are slightly different approaches and varying terminology used to describe what twenty-first-century learning should look and feel like, there is a shared and common vision of what it takes to ensure that today's students are prepared for tomorrow's challenges. It requires thoughtful integration of technology to support learning objectives, as well as systemic planning for how to support educators and optimize resources.
This is not easy work; over the last year, districts have achieved varying degrees of success and setbacks with digital learning. Often the setbacks are the stories that make national headlines while the successes go unnoticed. Digital Learning Day provides an opportunity to celebrate successful practices that should be shared and scaled to reach more students—particularly those with the highest need. It also encourages a culture of innovation among educators and an opportunity to reflect on what can be learned from each other.
From classroom practice to district wide strategy, Digital Learning Day continues to inspire educators, administrators, community partners, students, and parents to embrace their role in supporting the digital transformation underway in our nation's schools. Visit www.digitallearningday.org to add an event or activity, browse tools and resources, or learn more about effective practices.
Kamila Thigpen is the Digital Learning Policy and Advocacy Manager for the Alliance.