Digital Learning Success Stories: Which Schools and School Districts Are Leading the Way with Digital Learning? #DLDay

January 09, 2014 01:36 pm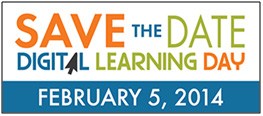 On Wednesday, February 5, tens of thousands of teachers and millions of students across the country will participate in the third annual Digital Learning Day—a national celebration of innovative teaching and common-sense, effective applications of digital learning in America's schools that support teachers, improve learning, and help students achieve at their highest potential.
To help educators, students, and parents see firsthand how digital learning can change the culture in a school or school district, the Alliance for Excellent Education created several interactive case studies and short profile videos (linked below) highlighting some of the schools and school districts that are leading the digital learning revolution.
This list is in no way meant to include every school and school district in the nation that are doing a great job with digital learning. If there are schools or districts you think we should highlight in the future, please add them in the comments along with why you think they should be featured.
Quakertown Community School District (PA): Located about forty-five miles north of Philadelphia, Quakertown Community School District (QCSD) is a small, rural K-12 school district that has seen tremendous improvement in student achievement and engagement from implementation of a blended learning approach in 2008 that combines online learning with traditional classroom instruction. This video shows how QCSD worked with important partners, including its local teachers' union, to improve student outcomes using effective applications of technology and blended learning strategies. More information on QCSD is available from the text and videos included in the interactive profile, Quakertown Community School District: A Systematic Approach to Blended Learning That Focuses on District Leadership, Staffing, and Cost-effectiveness.
Cajon Valley Unified School District (CA): Cajon Valley is a small, urban, diverse K–8 school district serving 16,000 students in the greater San Diego, California metropolitan area. Just a few years ago, it was challenged by ethnic differences, poverty, inequity between schools, and low achievement. Today, academic achievement is on the rise—test scores on the California Standards Test increased by 24 percentage points in science and 13 percentage points in math—thanks to its effort to pair digital learning with increased support for teachers and students to improve student achievement, behavior, and engagement. See the interactive profile, Cajon Valley Union School District: Changing the Culture of Learning to Empower Students.
Dysart Unified School District (AZ): Dysart is a rapidly growing K–12 school district in Arizona where nearly half of the students qualify for free or reduced-price lunch. In response to the simultaneous challenges of significant budget cuts and growth in student numbers, Dysart developed a strategic, collaborative planning process that incorporates digital learning to meet the challenges presented by explosive student growth while improving student learning and outcomes. Learn more in the interactive profile, Dysart Unified School District: How One School District Used Collaborative Planning to Improve Outcomes for All Students.
In addition to these interactive profiles, the Alliance has also created several short videos highlighting other districts across the country:
Mountainview Elementary School (WV): What's the difference between your school and the one that helped inspire Digital Learning Day? Not much. Take a look at Mountainview Elementary in West Virginia and their "No Paper, No Pencil Day" and get inspired!
Mooresville School District (NC): On June 6, 2013, President Obama went to Mooresville School District to announce "ConnectEd," a plan to provide next-generation broadband and high-speed wireless in schools and libraries and reach 99 percent of students within five years. As the president's decision to feature Mooresville shows, the school district is a digital leader in using technology to improve student outcomes. This video features Mooresville teachers, leaders, and students talking about how they use technology in the classroom. http://youtu.be/EKYW6fD9DfE
Klein Independent School District (TX): Located in the Houston metro area, Klein has used technology, including a 1:1 program for high school students to better meet the needs of individual students, while also creating more engaged students who are more independent in their learning. http://youtu.be/sReig3exVfI
Now that you're up to speed on the power of digital learning to improve student outcomes, sign up to participate in Digital Learning Day.
We've got plenty of other resources to help you plan your day, including lesson plans, toolkits, and other activities and ideas