Digital Learning and a Bold Brand of Teacher Leadership

January 31, 2014 09:45 am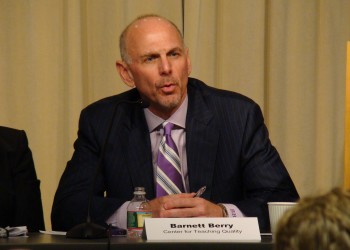 This guest post comes from Barnett Berry, CEO and partner of the Center for Teaching Quality. See Barnett talk more about teaching and digital learning on Digital Learning Day, February 5, 2014! 
Where digital learning blossoms, you can find strong teacher leaders. Consider, for example, Talladega County, Alabama, where four teachers gained the support of administrators to lead a dramatic instructional transformation.
We live in age of top-down mandates (and big tech contracts). But we all know what makes digital learning successful: the expertise of practicing teachers in using technology to personalize students' experiences. As researchers and advocates have documented, "technology can provide more opportunities for teachers to design learning experiences and content that incorporate proven pedagogical practices."
Even as learning "goes digital," teachers will continue to play a vital role in effective use of new technologies to boost the progress of individual students.
Pressing questions we face in 2014
How can we make the most of this moment in the history of digital learning, when technology is available to more schools than ever? What will help teachers to use digital tools and resources to maximize, personalize, and transform learning, rather than merely adding 21st-century shininess?
I've asked lots of accomplished teachers about these questions, and they tell me they could do much, much more if they had the time and space — and genuine autonomy — to lead.
What's possible?
Plenty of states, districts, and schools seek to make the most of technological advances to help students succeed. The Common Core State Standards—with their emphasis on critical thinking and communications skills—offer an unprecedented opportunity for educators to co-develop innovative technological applications.
So what if more schools supported teacherpreneurs—expert practitioners who teach students regularly but also have time and autonomy to advance 21st-century learning? States, districts, and schools could get creative, designing hybrid roles that give teachers opportunities to lead without leaving students altogether.
Imagine a teacherpreneur who taught students directly 12-18 hours per week—and spent the rest…
Leading her district's development of a teacher-informed plan to roll out a major technology initiative; or
Preparing preservice teachers at a local university to design effective digital learning experiences; or
Working with an ed tech start-up to develop edugames that sharpen students' mastery of specific Common Core skills; or
Guiding a cohort of teachers in designing and implementing digital learning projects, then in spreading their expertise to colleagues across the district or state; or
Collaborating with a university researcher and graduate students to develop an app based on neuroscientific findings about how kids learn math; or
Facilitating a virtual network that helps teachers identify and share best practices, tools, strategies, and ideas about enhancing digital learning.
Of course, districts could design teacherpreneur roles to meet other kinds of needs: mentoring new teachers; developing interdisciplinary curriculum tied to both the Common Core and the needs of students; creating and scoring authentic assessments; orchestrating community partnerships; or advancing new policies that fuel what works best locally.
Sound crazy? At CTQ, 2013-2014 is our third school year of working with teacherpreneurs. We have partnered with districts across the country to buy out half of these six teachers' contracts so they can lead initiatives related to Common Core implementation, school redesign, global learning, and other issues our organization addresses while still teaching students regularly. And in doing so, they retain their pedagogical prowess as well as the trust of fellow teachers. As we document in our recently published book, they lead in bold ways without leaving their students.
Overcoming the barriers
Research and our own experiences in cultivating and supporting teacherpreneurs have exposed us to many barriers that can get in the way of a bold brand of leadership from the classroom. Most states lack ideal conditions: teacher preparation programs that develop new recruits to teach and lead; administrator preparation programs that help principals identify and maximize teacher leaders' strengths; time and trust for teachers to lead; agile personnel policies and collective bargaining agreements; and accountability systems that value collaboration and the spread of expertise. (To name just a few barriers!)
But where there is the will, there is often a way.
We've seen unions, districts, and other nonprofit organizations bend the rules to meet local needs by creating new teacherpreneurial roles. And we've looked on as school, district, and statewide cultures have dramatically improved thanks to the actions and attitudes of teacherpreneurs who make important decisions while teaching students regularly.
The Alliance has made it clear that "without well-thought-out policies that consider quality, the importance of teaching, and the experience of the student, (digital learning) will produce no better results than reform efforts of the past decades." In top performing nations like Singapore and Finland, teachers (and not just a select group of them) teach 12-18 hours a week so they can lead without leaving.
Now is the time to cultivate a bold brand of teacher leadership for 21st-century learning—and clear the path for those who teach to lead. Will our nation's policymakers finally invest in teaching and teachers to make possible the learning experiences that the students of the 21st century deserve?


Barnett Berry is CEO and partner of the Center for Teaching Quality. A former high school teacher, Barnett has served as a researcher, professor, policy analyst, and advocate on behalf of K-12 teachers for decades. He is a coauthor of Teacherpreneurs: Innovative Teachers Who Lead But Don't Leave (Jossey-Bass, 2013) and TEACHING 2030: What We Must Do For Our Students and Our Public Schools… Now and in the Future (Teachers College Press, 2011). Follow the Center for Teaching Quality on Twitter @teachingquality.