"Democracy Must Be Learned by Each Generation": The Importance of Elevating Student Voice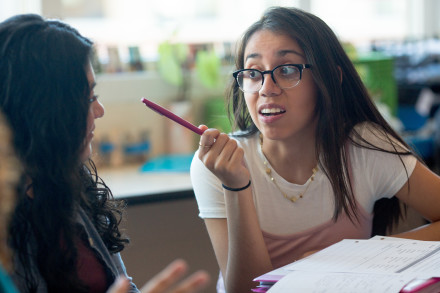 At the start of my sophomore year of high school, a friend introduced me to a statewide Pennsylvania Youth and Government (YAG) program. "You get to write laws," I remember her saying excitedly, while showing me the more than 500 pages of student bills. "You're like a legislator." Every student bill that was signed by the program's youth governor landed on the desk of Pennsylvania's real governor to consider as legitimate legislation. To me, the concept of having the chance to advise state policy as an adolescent was revolutionary. During the next three years, YAG gave me the confidence to voice the opinions that I previously thought were unworthy of consideration and I became aware of policy issues I did not know existed. The program changed my life, and the skills I gained from it will be long lasting.  

Until I left the bubble of my well-to-do high school, I never realized how much privilege I had. People heard me, and they listened. But many historically underserved students, including students of color and those from low-income families, never have the chance to participate in dialogue about policies that affect their lives, yet they are the ones who can speak to the challenges they face in crumbling schools and struggling communities.  
In a study produced by the Center for Study of Social Policy, researchers find that schools in low-income neighborhoods have fewer opportunities for engaging with service learning or civically-centered opportunities. According to the study, "social and class disparities in civic participation often begin during a person's teenage years and are intensified by the lack of opportunity to practice civic participation in their communities and schools." Additionally, developmental psychologists from the University of Pennsylvania Graduate School of Education find that youth of color and youth from socioeconomically disadvantaged backgrounds tend to feel more distanced from their communities and less politically efficacious as compared to their white peers. Because of this gap, research shows that underserved youth might benefit the most from strong civic engagement programs. Their involvement can give them the chance to develop and showcase their strengths in a society where they often face extensive marginalization and systemic oppression, cultivating a sense of empowerment as they realize their rights as productive members of their communities.  
Furthermore, a 2014 study finds that urban youth of color who participate in civic activities, such as student councils, volunteering, or other extracurricular programs, demonstrate lower rates of substance abuse and aggressive behaviors. In a cohort of Chicago public school students, of which 93 percent were African American and 7 percent were Latino, those who participated in various acts of civic engagement were more optimistic about the future, had higher levels of contentment with their lives, and were more likely to continue to postsecondary education or beyond.  
So, what can individuals, parents, school leaders, and community members do to involve these youth in meaningful civic engagement opportunities? Schools, families, communities, states, and even national education or political organizations need to coalesce to create platforms where all children are heard loudly and clearly. This involves providing incentives in urban and rural schools for historically underserved students to participate in student government, working with outside groups to set up programs like YAG, engaging parent groups in promoting civic learning and participation, creating mentorship programs, and concentrating efforts on schools that have inadequate opportunities for their students to engage in activism. Along with schoolwide opportunities, local, state, and national policymakers can create youth boards and councils or organize youth summits during which policymakers and students can explore policy issues together.  
Take the Coro Youth Leadership Academy (YLA) for example, a program that partners with the New York City Department of Education to pair students with city borough representatives to discuss issues within their respective communities. Coro YLA is unique because it recruits students from each New York City borough, bringing together a group of students with diverse backgrounds and experiences. Staci Taustine, program director, explains that the program not only benefits students, but informs policy in unique ways. "[Youth feedback] provides a lot of data that validates your work in a new or better way," she says. "It's an in-house continuous improvement effort."  
Committed teachers also play a vital role in creating and sustaining civic-engagement opportunities for historically underserved students, even in schools with limited resources. Lainey Newman, now a sophomore at Harvard University and former youth governor for Pennsylvania's YAG, credits her teachers for the success of the YAG program at her high school, Barack Obama Academy of International Studies, a school where 73 percent of students are students of color and 68 percent of students qualify for free or reduced-price lunch.   
"I went to an inner-city Title I high school in Pittsburgh with a fantastic Youth and Government program," Newman explains. "This was largely because faculty members understood the importance of engaging students at our school in these types of programs. When these programs are available, even at schools with limited resources, students do take advantage of them and they shape lives."  
Newman is right. For me, having the chance to develop my voice in a world of heightened political polarization and increased tensions over harmful policies made me stronger, more confident, and shaped my path. All young people, regardless of background, should have that same opportunity to speak up for the issues in which they believe. After all, that is what democracy is all about and, as a saying in YAG goes, "democracy must be learned by each generation."  
Ariella Meltzer is a policy and advocacy intern at the Alliance for Excellent Education. 
Photo by Allison Shelley/The Verbatim Agency for American Education: Images of Teachers and Students in Action