Deeper Learning Digest: When Students Become Their Own Teachers

December 19, 2019 03:35 pm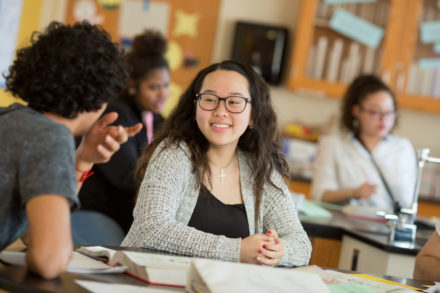 What happens when students become their own teachers and take control of their learning?
Today's digest highlights an elementary school in Hawaii that is teaching students how to take an active role in their own learning, takeaways from a webinar on scaling up deeper learning approaches in schools, how to build a skilled workforce in Colorado, a focus on equity at Big Picture Schools, and registration for the PBL World conference.
Students Take an Active Role in Their Learning
Elementary school students in Hawaii are taking an active role in their own learning experience, reports Hawaii News Now. In a method called "Visible Learning," students are encouraged to ask three questions: "Where am I going? How am I going? And where to next?"
"We see learning through the eyes of our students, and we want our students to become their own teachers," said Kaimiloa Elementary School Principal Debra Hatada. Students are also learning important skills like communication, perseverance, and self-motivation.
"It's not just about teaching the lesson. It's about going deeper and do you understand what you're learning and why you're learning it," said teacher Andrea Irimata.
Scaling Up Deeper Learning Approaches in Public Schools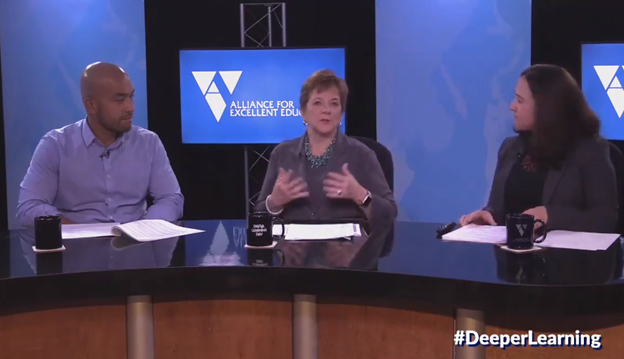 What are some of the challenges and opportunities educators and district leaders face in expanding deeper learning? In this webinar hosted by All4Ed and the Learning Policy Institute, experts from the field and researchers highlighted how three networks— Big Picture Learning, Internationals Network for Public Schools, and New Tech Network—have partnered with traditionally structured public school districts to spread deeper learning models, advance equity, and achieve greater success for traditionally marginalized students.
"We're going to have to engage students in working with knowledge that hasn't been discovered yet, using technologies that haven't been invented yet, to solve major problems," explained Linda Darling-Hammond, president of the Learning Policy Institute.
In the webinar, panelists shared insights from their efforts in the field and discussed how they have leveraged policies, professional learning, and partnerships to establish and grow deeper learning in different settings.
"If we want to change outcomes for kids, we have to change the behaviors of adults," said All4Ed President Deb Delisle.
After the webinar, we shared some additional questions from viewers and the Learning Policy Institute helped to provide some responses on Twitter. See the questions and answers below.
How do the strategies of setting up deeper learning address structural inequities for youth of color?
Scaling deeper learning in public schools—and in ways that ensure that the most marginalized students have access—would definitely push against this systematic inequity for youth of color. Sustainability is key. Read more.
What is the empirical evidence that deeper learning approaches work for students with learning differences?
Deeper learning can improve academic and inter/intrapersonal competencies for all students, including those struggling in conventional school settings. Check out this American Institutes for Research report on outcomes of students in deeper learning networks v. peers in non-network schools.
How does the role of time as a resource (time for deeper student learning, time for teacher learning and collaboration) come into play? What are some smart ways of using/leveraging time to support deeper learning?
All three networks intentionally design schools for deeper learning, rethinking the structures surrounding teacher's work and the use of time in schools. By creating schools with flexible schedules, teachers and students can engage in collaborative and applied learning.
Building a Skilled Workforce in Colorado
According to ReadyNation, Colorado is projected to face a serious skills gap in the coming decade. The state needs highly-skilled workers, and deeper learning is one key way to build a competitive workforce.
Jeff Wasden, President of the Colorado Business Roundtable and a member of ReadyNation, discusses the importance of deeper learning educational models that balance academics with real-world lessons in this ReadyNation video.
Equity in Big Picture Learning Schools
How do Big Picture Learning Schools focus on equity? In this video by the Learning Policy Institute, Sonn Sam, regional director at Big Picture Learning Schools, and Melissa Agudelo, principal, San Diego Met High School, share their take on keeping equity at the core of Big Picture's mission.
Sam explains that their motto is 'one student at a time.' "When I think about equity," says Sam, "It's how do we recognize, truly recognize, every single student? We start there."
"The only way to keep equity at the center of the work is to constantly be talking about it, is to not be scared, and to always be engaging in that conversation," explains Agudelo.
Watch the video below.
Project-Based Learning Conference in June
As 2019 comes to a close, and planning for 2020 is underway, register for PBL World. This project-based learning conference is taking place June 16-18 in Napa Valley. There will be workshops for every level of educator—including teachers, instructional coaches, and school and district leaders—at every phase of their journey.
Deeper Learning in Action
Twitter can be a great place to see what's happening to promote deeper learning outcomes in (and out!) of classrooms across the country. Here are a few examples. Be sure to follow @DeeperLearning and check out #DeeperLearning for more!
The "Native American-Untold Stories Project" produces by Mr. Marino's Multicultural Lit classes is now open in The Commons. Please take the self-guides your by using the QR code's now through 1/27/20. #WAWMproud #huskieshavegrit #livingthehuskyway #deeperlearning pic.twitter.com/rW0AgxFmTn

— Nathan Hale High School – WAWM (@NathanHaleWAWM) December 18, 2019
7th Grade @lrei Cultures in Contact Museum challenges students to design space and experience to reflect multiple narratives and their #deeperlearning on the origins of our nation's ongoing experiment in democracy #lreileans pic.twitter.com/fX5dcgZKwq

— Mark Silberberg (@SilberbergMark) December 18, 2019
Our #students shared their #passionprojects for other #students, #teachers, and #parents! From #chemicalreactions in baking to #iphoneaddiction to living with #dinosaurs, our #students pursued their own learning in many areas! pic.twitter.com/glTbMfii8l

— Glenvar Middle (@GlenvarMiddle) December 18, 2019
What you learn from a textbook is valuable. What you learn from experience is invaluable. Download free #NavigatingOurWay posters and watch the story that tells of Sylvie and Seymour's journey at https://t.co/STMDOSMWlK. #CTE #EdChat #Deeperlearning cc: @EduQuinn @FVStudioBoston pic.twitter.com/aEOhOpJHFH

— Big Picture Learning (@bigpiclearning) December 17, 2019
The 'Deeper Learning Digest' is a bi-weekly roundup of articles, blog posts, and other content around deeper learning. Be sure to follow @deeperlearning on Twitter, @deeper.learning on Instagram, and like Deeper Learning on Facebook to stay up to date on all deeper learning news.
Featured photo by Allison Shelley/The Verbatim Agency for American Education: Images of Teachers and Students in Action