Deeper Learning Digest: What's in Students' Digital Backpacks?
Imagine students maintaining a digital portfolio of their deeper learning skills, keeping track of projects and tasks that have involved critical thinking, collaboration, communication.
This week's digest features "digital backpacks" full of deeper learning skills for Kentucky students. Also check out a major personalized learning initiative in Fresno, a new deeper learning model in Virginia, and highlights from a recent Hewlett Foundation Twitter Chat.
Digital Backpacks for Deeper Learning Skills?
How does a digital backpack promote deeper learning? Jefferson County Public Schools is rolling out a new "Backpack of Success Skills" initiative that will require all students to add "evidence" into their backpacks demonstrating that they are prepared for the next grade level, reports the Courier Journal.
Students will keep track of test scores, writing assignments, projects, and presentations that correspond to the following skillsets: Prepared and Resilient Learner; Globally and Culturally Competent Citizen; Emerging Innovator; Effective Communicator; and Productive Collaborator.
The big idea is that by focusing on collaboration, communication, and other skills aligned with deeper learning, teachers' instruction will be engaging and allow students to foster these skills and apply what they've learned.
Read more at https://www.courier-journal.com/story/news/education/2018/06/04/jcps-digital-backpack-success-skills-initiative-state-takeover/642767002/.
When Teachers Step Back
Photo from Vander Ark on Innovation
"The students need me to stop suffocating learning…Me at the center of all learning in my classroom is not efficient."
This quote comes from a fourth-grade teacher at Easterby Elementary, a partner site in Fresno Unified School District's personalized learning initiative. In a recent post on Vander Ark on Innovation in Education Week, Tom Vander Ark dives into what it takes to build a personalized learning initiative and how to successfully expand through partnerships.
It's not just about teachers stepping back, Vander Ark writes, but also acknowledging that blended and student-centered approach takes more planning to be clear about goals, strategies, and tools.
Read more at http://blogs.edweek.org/edweek/on_innovation/2018/06/fresno_professionals_shifting_practices_towards_personalized_learning.html.
Deeper Learning Takeover in Virginia
A deeper learning model is heading for Henrico County Public Schools, reports edscoop. The Virginia district is leaving their traditional educational approach behind to establish a consistent, student-centered model that will better serve a diverse student body.
"We're working really hard to have professional learning, have these conversations with deeper learning leaders in our schools — teachers who are willing to take risks — and build them up so they can in turn go spread this project to the rest of the staff and beyond," says Jon Gregori, instructional technology specialist for the district, in a video interview with edscoop.
Watch the interview at https://edscoop.com/tv-radio/jon-gregori-henrico-county-virginia-cosn.
Highlights from #HewlettListens Twitter Chat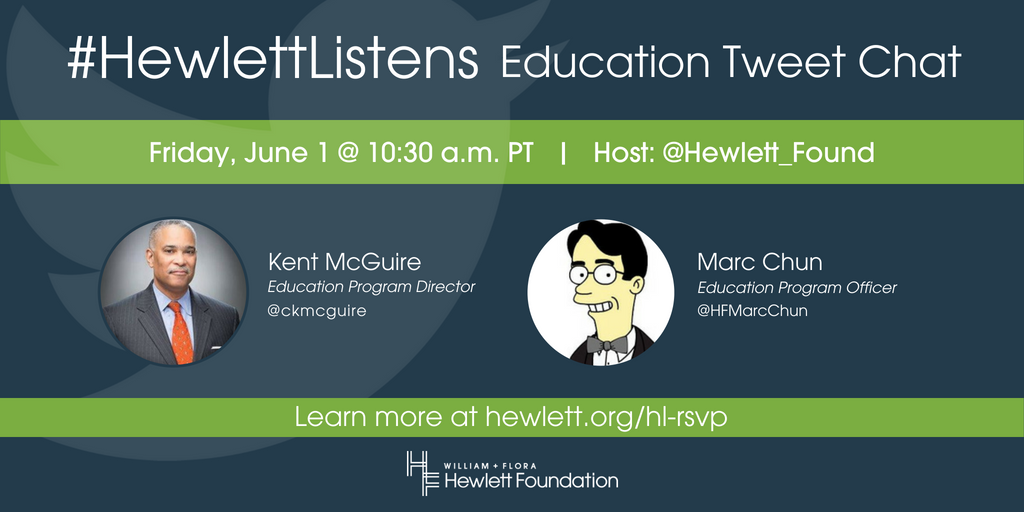 As you may recall from the last digest, the Hewlett Foundation held a twitter chat on June 1 to explore how foundations can help expand deeper learning opportunities for students, especially those that need it most. The chat brought together educators, advocates, organizations working in the deeper learning space and was a lively discussion.
Here are some of our favorite tweets:
#HewlettListens we have to help teachers "rearrange their crowded backpacks" with deeper learning skills that either replace or improve their existing practices. Key not to seem like we are just layering on new pedagogy.

— Bob Wise (@BobWise48) June 1, 2018
Schools alone cannot achieve educational equity. The larger community must be enrolled, engaged, and activated. We didn't get to where we are because schools became inequitable on their own. #hewlettlistens #bigpiclearning #equityfellows #intlsnetwork

— Javier Guzman (@bigpicjavier) May 31, 2018
Yes! innovation in education doesn't automatically mean it's working toward equity. Innovation can also replicate or exacerbate patterns of privilege, bias, exclusion. In that case, it's not true innovation. It's clever invention. #Hewlettlistens — Sarah Collins Lench (@sarahlench) June 1, 2018
A2: Continue supporting projects that demonstrate what schools ACTUALLY look like. These @deeperlearning photos, funded by @Hewlett_Found, show REAL students & teachers in classrooms. https://t.co/YPYPCggfyr#HewlettListens#deeperlearningpic.twitter.com/8qLFxmUqci — Deeper Learning (@deeperlearning) June 1, 2018
See more highlights from the #HewlettListens Twitter chat at https://twitter.com/i/moments/1004042780153266176. The 'Deeper Learning Digest' is a bi-weekly roundup of articles, blog posts, and other content around deeper learning. Be sure to follow @deeperlearning on Twitter, @deeper.learning on Instagram, and like Deeper Learning on Facebook to stay up to date on all deeper learning news. Featured photo by Allison Shelley/The Verbatim Agency for American Education: Images of Teachers and Students in Action.