Deeper Learning Digest: What Work Skills Do Students Need Most?

December 14, 2018 11:52 am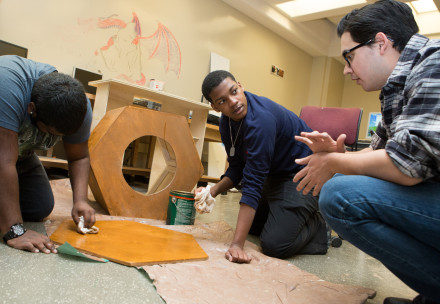 Gaining technical skills and know-how is critical to land that dream job, but employers are saying that they need candidates who have also mastered basic workplace skills. When should that training start? Some states are saying high school.
Today's digest focuses on career and technical education programs that are preparing students for success beyond high school. It also highlights videos that showcase the "gold standard" of project-based learning projects.
Businesses on the Hunt for Soft Skills
It's no secret that businesses seek trained and prepared candidates to fill jobs. But employers are concerned that even candidates with the technical capabilities are lacking critical skills to succeed in the workforce.
Responses to a survey of businesses in Georgia showed that 87 percent of employers were concerned about workers' abilities to engage in creative thinking and problem solving, writes Sarah Gonser in the Hechinger Report.
States and districts are responding to these concerns with programs that help students explore career options in areas of interest. A program in Rhode Island called Prepare Rhode Island provides high school students with an orientation and interview process to match students with local businesses and features a boot camp of workforce preparation that focuses on skills such as "goal setting, effective teamwork, public speaking, conflict resolution and critical thinking."
High School as a Building Block for Career Prep
Career and technical education (CTE) programs are popping up or modernizing to help set students on the right path to their futures. Edutopia reports that, according to a 2017 Brookings Institution report, "in 2015 alone, 39 states created 125 new laws, policies, or regulations concerning CTE, some of which involved the allocation of state funding."
These programs make critical connections between academics and career training while also partnering with community organizations and businesses. "School leaders believe these programs will not only help students develop necessary skills for today's job market but encourage students to see themselves in professions before they graduate," writes Andrew Simmons in Edutopia.
Skyline High School in Oakland, California, uses the Linked Learning model to serve a diverse student body and prepare their kids for success after high school. Through several pathways, or academies, including "Computer Science and Technology, Green Energy, Community Health and Education, or Visual and Performing Arts," Skyline students engage in cross-disciplinary academics that are also connected to real careers.
"High school shouldn't be seen as just a pipeline anymore; it's a building block," said Neil Ridley, director of the State Initiative at Georgetown University's Center for Education and the Workforce.
More About Skyline High School
For a deeper look at how Skyline's green energy pathway keeps deeper learning afloat, read this blog post from All4Ed: https://all4ed.org/skyline-high-schools-green-energy-pathway-keeps-deeper-learning-afloat/
Skyline was also one of three schools that All4Ed photographed in "American Education: Images of Teachers and Students in Action," an online gallery of nearly 300 original print-quality, royalty-free images of teachers and K–12 students engaged in activities that foster deeper learning. See photos of Skyline students and teachers in action at https://deeperlearning4all.org/deeperlearning/skyline-high-school/.
What Does the Gold Standard of PBL Projects Look Like?
Buck Institute for Education compiled a series of videos that showcase amazing project-based learning (PBL) projects from a variety of grade levels, subject areas, and settings to demonstrate what the gold standard of PBL looks like.
Students at McKissack Middle School in Nashville, Tennessee put on their historian and technology caps to design a virtual civil rights museum app to preserve the Nashville influence on the Civil Rights Movement. Using a device, the students selected a historic photo and identified themes in the picture. They took the project beyond their classroom walls to the Nashville Public Library, to explore a civil rights exhibit, primary sources and artifacts, and have deep discussion about the past and their community.
Watch the video below.
High school math students at Northwest Classen High School, in Oklahoma City, embarked on a finance project, helping families with their financial goals, such as college planning, retirement, and mortgage. By focusing on families as clients, teacher Telannia Norfar explains, the students become engaged in purpose of the project. "It's a way to capture the kid's hearts, so that their mind would follow," Norfar says.
Watch the video below.
Deeper Learning in Action
Twitter can be a great place to see what's happening to promote deeper learning outcomes in (and out!) of classrooms across the country. Here are a few examples. Be sure to follow @DeeperLearning and check out #DeeperLearning for more!
Our third grade #Paleontologists excavating chips from @ChipsAhoy cookies with toothpicks! Lots of great discussions about fossils @JCPSScience @WheelerElem @jcpsforward @JCPSBackpack @JCPSDL @deeperlearning @KellyGraybeal #AdventuresOnCoTeaching #BigRoomBigGoals pic.twitter.com/SyRPVxtZNh

— The Barker-Finck Crew (@BarkerFinckCrew) December 10, 2018
Learning in Mrs. Taggart's Algebra class is #studentowned and #anytime #anywhere. What's your favorite way to learn math? #deeperlearning @BFellows_HMS pic.twitter.com/o4BR6otc9Q

— Henrico County Math (@HenricoMath) December 6, 2018
Mrs. Stone's 4th graders read picture books and then communicated with each other to complete forms in schoology (on the new chromebooks!) to make inferences and find themes. Thank you Mrs. Wakefield for collaborating with us! #deeperlearning #communicators @Greenwood_Elem pic.twitter.com/Gi2vDJyLzS — greenwoodeslibrary (@greenwoodeslib1) December 6, 2018
The @TwoRiversPCS is unique as a project-based learning school. Today we get an opportunity to hear from #students first hand about their learning as they work on their final projects. #DeeperLearning#charterschools#edchat#EducationForAll#education#HKFellowspic.twitter.com/Y1z1J2NMqL — The Hunt Institute (@Hunt_Institute) December 6, 2018
The 'Deeper Learning Digest' is a bi-weekly roundup of articles, blog posts, and other content around deeper learning. Be sure to follow @deeperlearning on Twitter, @deeper.learning on Instagram, and like Deeper Learning on Facebook to stay up to date on all deeper learning news. Featured Image by Allison Shelley/The Verbatim Agency for American Education: Images of Teachers and Students in Action.