Deeper Learning Digest: What Is It About Storytelling?

November 09, 2018 12:56 pm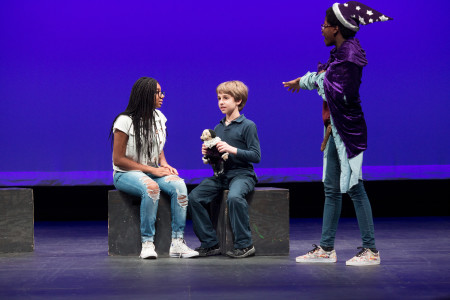 What is it about stories that make them such a powerful tool of communication? How can educators weave storytelling into instruction to help students make deeper and more meaningful connections to academic content?
Today's Digest explores how storytelling can be used to promote deeper learning in the classroom. It also paints a picture of competency-based learning across the country, and offers some advice for kick-starting personalized learning in your school or district.
The Power of Storytelling
Storytelling is a powerful tool of communication, but did you know it can also be used to deepen learning in the classroom?
Take the kindergarten classroom of Steve Levy, former school designer at EL Education, as an example. In Education Week's Learning Deeply blog, Levy recounts how he used storytelling to help his students master the letter "M." How? He told a story about a magic mountain and asked his students to paint their own mountains and find the "M" shape in the mountains they had created.
He describes one little girl's moment of "aha!" when she shared, "I already knew how to make an 'M,' but now I know what an 'M' is!" Of that moment, Levy writes, "that's the difference a story makes. Story gives meaning to facts. It's how we organize our experiences. It digs deeper than skill, down to the hidden treasure of 'aha!'"
What are some other ways storytelling can be used in the classroom? Levy explains that in many EL Education schools, teachers use storytelling to illustrate an abstract or complex concept, promote conceptual understanding, aid with content mastery, and make deeper connections.
Painting a Landscape of Competency-Based Education
That's one way to think about a new report, commission by XQ Institute and conducted by Getting Smart, that surveys the state of competency-based education across the country. To paint this landscape, Getting Smart interviewed more than fifty educators, analyzed over forty publications, held dozens of school visits, and observed competency-based learning models in action.
The report is intended to "spur much-needed dialogue about the shift to competency-based education and how that shift can be done in ways that advance equity, ensure teachers have the tools they need, and open up new opportunities for truly effective high school learning."
So what's happening in the field? How are schools and districts innovating and building capacity (and capitalizing on enthusiasm) for competency-based learning?
Kick Start Personalized Learning in Your School District
How can you begin implementing personalized learning in your school district? Get some practical advice from a former Michigan superintendent who was a key leader in introducing personalized learning in his district.
In a conversation with KnowledgeWorks, Dr. Dave Richards shares his insights, including how to navigate policy changes and start with conversations about the "Why." He recalls asking his educators "Why do we do what we do? Do we have a shared belief and a shared understanding of this work? What does it mean to make learning personalized?"
Deeper Learning in Action
Twitter can be a great place to see what's happening to promote deeper learning outcomes in (and out!) of classrooms across the country. Here are a few examples. Be sure to follow @DeeperLearning and check out #DeeperLearning for more!
Design thinking in the Social 30 classroom! #deeperlearning #fhs #prsd8 pic.twitter.com/00tr1ebyvu

— Angela Hazell (@angela_hazell) November 9, 2018
Great day of #Deeperlearning @lrei Innovation Institute with @TheDesignGym and @NYSAIS colleagues – diving deeper into creative change topics and exploring #empathy-based research tools as we practice the open-explore-close process for more nuanced design thinking understanding pic.twitter.com/hqvyuJYaql

— Mark Silberberg (@SilberbergMark) November 9, 2018
Students are amazed, focused, and learning with our Silhouette Machine while preparing designs for our "Sweet Cases." #DeeperLearning@@ProudCardinals @HopewellSchools AmyFeaver@@STEAMFeaver pic.twitter.com/bv2iIkDaKu — cheryl williams (@reach4excellen1) November 9, 2018
The 'Deeper Learning Digest' is a bi-weekly roundup of articles, blog posts, and other content around deeper learning. Be sure to follow @deeperlearning on Twitter, @deeper.learning on Instagram, and like Deeper Learning on Facebook to stay up to date on all deeper learning news. Photo By Allison Shelley/The Verbatim Agency for American Education: Images of Teachers and Students in Action.