Deeper Learning Digest: What Are the Benefits of Deeper Learning?

December 08, 2017 05:05 pm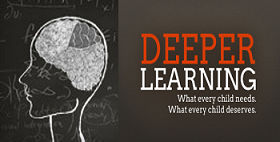 This week's digest features news on students' ability to problem solve, how a curriculum that encourages students to explore "why" can make all the difference, the impact of well-being in the classroom, and how personalizing math education can create deeper learning experiences.
We Know Problem Solving is Important. How are U.S. Students Doing?
As they look to fill jobs, employers are looking for students who can think critically and solve problems in new and rapidly changing environments. But how well do American students stack up against the rest of the world when it comes to problem solving?
A new Organization for Economic Co-operation and Development (OECD) report measured students' ability to problem solve and collaborate. Learn how U.S. students stacked up against their international peers.
Importance of a Curriculum That Explores "Why"
As the assistant superintendent tells the story of one high school in Louisville, Kentucky that just sent its first graduate to an Ivy League university, one theme rings out: higher standards for students. Brad Weston, the assistant superintendent at Jefferson County Public Schools, explains that higher standards are important, but so is ensuring students have deeper learning experiences.
"Many curricula give students the 'what' and ask them to recall and regurgitate information; we needed a curriculum that also asks 'what next,' 'how,' and 'why,'" writes Weston.
Read this school's story in The 74.
Why Does Well-Being Matter in the Classroom?
"In today's world, it is imperative for every child's well-being to be a vital component of every school's efforts," writes Erin Noviski, head of middle school at The Wellington School in Columbus, Ohio, for Getting Smart. Noviski tackles the topic of how educators can help students to "flourish" and therefore have deeper, more engaged, and more meaningful experiences.
"We have failed as educators if our students do not learn to be resilient, happy, balanced, engaged, altruistic, grateful and to find purpose in life," writes Noviski.
Read more in Getting Smart.
Personalizing Math Education
What does it mean to personalizing learning in math class? As schools all over Rhode Island are focusing on creating personalized instruction for students, Ellen Foley, STEM Learning Facilitator at a public high school in Providence, emphasizes the need to use this moment to rethink math education.
Foley calls for more flexibility for students in the types of math they would like to learn. "Students who want to learn the traditional math canon should be able to; but [so should] those who want to apply math concepts to computer science, coding, statistics, data analysis, and personal finance," she writes in Huffington Post.
Foley highlights that "through a personalized approach, we have the opportunity to make math a subject that not only feels necessary to students, but also relevant to their lives and goals."
Read more Huffington Post.
What the Benefits of Deeper Learning?
Students who have deeper learning experiences in the classroom can think critically, communicate effectively, collaborate, and solve problems. But what are some of the benefits beyond these skills? Check them out in the image below.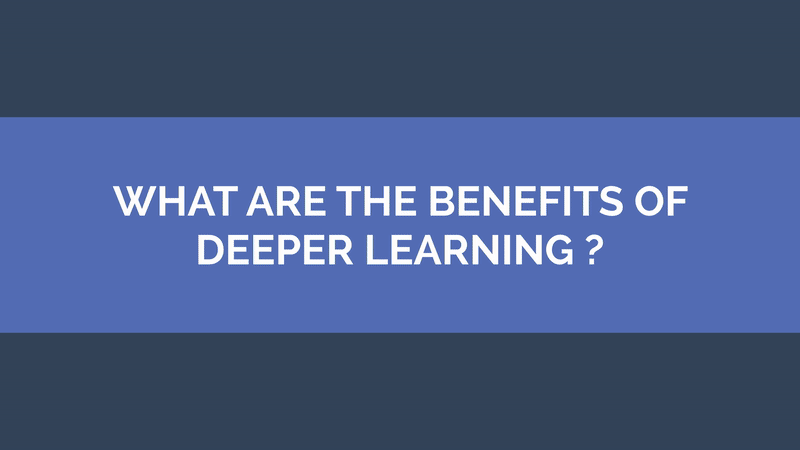 Right click to save this GIF and share!
ICYMI: Bringing Deeper Learning to Life Through Photos
Students in deeper learning classrooms graduate from high school as confident, life-long learners, equipped with the knowledge, skills, and mindset they need to succeed and lead productive, fulfilling lives. But what, exactly, does deeper learning look like?
This short video dives into real deeper learning classrooms through photos.
Deeper Learning in Action
Twitter can be a great place to see what's actually happening to promote deeper learning outcomes in (and out!) of classrooms across the country. Here are a few examples. Be sure to follow @DeeperLearning and check out #DeeperLearning for more!
Check it out! New and Improved website, now with even more vitamins and relevance: https://t.co/1ILH2Xr0nw #deeperlearning

— Chris Shearer (@HFChrisShearer) November 30, 2017
What a school can look like that is designed for #deeperlearning #pbl. @ManorISD redesigning Schoo'ls district-wide with @newtechnetwork design. More stories to come! ❤️ #edpolicy pic.twitter.com/ZzFtFZrXuK

— Ted Fujimoto (@tedfujimoto) November 22, 2017
We looked at our weavings on #weather & shared what surprised us, what we liked, & what was similar/different. @APSscience @APSDrewSTEAM @APS_STEM Soon we'll have @MightyFineClass over for an exhibition of work! @deeperlearning pic.twitter.com/GGfMiLT2KQ — Jennifer Burgin NBCT (@MrsJBurgin) November 20, 2017
The 'Deeper Learning Digest' is a bi-weekly roundup of articles, blog posts, and other content around deeper learning. Be sure to follow @deeperlearning on Twitter and like Deeper Learning on Facebook to stay up to date on all deeper learning news.