Deeper Learning Digest: Valuing Culture Matters for Learning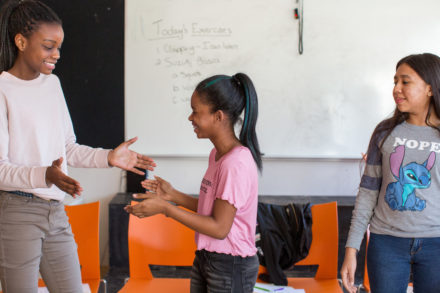 How can you develop a culturally responsive classroom environment and shape the lives of diverse learners?
Today's digest highlights a strategy for culturally responsive pedagogy, a whole-child approach in Baltimore, a massive deeper learning conference in Kentucky, project-based learning in North Carolina, and more!
Embracing Cultural Differences in the Classroom
How can educators recognize cultural diversity and actively integrate it into classroom strategies? Former secondary school teacher Doreen Nkala shares three lessons she has learned from embracing cultural diversity to shape her engagement with youth from various backgrounds in Education Week.
Part of Nkala's strategy centers on recognizing and encouraging cultural strengths and listening to students' perspectives. She explains that by creating a space for students to share their varying perspectives, students become more aware of different points of view while also getting to know each other and gaining trust in one another.
"It is this optimism, trust, and curiosity that builds lasting peace in our communities, inspires deeper learning in our classrooms, and empowers our youths to more effectively lead tomorrow than ever before," writes Nkala.
This Alliance for Excellent Education (All4Ed) infographic demonstrates the importance of embracing students' culture, especially during adolescence, and how learning environments that recognize and support students' cultural identities contribute to their academic success.
Hands-On, Community-Based Education in Baltimore
Chad Kramer, principal at Patterson Park Public Charter School in Baltimore, spends his days working to create a school environment where learning is "thematic, culturally relevant, and grounded in the world around us," he explains in Next Gen Learning in Action, a blog by Education Week.
By taking an approach to learning and school that is grounded in the whole-child, places an importance on hands-on learning, and that meaningful draws in the community, Kramer and Patterson Park have seen great success in student outcomes. The school was once one of the lower-performing schools in Baltimore but is now enjoying a well-earned spot near the top.
"School becomes an exciting place to be, and challenges become interesting instead of daunting. Learning becomes fun and joy permeates our school," he writes. So how does the school tackle a whole-child approach?
Showing Up for Deeper Learning
Looking for a powerful example of educators committed to deeper learning? Turn your sights to Louisville, Kentucky, which recently had 2,000 educators attend a deeper learning symposium, the day after school ended. Hosted by Jefferson County Public Schools (JCPS), this third annual event was focused on equity and diversity and engaging students on a deeper level, reports WLKY.
In the keynote session, speaker Christopher Emdin called attention to the gaps that still remain for students of color, despite the 65 years that have passed since Brown v. Board of Education. Here at All4Ed, we agree with Emdin. That's why we've launched a year-long equity campaign to focus on the still unmet needs of historically underserved students.
After applauding the dedication of his educators, JCPS Superintendent Dr. Marty Pollio talked about the importance of students feeling a sense of belonging at school."When students feel passionate about what they're doing, feel a sense of belonging at the school, they will be successful," said Pollio. "So, this is the foundation of our work."
Real-World Work for North Carolina Students
"If you want to make it big in Hollywood, spend time around Leonardo DiCaprio," explained North Carolina high school senior Anthony Luzzi. He says the same mentally applies at District C, a real-world, project-based educational program that seeks to prepare students how to succeed in the workplace by emphasizing skills like creativity, problem solving, and collaboration.
At District C, students have the chance to work with local businesses and solve real problems that they may face as employees, as well as interface with leaders in the business community. "District C gave me the opportunity to meet and talk to people I wouldn't have normally … people who taught me things I may not have learned otherwise, like the importance of including others and their perspectives, and why it's important to 'pay it forward,'" said Luzzi.
UPCOMING WEBINAR: How States use Professional Networks to Spread Deeper Learning
Join the American Youth Policy Forum on June 27 at 12:00pm EDT for a webinar on how Kentucky, Arkansas, and Idaho are using professional networks to scale their deeper learning efforts.
Deeper Learning in Action
Twitter can be a great place to see what's happening to promote deeper learning outcomes in (and out!) of classrooms across the country. Here are a few examples. Be sure to follow @DeeperLearning and check out #DeeperLearning for more!
How does light travel? How do we see different colours? What materials are reflective? #studentled learning creates #deeperlearning #HPCstem #steam @janehunter01 @WilkinsPublic @NSWEducation pic.twitter.com/P2byBE4J1T

— Wilkins Primary School STEM (@wilkinspsSTEM) June 13, 2019
From Blah to Fabulous: 10 protocols to beautiful work @ #JCPSDL DOING the learning and having FUN in the shoes of the students in Kentucky #PBL #deeperlearning #pblconsulting #workthatmatters pic.twitter.com/Gb41xVvQjQ

— Jaclyn Vasko (@msjvasko) June 13, 2019
Excited for #deeperlearning at @HighTechElem! #SanDiegoTFT pic.twitter.com/HB5sJrCosd

— Micah Brown (@MBrownEdTech) June 12, 2019
4th grade scholars just "WOWed" everyone with their adapted play of the Tiger Rising! They wrote the script, original music, choreographed songs, and directed the play! When given the opportunity to rise, @PS290Q scholars always do!! #deeperlearning @NYCSchools pic.twitter.com/9Idmhczqad

— José Jiménez (@PrincipalNYC) June 12, 2019
The 'Deeper Learning Digest' is a bi-weekly roundup of articles, blog posts, and other content around deeper learning. Be sure to follow @deeperlearning on Twitter, @deeper.learning on Instagram, and like Deeper Learning on Facebook to stay up to date on all deeper learning news.
Featured Photo By Allison Shelley/The Verbatim Agency for American Education: Images of Teachers and Students in Action.