Deeper Learning Digest: Twitter Chat, Much?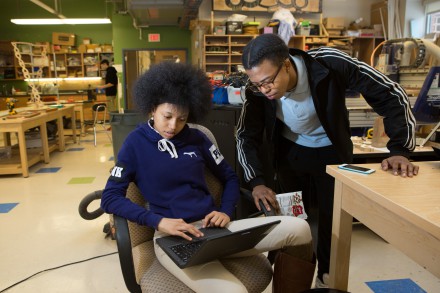 Twitter chat, much? That's where all the deeper learning action is these days! From a Hewlett Foundation chat today at 1:30pm ET, to a chat solely focused on assessment for learning earlier this week, the Twittersphere is buzzing with talk of deeper learning.
In addition to info and highlights from these chats, this week's digest highlights an important podcast episode by NPR's Teaching Matters on assessments, equity, and the workforce, and the "perfect match" connection between project-based learning and social emotional learning.
TODAY! #HewlettListens Twitter Chat at 1:30pm ET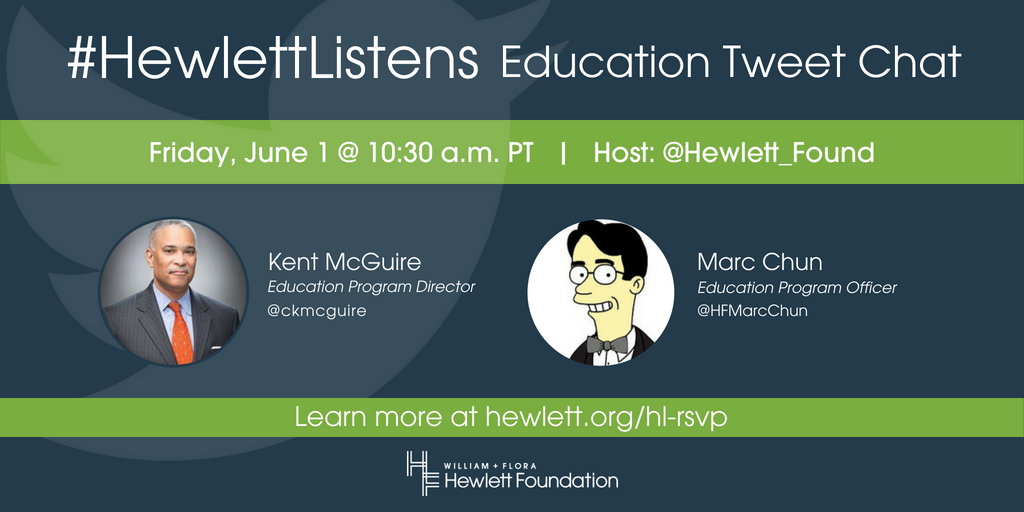 Do you have ideas about how foundations can help expand deeper learning opportunities for students, especially those that need it most? The Hewlett Foundation is hosting a Twitter chat today at 1:30pm ET to listen to those working in the field about how grantmakers can
Support educators who strive to continually improve their teaching practice and foster deeper learning in the classroom;
Help ensure that successful teaching and learning opportunities are available to students furthest from opportunity; and
Effectively focus on specific geographic areas, communities, and education systems.
Join in the chat by sending your RSVP and following @Hewlett_Found and #HewlettListens on Twitter!
How and Why Assessments Should Support Learning and Instruction
 Speaking of Twitter chats, the assessment community was buzzing during the #AssessmentFORLearning chat hosted by CenterPoint Education Solutions, the Alliance for Excellent Education, and Center for Assessment. The chat explored how assessments can and should support student learning, classroom instruction, and student outcomes.
The importance of incorporating student voice in building and structuring assessments was a key part of the conversation.
A2: Teachers who design learning models that center around self pacing and mastery based grading naturally infuse the student in the assessment process. The students are in control of their learning and regularly reflect on their work in pursuit of mastery #AssessmentFORLearning

— Kareem Farah (@Kareemfarah23) May 30, 2018
A2: Design assessments to be engaging and meaningful for students. Teachers and students should have on-going dialogue about the language and expectations of the standards and the rubric that will be used to measure academic progress. #AssessmentFORLearning

— CenterPoint Ed (@CenterPointEd) May 30, 2018
A5: I wonder if we just took a few minutes to conduct think alouds with students every once in a while to let them tell us what they are thinking as they are taking the assessment, what questions they have and what they don't understand if we'd learn a lot #AssessmentFORLearning — Carla Evans (@CarlaMEvans) May 30, 2018
In a blog post written for CenterPoint Ed, former policy and advocacy intern at All4Ed Natalie Hedden explores this topic of how best to leverage student voice to create meaningful assessments.
The chat also focused on different types of assessments, key principles for assessments for learning, how teachers can use and develop these assessments to inform and deepen instruction, and more.
New NPR Podcast Episode on Assessments, Equity, and the Workforce
While we're on the topic of assessments, what do three experts from assessment, education, and the workforce have to say about building a high-quality system of assessments for deeper learning? You'll have to listen to this episode of Teaching Matters, the NPR podcast, to find out!
Hear from Gail Norris, U.S. lead for industry learning services at Siemens; Dr. Rebecca Wolfe, associate vice president of Jobs for the Future's Students at the Center initiative; and Dr. David Conley, founder of EdImagine in this episode highlighting the Ten Principles for Building a High Quality System of Assessments.
Why Project-Based Learning and Social Emotional Learning Are a Perfect Match
Did you know? Project-based learning (PBL) and social emotional learning (SEL) are a perfect match, says an article from eSchool News. Why? Well, PBL focuses on real-world problem solving, collaboration, communication, and more. These are the deeper learning and twenty-first century skills that students need to succeed in college, careers, and life. While, PBL allows students to exercise these skills, focusing on SEL creates a foundation of "soft" skills that students can build upon and hone through a PBL approach.
The 'Deeper Learning Digest' is a bi-weekly roundup of articles, blog posts, and other content around deeper learning. Be sure to follow @deeperlearning on Twitter, @deeper.learning on Instagram, and like Deeper Learning on Facebook to stay up to date on all deeper learning news.
Featured Photo by Allison Shelley/The Verbatim Agency for American Education: Images of Teachers and Students in Action