Deeper Learning Digest: Twenty-First Century Skills

November 11, 2016 04:51 pm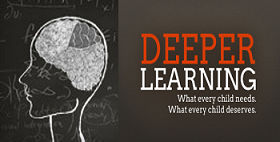 Retired Army major general Bill Libby is concerned that many people in his home state of Maine lack skills that employers need. Libby explains how these skills, including communicating effectively, collaborating, and thinking critically, are "of paramount importance in our military, as well as the private sector." Libby writes about how Maine's proficiency-based learning model combines traditional academics with practical learning exercises and career and technical education to create deeper learning opportunities for students.
"Deeper learning uses those elements to instill executive-functioning skills in our students, so that they can go on to meet the challenges of the modern workplace or military," writes Libby in this letter to the editor.
Read the full letter in the Portland Press Herald.
"4 C's" for the Workforce
Employers are increasingly seeking candidates with twenty-first century skills, argues Charles Fadel, Founder of the Center for Curriculum Redesign. He describes that this need is not new, but instead is one that has "been growing in importance as competition and time-to-market pressures intensify." To ensure students are prepared to enter the workforce, learning must result in deeper learning outcomes, including critical thinking, creativity, communication and collaboration also known as the "4 C's."
"The global challenges we are facing require not just modern areas of knowledge, but how to use that knowledge effectively, which is what the 4C's are about," says Fadel in the Huffington Post.  "There is the assumption that teaching a discipline will necessarily foster higher-order thinking skills.  It is mostly unfounded, as fast and broad coverage of materials typically supercedes the deeper learning that needs to occur."
Read the full interview: http://www.huffingtonpost.com/c-m-rubin/the-global-search-for-edu_b_12531728.html
Learning Through Expeditions
A school in Georgia is teaching elementary-aged children skills that will translate to the workplace. Clairemont Elementary School in Decatur, Georgia, uses a learning model focused on practical experiences and student projects. Called "expeditionary learning," this style hopes to give students skills, including critical thinking, problem solving, collaboration, and socialization, through hands-on lessons.  The school's principal, Billy Heaton, describes that these skills are those that many of his former business associates lacked.
Through this learning method, students conduct "field work," collecting data, conducting research, and interviewing professionals during their expeditions to create a work product. And remember, we are talking about students in kindergarten through third grade! Read about Heaton's experience with this style and its success for students in the latest American School Board Journal.
A Taste of STEM Careers
A discovery center in New York is helping students to learn first-hand about STEM careers. Students, who visit the center after school or during the summer, explore aircrafts, build robots, write computer programs, and learn about rockets.
"Many of these activities meet New York's high learning standards, which means that teachers can bring their classes to the center on day trips as part of the school curriculum," says a Council for a Strong America blog post on the center.
Check out the full post and watch a video of students in action: https://www.strongnation.org/articles/304-how-an-aerospace-center-is-helping-students-master-stem-skills.
Leading Deeper Learning
Tom Vander Ark describes his personal experience stepping into a role as public school superintendent with no formal training. He shares how this both benefited him and also made his role more challenging, and used his story to frame a conversation around preparing education leaders for success with deeper learning. Vander Ark revisits ten roles for leaders in deeper learning, which were included in a report by Getting Smart and Digital Promise.
"Leaders need to be skilled at setting a vision and mission for an organization, innovating and leading change efforts, focused on instruction and outcomes, and involved locally and in policy to affect change," he writes.
Check out the infographic below and the blog post for more.
Deeper Learning in Action
Twitter can be a great place to see what's actually happening to promote deeper learning outcomes in (and out!) of classrooms across the country. Here are a few examples. Be sure to follow @DeeperLearning and check out #DeeperLearning for more!
Very young students (even kindergarteners) demonstrating sophisticated #pbl skills–driving ?, know-need2know, presentations #deeperlearning pic.twitter.com/1dOzHQ2Usj

— Ted Fujimoto (@tedfujimoto) November 4, 2016
@amyvuick Mr. New @lauren_gazzam Science and Math working on ratios together! Hands-on & an amazing app simulation @EF_MS #DeeperLearning pic.twitter.com/0rd7JoLNpc

— Dr. Todd Keruskin (@DrToddKeruskin) November 10, 2016
Love to see DC school leaders brainstorm ideas to hack toward #deeperlearning @CityBridgeEdu pic.twitter.com/wCyuoVYR9T — School Retool (@schoolretool) November 10, 2016
The 'Deeper Learning Digest' is a bi-weekly roundup of articles, blog posts, and other content around deeper learning. Be sure to follow @deeperlearning on Twitter and like Deeper Learning on Facebook to stay up to date on all deeper learning news.