Deeper Learning Digest: How deeper learning practices have redesigned the role of the teacher to that of facilitator

September 05, 2014 12:38 pm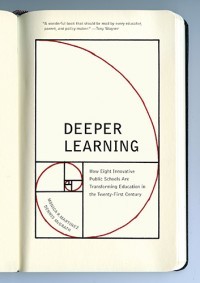 The 'Deeper Learning Digest' is a bi-weekly roundup of articles, blog posts, and other content around deeper learning. Make sure to add High School Soup to your RSS feed to stay up-to-date on all deeper learning news. Please be sure to follow @deeperlearning on Twitter for more on deeper learning.
---
Technology alone won't be enough to improve teaching and learning to where it needs to be for 21st century skills, according to education strategist Monica Martinez and sociologist Dennis McGrath.  In the recent article, "Technology alone won't transform teacher to facilitator," Martinez and McGrath discuss how deeper learning practices have redesigned the role of the teacher to that of facilitator who uses technology as a tool in their educational aims, leading to a more collaborative education environment.
Be sure to sign up for the Alliance's webinar Tuesday, Sept. 9 at 2 p.m. EST featuring Dr. Monica Martinez, who will share findings from her latest book, Deeper Learning: How Eight Innovative Schools Are Transforming Teaching and Learning.
"As we think about how to offer students more authentic and richer engagements with content and each other, we've got to be smarter and more willing to experiment." Beth Rabbitt, a partner at The Learning Accelerator, writes on the topic of blended learning and how this learning technique means more strategically integrated technology in the classroom that will address and "hopefully blow past, natural hurdles innate in current systems, and to make deeper learning a reality for more kids." Learning Deeply
In a follow-up, Rabbitt notes that teachers are as much a part of deeper learning practices as are students. As technology in the classroom expounds, Rabbitt says, "Great teachers remain essential to creating and shepherding student learning through discussion, debate, coaching…I believe we've got to help teachers engage as deep learners in their own profession, moving beyond one-size-fits-all, stand-and-deliver training and professional development." Learning Deeply