Deeper Learning Digest: The Secret to Outstanding Classroom Management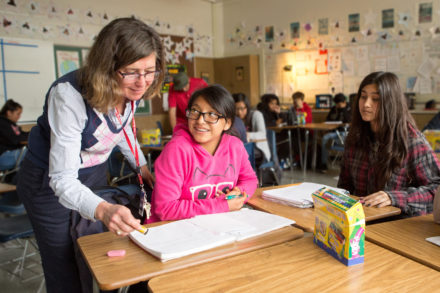 What's the secret to effective classroom management? You may have guessed it. There is no silver bullet for classroom management success. That's what edutopia found when surveying teachers to find their go-to strategies.
Today's digest highlights strategies for effective classroom management, measuring approaches that address the whole child, the need for high-quality instruction, and more.
5 Principles of Classroom Management
Although they received more than 700 responses with varying ideas, edutopia identified clear trends and common approaches to produce five principles of classroom practices, and they are all outstanding.
Some of our favorites include focusing on building healthy student-teacher relationships, setting boundaries and structure to maintain a culture of mutual respect, and taking a strength-based approach.
Focusing on students' strengths to enhance learning means "never forgetting to look beneath the surface of behavior" to find the root of the problem, explains edutopia. It also means being mindful of context and using language carefully.
"Don't sound surprised when remarking on struggling students' successes," said Jenni Park, a teacher from Asheville, North Carolina. "Instead of saying, 'Wow! That was amazing,' it's better to say, 'I'm proud of you, but not surprised. I always knew you could do it.'"
And don't forget about implicit biases, which can be at play when it comes to cultural differences in the classroom. "Reflect on any stereotypes that come up for you," advises edutopia. Remember these words from elementary educator Elijah Moore: "cultural difference does not equal cultural deficiency."
And if your students are paying more attention to each other than your lesson, maybe it's not your classroom management skills or lesson plan that needs work. Check out this Alliance for Excellent Education infographic (click the image below) to understand why adolescents are motivated by their peers, and what you can do as an adult to provide them with the proper support for learning and growth.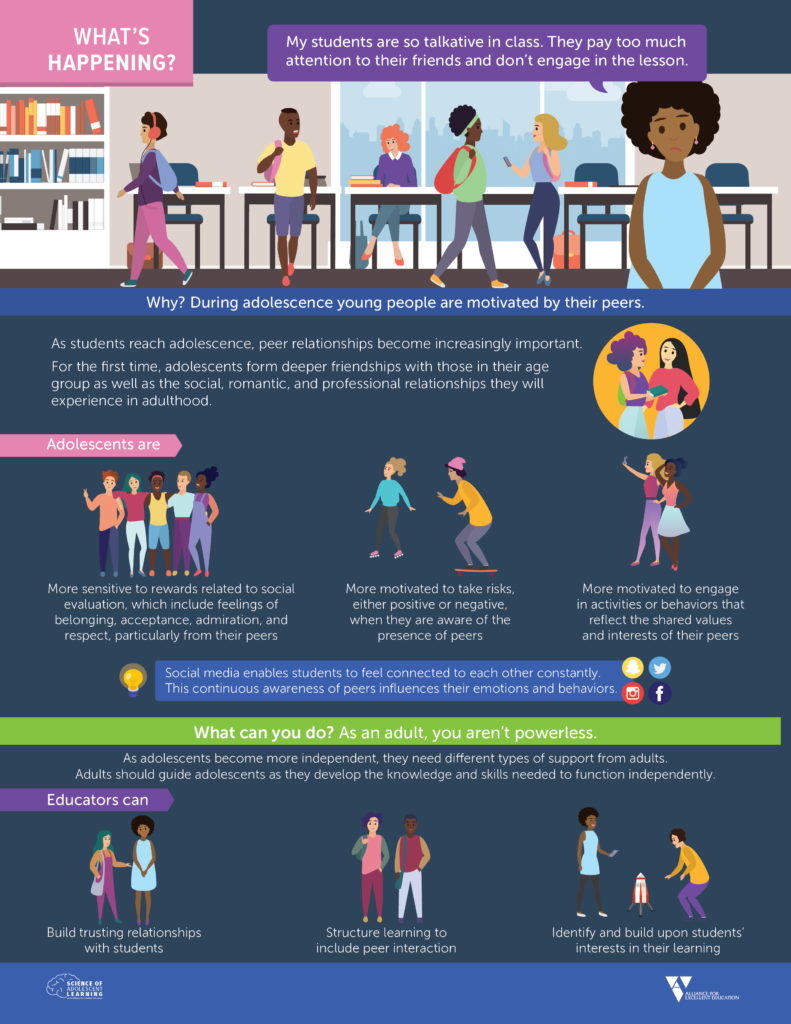 How to Measure a "Whole-Child" Approach
How can schools measure approaches that serve the whole child? This was a hot topic of conversation between experts at the 2019 Reagan Institute Summit on Education (RISE), including Linda Darling-Hammond, president and CEO of the Learning Policy Institute, Marc Sternberg of the Walton Family Foundation, and former Assistant U.S. Education Secretary Chester Finn Jr., reports Education Dive.
As educators are increasingly charged with preparing students for their futures with deeper learning and social and emotional learning skills, questions continue to arise about how to measure "non-academic" competencies.
For example, whole-child approaches move beyond academics to focus on physical and mental health, safety of students' environments, and their relationship with the community. Districts seeking these approaches can turn to alternative assessments to measure soft skills and social and emotional development.
Seeking More Challenging Instruction in Kentucky
At the lowest- performing public schools in Jefferson County, Kentucky, progress is not being stymied by misbehaving students or apathetic teachers, reports the Courier Journal. Instead, mandatory reviews conducted by the state show that "the biggest problem plaguing classrooms is something likely missed by an untrained eye: Kids simply aren't being challenged enough."
These low-performing schools serve some of the district's most vulnerable students including mostly students from low-income families, reports Courier Journal. This is a major equity issue for Kentucky Education Commissioner Wayne Lewis, who emphasized the need to provide a high-quality education.
"We might not be able to change their parents' socioeconomic status or whether or not their parents are reading to them at home," said Lewis. "But we can control whether or not that kid has access to a high-quality and effective teacher who is using a high-quality curriculum and materials."
As a result of the reviews, a culture of hope and change is emerging, with deeper learning opportunities at the forefront.
What Did Educators Think of the Deeper Learning Conference?
Last month, hundreds of educators gathered together for a deep dive into deeper learning at High Tech High in San Diego. The annual event focuses on good teaching practice that elevates deeper learning opportunities, especially for students from historically underserved backgrounds. The excitement at the conference was palpable, but don't take it from us.
On this "Shift Your What" podcast with Jamie Mitchell, vice principals Pina Juresic and Melissa Hanmer share their experience, insights and learning from the Deeper Learning conference. During the conversation, they highlight the connections they saw between the High Tech High campus and the on-going deeper learning work in Halton School District, Canada where the podcast is based.
New School Design Academy by New Tech Network
School design – or redesign – is better when done together. That's New Tech Network's philosophy, and they are launching the New Tech Network School Design Academy (SDA) to bring teams together to lay a strong foundation for school design. The three-day academy will be in Orlando, Florida from July 15-18.
Deeper Learning in Action
Twitter can be a great place to see what's happening to promote deeper learning outcomes in (and out!) of classrooms across the country. Here are a few examples. Be sure to follow @DeeperLearning and check out #DeeperLearning for more!
We packed the halls tonight. Brought tears to my eyes to see students shine while sharing with confidence. Real learning can be joyful❤️ #proudofthekids #proudoftheteachers @deeperlearning @ShareYourLearn pic.twitter.com/RSQ9YTSqre

— Mrs. Lisa Bergman (@BergmanMrs) April 17, 2019
Places on the set! Filming our Ocean Impact PSA is a breeze with @DoInkTweets and our teleprompter. #DeeperLearning #PBL #HopewellMagic @SoTECHcellent @HopewellSchools pic.twitter.com/OMoOmroAVh

— Susannah Bishop (@wiseowltech) April 18, 2019
Students at Varina HS were engaging in civic discourse with a Socratic Seminar today. Probably one of the most important skills in a democratic society. #DeeperLearning #LifeReady pic.twitter.com/MR8apeYvKk

— HenricoHistory (@HenricoHistory) April 18, 2019
Love how seamlessly @pammoran and @irasocol blend a new sense of equity into our #DeeperLearning work. They have done great for our @UKyNextGen teams last 3 days, but you can see for yourself in their @TimelessLrng book. #UKNextGen #JCPSBackpack pic.twitter.com/GqlSwdNsbu

— Dr. Justin Bathon (@justinbathon) April 18, 2019
The 'Deeper Learning Digest' is a bi-weekly roundup of articles, blog posts, and other content around deeper learning. Be sure to follow @deeperlearning on Twitter, @deeper.learning on Instagram, and like Deeper Learning on Facebook to stay up to date on all deeper learning news.
Featured Photo By Allison Shelley/The Verbatim Agency for American Education: Images of Teachers and Students in Action.