Deeper Learning Digest: The Important Role of Deep, Meaningful Social Interaction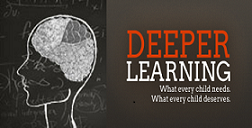 The 'Deeper Learning Digest' is a bi-weekly roundup of articles, blog posts, and other content around deeper learning. Make sure to add High School Soup to your RSS feed to stay up-to-date on all deeper learning news. Please be sure to follow @deeperlearning on Twitter for more on deeper learning.
---
A student's academic learning should be only part of an educator's focus to improve achievement. According to a new study from the Stanford Center for Opportunity Policy in Education (SCOPE), an additional focus on social emotional learning (SEL) benefits all students and is especially critical for low-income students and students of color. Social Emotional Learning in High School: How Three Urban High Schools Engage, Educate, and Empower Youth examines how three small, diverse schools improved student engagement and academic achievement by implementing social emotional learning school-wide.
In a post for Education Week's Learning Deeply blog, MarYam G. Hamedani, associate director of Stanford University's Center for Comparative Studies in Race and Ethnicity, writes of the study's findings, saying: "Failing to meet students' psychological, social, and emotional needs will continue to fuel gaps in opportunity and achievement for students…who are frequently underserved by the large one-size-fits-all schools they attend."
Elizabeth Leisy Stosich, research and policy fellow at the SCOPE, wrote recently about her interactions with four fourth grade teachers who were early adopters of the Common Core State Standards and their experience with the curriculum and its accompanying tests. "For these teachers,' Leisy Stosich writes,  'the process of using model performance assessments and developing their own performance assessments helped them learn how to create authentic learning experiences that would prepare their students for success in adult life."
What exactly IS 'Deeper Learning?' Jeff Petty, founder & director of the Puget Sound Consortium for School Innovation, lays out the need to know on the learning model for Getting Smart in a May 4 podcast.
Could creating shared experiences in the service of learning help foster school leadership? If you ask teachers at Springfield Renaissance School in Massachusetts – the answer is yes. Journalist and educator Kathleen Cushman wrote recently of how the school's motto of support and trust helps teachers and administration work towards creating a school-wide system that works. Cushman goes on to say in a follow-up post that the school's approach works because it follows a checklist in which "Though developed with hospital safety in mind, its message applies equally to the health of a learning culture."
Just outside of Oslo, Norway is a school that waved good-bye to the old way of teaching 40 years ago, waving hello to a project-centered curriculum. At the Ringstabekk School, students work in small groups on topics such as transportation, energy, and waste to cultivate reports or even models of how to develop specific parts of their community.
This week, we're including some of our favorite #DeeperLearning tweets from around Twitter. Whether it is teachers and students working on honing the more rigorous, in-depth skills in the classroom, or an analytical example of what the learning process can look like, when people share examples of deeper learning it can help everyone better understand the impact this learning model can have.
Wendy Fairon, a seventh and eighth grade teacher from Chico, California shared what happens when a class of third graders collaborate on projects. Fairon tweeted:
Awesome, @mbirchardCCDS! 3rd gr interviewed then made toys for their @NatlHeadStart buddies. #deeperlearning #pbl pic.twitter.com/W4eRRqAQ80

— Wendy Fairon (@wfairon) May 5, 2015
Digital Media & Learning Research Hub, an organization that explores how digital media impacts education, shared the image and concept from a recent blog by Sam Dyson, director of the Hive Chicago Learning Network, tweeting:
"Knowing and understanding are different." The Paradox of #DeeperLearning: The Unlearning Curve http://t.co/VZy068EKPq by @samueledysons

— DML Research Hub (@dmlresearchhub) April 30, 2015
In the blog for Education Week's "Learning Deeply," Dyson discusses the differences between knowing content and understanding content. He contends with deeper learning, there is a need to unlearn collecting knowledge just for the sake of having a large bank of knowledge, and rather learn concepts more holistically. He writes: "The apparent of paradox of deeper learning is that you can grow to know more at precisely the same moment that you understand less."