Deeper Learning Digest: The Deeper You Learn, The More You Know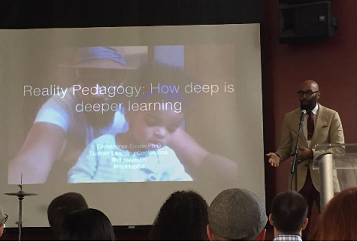 The 'Deeper Learning Digest' is a bi-weekly roundup of articles, blog posts, and other content around deeper learning. Make sure to add High School Soup to your RSS feed to stay up-to-date on all deeper learning news. Please be sure to follow @deeperlearning on Twitter for more on deeper learning.
---
April 1-3 marked Deeper Learning 2015 at High Tech High in San Diego, California. The conference brought together tons of leading organizations in deeper learning, convening to collaborate and push each other's thinking on deeper learning competencies. Highlights from the three day event included an opening keynote address from Christopher Emdin, director of science education at the Center for Health Equity and Urban Science Education at Columbia University and creator of the #HipHopEd social media movement. Emdin relayed to those in attendance that learning is deeply personal, and therefore the pedagogy that supports it must also be deeply personal.
New Hampshire districts will incorporate a system of competency-based tests as a trial run, representing the first time extended performance tasks have been included in accountability systems since the passage of No Child Left Behind in 2001. Robert Rothman, senior fellow at the Alliance for Excellent Education, spoke to the significance of the testing pilot in a recent blog, writing, "Performance tasks can capture a broader range of competencies, like the ability to conduct research, write extended essays, and solve complex, real-world mathematics problems."
Every day is a day for a #DLfie celebration. That was especially true March 24, the official Deeper Learning Day. Teachers, students, and education leaders took to Twitter to post selfies and share what they were doing to celebrate deeper learning. Marc Chun, program officer at The Hewlett Foundation, got the ball rolling, extending the challenge to everyone to share their deeper learning activities – or 'DLfies.'
When considering the breadth v. depth argument that continues to leave many educators scratching their heads as to which side to choose, Bob Lenz, co-founder and chief of innovation at Envision Education, says "go with depth." In a recent blog, Lenz outlines key principles teachers devoted to deeper learning curricula follow, including 'insisting on depth over breadth.' In addition, Lenz writes that creativity and innovation and reflection are also "elements of well-designed Deeper Learning experiences."
At Envision Schools, students are asked to – in short – defend their learning. Justin Wells, director of client partnerships for Envision Learning Partners, uses the story of one senior, Kaleb Lawson, to illustrate how students are judged on everything from eye-contact to content as part of a 'graduation defense' that demonstrates they have truly grasped the criteria of deeper learning during. The practice is considered to be not just "a test but a rite of passage." "Kaleb's story reminds us of something important about performance assessment," Wells writes. "At its best, it doesn't just give us data about our students: it changes a learner's relationship to his own learning."
Technology infused classrooms are popping up all over the country. And as school leaders buy new technology they're seeking products designed to be part of a philosophical shift in education, one that enables students to direct their own learning and teachers to engage and encourage them in doing that. The Hechinger Report