Deeper Learning Digest: The Best Way to Learn Science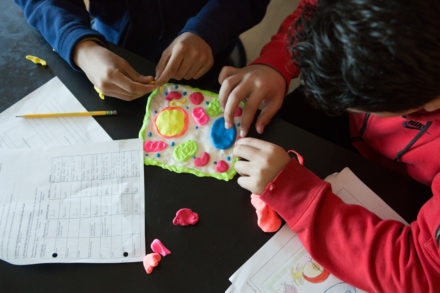 Memorizing facts doesn't lead to great scientists. Bringing experiments and projects to life, on the other hand, will not only stick with students longer but ensure they have more fun learning.
Today's digest highlights real-world application in science teaching, exploring the secret to great teaching, a new podcast on sports and social-emotional development, and how to encourage students to think about how they learn.
Teacher Brings Lessons from Sea to Students
After days at sea amid a group of scientists learning about the complex food web off the Oregon coast, Taft High School chemistry teacher Andy Bedingfield is bringing deeper learning lessons to his students.
Bedingfield will use the "story of his trip, video samples from the underwater cameras and some help with computer graphics to create a path of study that will allow his students to simulate their own research cruise, take their own samples and end up as citizen scientists using a 'plankton portal' where they can do their own species identification," writes Bret Yager for the Newport News Times.
Bedingfield acknowledges that there's a great opportunity to bring hands-on and real-world experiences to learning about science. "The way most science is taught at school is like a history class, where you memorize facts. That doesn't lead to great scientists," said Bedingfield in the Times. "It's about finding something that's interesting and figuring out how it works, then communicating it."
What is the Secret to Great Teaching?
We're throwing it back to great article by Matt Bertasso, Director of Compass Academy, in Getting Smart. Although it's from last year, the message is still incredibly relevant.
What is the secret to great teaching? To put it simply, great teaching comes from giving students more ownership in the learning process and turning the focus of the classroom from the teacher to the student, writes Bertasso.
"As student become more fluent in the learning process and design thinking, they are then able to take greater control of their own learning in a student-driven environment," he explains, and there is more opportunity for high-order thinking that requires analysis, evaluation, and creation.
"When students have ownership over their learning, they aren't learning for the teacher, the grade, or for their parents—they are learning for themselves, and deeper learning happens."
New Podcast Episode: Sports and Social-Emotional Development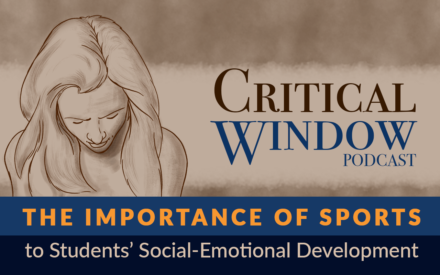 Sports provide a place for young people to grow, learn, and enhance their physical skills, but, with the help of good coaches, they will learn more than how to throw a pitch or perfect a layup.
"There's unbelievable opportunity to think about sports as a place in which young people can take ownership of their own learning," explains Jennifer Brown Lerner, deputy director for Aspen Institute Sports & Society Program, on the latest episode of the Alliance for Excellent Education's podcast, Critical Window.
"Sports are a critical space in which [kids] get to both see modeled, and practice, [a] core set of competencies across the social, emotional, and cognitive domains," explains Brown Lerner. "It's a really important opportunity in which young people can get, and create, a continuous feedback loop with their coaches and with other athletes."
What can educators and sports coaches learn from one another about the social and emotional development of young people?
What is Metacognition?
What students learn is important, but how they learn also matters. Teachers can focus on metacognition by asking students to think about the ways that they successfully learn.
Learn more in this video from edutopia.
Don't just have students focus on *what* they should be learning, but also *how.*

Great video from @edutopia to explain what that looks like: pic.twitter.com/iP3TAbh4Ez

— FourPoint Education Partners (@FourPoint_Ed) July 15, 2019
Deeper Learning in Action
Twitter can be a great place to see what's happening to promote deeper learning outcomes in (and out!) of classrooms across the country. Here are a few examples. Be sure to follow @DeeperLearning and check out #DeeperLearning for more!
A leadership team that problem solves and plays together, just works better. Amazing day w @BigPicNashville as we game plan for the new year @bigpiclearning #edleaders #deeperlearning #edchat pic.twitter.com/FRjVXo9ixA

— Sonn Sam, Ed. D (@drsonnsam) July 18, 2019
One of the highlights of my summer: supporting @escolanova21 and @Unescocat in making learning more meaningful for ALL students via @PBLWorks! Thank you for having me! #PBL #Deeperlearning #teachSDGs #suptchat #SDG pic.twitter.com/SRImu72l26

— Bob Lenz (@pblbob) July 17, 2019
IT CAN BE DONE: Hopewell City School Leadership Team–>LEADING FOR #EQUITY, #INNOVATION & #DEEPERLEARNING, at scale👊🏾🔥✨‼️
Let's do some badass (leading-with-love, liberatory) work 💪 #BetterTogether @burlin_gregory@SoTECHcellent @STEAMFeaver @wiseowltech @pammoran pic.twitter.com/7bclHu0Ykb

— Dr. Kaleb Rashad (@kalebrashad) July 11, 2019
The 'Deeper Learning Digest' is a bi-weekly roundup of articles, blog posts, and other content around deeper learning. Be sure to follow @deeperlearning on Twitter, @deeper.learning on Instagram, and like Deeper Learning on Facebook to stay up to date on all deeper learning news.
Featured Photo By Allison Shelley/The Verbatim Agency for American Education: Images of Teachers and Students in Action.