Deeper Learning Digest: Students in Charge of Learning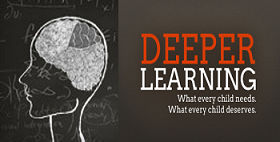 Abner Oakes, director of outreach and strategic partnership at the Alliance, dives into how early college high schools promote deeper learning for students. Early college programs allow students to earn a high school diploma and an associate's degree free of tuition. In a blog post, Oakes zeroes in on Bard Early Colleges, which has schools in Baltimore, New York, New Orleans, Cleveland, and Newark. These early college schools emphasize collaborative work, require students to build upon and apply what they have learned, and expect students to be active in their education. These elements align very closely with deeper learning competencies, Oakes explains. "For historically underserved young people, early college high schools like Bard offer a pathway not only for high school success but also for postsecondary success," he writes, "Perhaps there will be a time in the future when a high school education becomes synonymous with a college education and with a full preparation for life." Learn more: http://deeperlearning4all.org/essa/supporting-deeper-learning-at-early-college-high-schools.

Over on Education Week's Learning Deeply blog, we learn more about one of the projects of a Deeper Learning Equity Fellow, a program of Big Picture Learning and the Internationals Network for Public Schools. The program "engages a group of leading educators to design policies and practices to expand deeper learning opportunities for students of color." An interview with one of the fellows, Hal Colston, director of Partnership for Change, explores how he intends to bring together educators to create a community and formulate a project that impacts equity, while engaging in deeper learning skills throughout the process. Of these educators, he explains, "If they can experience it, they will have a better sense of what it takes for leadership of students who don't have a deeper learning experience." Read the full interview: http://blogs.edweek.org/edweek/learning_deeply/2016/05/equity_fellow_outlines_plan_to_engage_and_challenge_educators.html.
Also on Learning Deeply, Dino Mangano and Mark Friday, two deans of culture at University Preparatory Academy in Detroit, Michigan, discuss their implementation of deeper learning practices. At the school, the student body is 99 percent African American, with 83 percent qualifying for free and reduced lunch. The belief is that "all students can learn and lead their own learning–with passion, creativity, and perseverance toward personalized learning goals." Mangano and Friday explain that students are encouraged to take ownership of the school culture, and do so by holding student-led conferences instead of parent-teacher conferences.
The results were "powerful," with students and parents engaging far more than in the traditional conference setting. "The conversation between them and their parents shifted from a discussion of grades to the discussion of successes and challenges in doing school work and to fruitful decision making about actions students could take to not only improve grades but to reach their own goals and get back on the path toward a future they envisioned for themselves." Read the full piece: http://blogs.edweek.org/edweek/learning_deeply/2016/05/empowering_students_of_color_through_student-led_conferences.html.