Deeper Learning Digest: Student-Driven Learning Experiences Foster Deeper Learning Skills

December 04, 2015 04:56 pm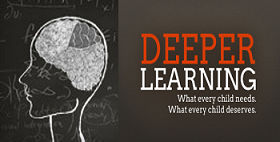 WIRED tells the story of a Self Organized Learning Environment (SOLE) in a Harlem classroom. As part of this program, teachers pose a question to the class, and students self-organize into groups and use technology to research the answer in a collaborative environment. The students are encouraged to share with other groups and discuss the different answers. This new teaching technique, created by Sugata Mitra, a researcher at Newcastle University, was developed "as a way to encourage children to have autonomy in their learning process." Through this teaching style, "Mitra wants to instill in kids what he calls '21st century skills,' which is his way of describing qualities like creativity, critical thinking, and social communication." See how the SOLE method plays out in the Harlem classroom: http://www.wired.com/2015/10/in-this-classroom-knowledge-is-overrated/.
Personalized learning is the focus of Big Picture, a program that "bucks the traditional model of high-school learning" and is "centered around the concept and execution of self-directed learning," the Atlantic reports. The program, which is incorporated into more than 60 schools across the country, allows students to conceptualize and create their own curriculum. The article takes us to South Burlington, Vermont, where students select an idea and work on a year-long independent project. "Teens tap into their pre-existing interests, then come up with creative ways for the topic to be reimagined to gain proficiency in subject areas like science and math," the article notes, "The goal is for students to stay motivated and learn while gaining real-world experiences—and honing the tricky art of time management." Learn more about this project-based learning system: http://www.theatlantic.com/education/archive/2015/11/no-tests-grades-classes/415509/?utm_source=SFTwitter.
In California, Napa New Technology High School is a "high school of the future," according to KQUED News. After visiting the school, reporter Tina Barseghian compiled five ways the school is working towards preparing all students to be college and career ready. The school is "breeding a culture of accountability," has a project-based curriculum, utilizes technology to help students become "self-sufficient learners," and has test scores that measure deeper learning skills like critical thinking. One real strength of the school and the last of the elements Barseghian highlights is the scalability of New Tech's framework. "As of now," she writes, "62 schools across the country are replicating the New Tech model (and that number grows)." Find out how to become a "New Tech" school: http://ww2.kqed.org/mindshift/2011/01/05/napa-new-tech-school-of-the-future-is-here/.
On Education Week's Learning Deeply blog, 10th grader Andrew Maya tells his story of an assignment to build a drone. Maya details the challenges and success of the task, and relays what he learned from his project-based learning experience. "This project taught me that things aren't going to be given to me. I have to figure things out on my own. No one assigned me a job or told me to get back on track. I had to mature and learn to do the work…Building my hexacopter was a life-changing experience. My mindset shifted as I realized that I now have the power to solve complex problems on my own." Read his full story on How Project-Based Learning Fosters Student Independence.
And while you're on Learning Deeply, be sure to also check out the Alliance's Robert Rothman's recent piece on incorporating social emotional learning into school programs.
Until next time!