Deeper Learning Digest: Stepping Outside the Classroom to Bring Academics to Life

January 19, 2018 05:05 pm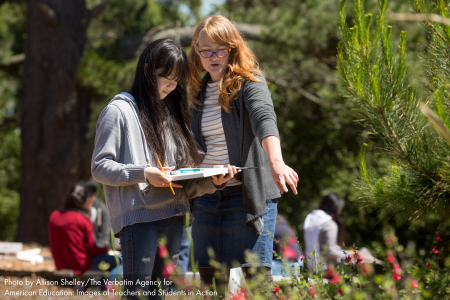 How can stepping outside of the classroom engage students in deeper learning? In this week's digest, stories on math trails and apprenticeships show how to engage students outside of school, while another story on "high-impact" classrooms shows how to transform spaces within schools to deepen student learning.
Math Trail Brings Students Outside the Classroom
Sometimes, bringing learning to life involves stepping outside of the classroom. One of these experiences is a "math trail," where students are asked to solve or create problems about objects and landmarks they see outside of the classroom. A math trail is a "one of those creative, yet authentic activities that stimulate engagement and foster enthusiasm for mathematics—and so it can be particularly useful for students in middle and high school, when classroom math becomes more abstract," says Edutopia.
Apprenticeships Prepare Colorado Students for Careers
In Colorado, apprenticeships are giving high schoolers work experience in high-wage, high-demand career fields, offering students a path to careers and college. Through the program, CareerWise Colorado, students from four different school districts have apprenticeships with 40 employers.
The model ensures that students are matching their work experience with academics. "Students split their time between a traditional classroom, the workplace and a training center, where they receive technical instruction they'll need on the job."
High-Impact Classrooms Transform Learning
How does classroom design impact student learning and student-teacher relationships? eSchool News highlights how a Texas school district leveraged a new model to overhaul classrooms and deepen student learning. By "using an infusion of technology, high-impact classroom furniture, and teachers' creativity," the Inspired Classroom project helps "districts create learning spaces that look, feel, and operate differently than traditional models."
Learn how this initiative provided new ways for students to learn and collaborate and helped to strengthen their 21st century learning skills.
Deeper Learning in Action
Twitter can be a great place to see what's actually happening to promote deeper learning outcomes in (and out!) of classrooms across the country. Here are a few examples. Be sure to follow @DeeperLearning and check out #DeeperLearning for more!
#DeeperLearning happens when motivated students carefully consider (or reconsider) essential learning standards. #EdChat

— N-Gage Students Now (@ngagestudents) January 17, 2018
A new student excitedly submitted her first entry for our STEAM home challenge this morning. She said, "I really like these kind of things. I'm an artist, a creator, a writer!" #DeeperLearning

— Alex R. Kennedy Elem (@AlexRKennedy1) January 9, 2018
#DeeperLearning#area4success@BloomBulldogs illustrating their learning while waiting for their delayed classmates! #histagrampic.twitter.com/cJbxiWwy0G

— Crystal Walts-Paulin (@5thgrade_rocks) January 8, 2018
The 'Deeper Learning Digest' is a bi-weekly roundup of articles, blog posts, and other content around deeper learning. Be sure to follow @deeperlearning on Twitter and like Deeper Learning on Facebook to stay up to date on all deeper learning news.
Photo by Allison Shelley/The Verbatim Agency for American Education: Images of Teachers and Students in Action