Deeper Learning Digest: Shifting to Innovation

December 02, 2016 04:33 pm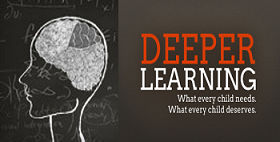 This week's Digest includes stories of innovation and shifting mindsets in schools and for students to promote deeper learning outcomes, as well as a few upcoming events and opportunities.

MindShift explores how innovative change is happening in big, traditional high schools. "It's easy to hear or read stories of innovation happening at other schools and write them off — those schools won a grant to try something new, or work with a less difficult population, or are charter networks, or are smaller," writes Katrina Schwartz, but innovation is happening in traditional settings in small steps.
Schwartz shares the work at West Seattle High School to shift pedagogy and offer models within the larger school to better fit some of the students. One such effort is a pilot advisory program with a small cohort of students that needed extra support. The student took classes together, focused on non-cognitive skills and team-building activities to break down barriers to learning.
The school is also taking some lessons from Big Picture schools, namely the exhibitions idea where students present their work and draw connections to their learning goals. Learn more about the school and their results so far.
Changing Academic Mindsets on the Field
A recent blog post by Council for a Strong America discusses an innovative leadership training program in Ohio for students with disabilities. As part of the program, Opportunities for Ohioans with Disabilities along with other partner organizations held a sports competition prior to the Paralympics in Rio this past summer that focused on teaching these eleventh and twelfth grade students deeper learning skills including critical thinking, effective communication, and self-confidence. "Deeper learning incorporates foundational skills that can help students succeed in whatever career path they take in life. Believing in oneself is critical to success."
The students worked together as a team, an activity that "transcends competition and instills confidence to overcome the obstacles encountered in college, at a job, and in life." Read the full post.
Deeper Learning Outcomes from Digital Learning
Tom Vander Ark and Emily Liebtag share 10 Ways to Use Quality Digital Curriculum in a post for Getting Smart. They discuss how implementing digital learning can be an opportune time to rethink school, noting how blended and online learning models have transformed learning to personalize it for many students across the country. Houston Independent School District (HISD) is named in the post as a leader in this space for using their shift to digital to open up larger conversations with the community about college and career readiness for their students. The authors also note ties between digital learning and deeper learning that fuel school and district support. The post uses HISD as an example to share ways districts can deploy high-quality digital learning and curriculum. Check it out.
School Retool Fellowship
High Tech High Graduate School of Education, IDEO, and the Stanford d.school are expanding the School Retool professional learning fellowship program. This program aids school leaders as they work to redesign school culture using small experiments called "hacks." Hacks are built on practices that lead to deeper learning and "can create the kind of big change you aspire to—namely, preparing your students for life in the real world." The fellowship includes workshops, coaching, peer support, and registration at the annual Deeper Learning Conference and runs from January 2017 through March 2017. More details and registration.
Assessment in Competency-Based Education
International Association for K-12 Online Learning (iNACOL) is hosting an upcoming webinar on exploring assessment and grading in competency-based education. The webinar will explore how to assess and ensure that students master topics prior to moving up to the next level of learning and how competency-based environments can create more equitable systems. Participants will also learn how assessment can support, enrich, and motivate deeper learning for students. Register for the webinar on December 15, 2016.
Deeper Learning in Action
Twitter can be a great place to see what's actually happening to promote deeper learning outcomes in (and out!) of classrooms across the country. Here are a few examples. Be sure to follow @DeeperLearning and check out #DeeperLearning for more!
Grade 8 learning buddies really are the coolest! Helping us-revise our written work to deepen the meaning! @SCDSB_Schools #deeperlearning pic.twitter.com/LV6Q7bQ6wl

— C Leppanen (@leppanens_world) December 2, 2016
Ss SCAMPER. Cheerios,Collaboration,and Creativity!#deeperlearning @HomeRunHaney @WSESSmithfield pic.twitter.com/IB05ClT5NA

— Cheryl A. Fortner (@MrsFortner1) December 1, 2016
@fossclass problem solving with multiplication. #collaboration#deeperlearning#mathspic.twitter.com/O7CzEWLmte

— Brothertonschool (@BandBschool) December 1, 2016
The 'Deeper Learning Digest' is a bi-weekly roundup of articles, blog posts, and other content around deeper learning. Be sure to follow @deeperlearning on Twitter and like Deeper Learning on Facebook to stay up to date on all deeper learning news.
Categories:
Uncategorized