Deeper Learning Digest: SCUBA Diving Into Deeper Learning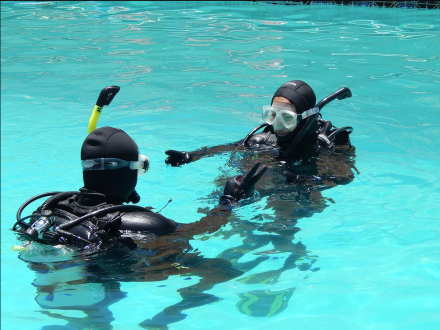 It's July and the summer heat is upon us. What better way to cool down than to take a swim? For students at High Tech High, SCUBA diving is a way to escape the heat and bring environmental learning to life. This week's digest also explores why proficiency-based learning matters to businesses, connects makerspaces to deeper learning, and highlights one take on the most critical element to a students' success.
SCUBA Diving Toward Environmental Change
Students at High Tech High are SCUBA diving into environmental education through a new school-based club that engages students and provides hands-on experience with the content they are learning in class. The club, started by twelfth grade Physics teacher Kalle Palmer, focuses on scientific skills, fostering a connection the ocean environment, overcoming fears and achieving challenging goals, and improving students' sense of agency so they can connect to their communities and create change.
The club also has a commitment to equity, bringing a diverse group of students to the field of marine biology and anthropology to challenge the dominant narratives and allow students to research the issues that are significant to them.
Learn more about how Ms. Palmer brought her own passion to the classroom to inspire and engage her students and see pictures of the club in action!
Catching Up on Makerspaces
Are you relatively new to the concept of a makerspace? Or have you been looking to "demystify" the makerspace with questions like what are they, why would we want one, or how can we get started? Jennifer Gonzalez asked those questions and more of makerspace expert John Spencer during a Cult of Pedagogy podcast episode called "What is the Point of a Makerspace?"
During the conversation, Spencer highlights how makerspaces are prime spaces to engage students at a deeper level and engage students in creative thinking, problem solving, and more.
"They need to be able to engage in iterative thinking, creative thinking, critical thinking, they need to know how to pivot, how to change, how to revise, how to persevere. They need to solve complex problems. They need to think divergently. All of those are involved in that maker mindset."
Why Proficiency-Based Learning Matters to a Chamber of Commerce President
What better way to prepare students to succeed in a workplace than to model the proficiency-based approach that rules in the world of work? If employees are valued for their skills, including communication, collaboration, and problem-solving abilities, why not adopt an approach to instruction and learning that rewards students for what they learn and can demonstrate?
Writing in the Portland Press Herald, Dana Connors, the president of the Maine State Chamber of Commerce, emphasizes the need to focus on proficiency-based learning to better prepare students for success in the workforce and close the skills gap that will eventually cause Maine to face a deficit of 15,000 high-skilled workers.
"Just as our workforces have changed and adapted over the years to meet the new needs – driven now by our place in an ever-changing and technologically driven global economy – so, too, should the way we teach our young people," writes Connors.
What's the Most Critical Element to a Students' Success?
It's not just about how smart a student is, explains Dr. Richard Clark of the Rossier School of Education at the University of Southern California. Too much emphasis is placed on intelligence, causing students who already believe that they can't do something to lose hope. Students must believe that there's a way to achieve the goals that are important to them.
So what's the missing piece? Watch the video below to find out.
You can hear more from Dr. Clark and other education experts during an August 1 webinar by All4Ed on how body and brain development affect student learning.
Deeper Learning in Action
Twitter can be a great place to see what's happening to promote deeper learning outcomes in (and out!) of classrooms across the country. Here are a few examples. Be sure to follow @DeeperLearning and check out #DeeperLearning for more!
We're having a blast w/our new summer programming! Thx to @MdPublicSchools, #NextGenScholars @ACPSchools participated in CareersCamp. Activities incl. a field trip to businesses, meeting professionals, "soft skills" games, comm. service & presentations @ family celebration lunch! pic.twitter.com/y1dFKrVAeY

— MDBusinessRoundtable (@mbrt) July 9, 2018
Yes! Watch this great conversation between @BobWise48 & @SchleicherOECD on how school systems can support student learning that prepares them for success in today's world: https://t.co/KenfvUz4dT #deeperlearning #worldclass https://t.co/iPlc6S8JBp

— Deeper Learning (@deeperlearning) July 13, 2018
What project management resources and tools do you use with students in their #PBL experiences? Share – don't be shy! #hqpbl#deeperlearningpic.twitter.com/KWuh80vmlH — High Quality PBL (@HQPBL) July 11, 2018
The 'Deeper Learning Digest' is a bi-weekly roundup of articles, blog posts, and other content around deeper learning. Be sure to follow @deeperlearning on Twitter, @deeper.learning on Instagram, and like Deeper Learning on Facebook to stay up to date on all deeper learning news.
Feature image from Kalle Palmer