Deeper Learning Digest: Robots Stealing Jobs? Not From Our Students!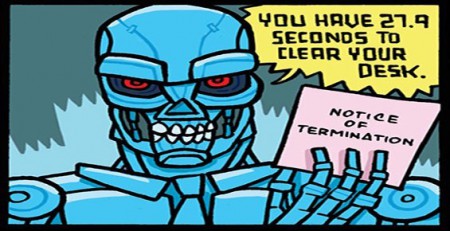 This week's digest focuses on preparing students for the future of work, deeper learning for equity in Kentucky, how deeper learning can lead to military success, and the upcoming deeper learning conference.
Ready for the Robots? Let's Prepare Every Student for the Future of Work
Could you be replaced by a robot? Jobs for the Future (JFF) poses the question of whether or not automation will claim your job – or your children's jobs – within several decades in a Medium post about the "Future of Work." One thing is for certain, says JFF, "no one can predict exactly what the jobs of the future will be."
So how does JFF propose to prepare our kids for jobs that we don't know will exist? Through focusing on deeper learning skills like critical thinking, creativity, problem solving, effective communication, collaboration, and more. This is explored further in a new book from JFF, Rethinking Readiness: Deeper Learning for College, Work, and Life.
(Robot Illustration by A.J.B. Lane)
Equity Through Deeper Learning in Louisville
A Getting Smart podcast episode tells the story of how two district leaders from Jefferson County, Kentucky, work together to create powerful and equitable learning experience for students.
During the podcast, Dr. John Marshall, Jefferson County's Chief Equity Officer, explains that "deeper learning is equity." By putting students at the center of the classroom and giving teachers the flexibility to give each student what they need, says Marshall, deeper learning is the key to an equitable education.
Diving Into Deeper Learning in New Hampshire
 New Hampshire schools have been focusing on both academic competencies AND deeper learning competencies in curriculum, instruction, and assessment. Schools in the state are diving deeper into how to help students progress in both these areas, so students are not only gaining skills in these areas, but the competencies are being leveraged to advance student learning and student agency.
Learn more about New Hampshire's efforts in this CompetencyWorks article.
Importance of Collaboration in Military Success
"In both medicine and the military, teamwork is such an important aspect," says Mission:Readiness member Brigadier General (Ret.) Lance Talmage, M.D., in a video sharing his thoughts on the importance of deeper learning competencies for today's young people.
Mission:Readiness, an arm of Council for a Strong America, explains that education can be a major disqualifier for the 71 percent of young adults ineligible for military service. Focusing on deeper learning competencies in high school can "improve our national security, improve our workforce, and prepare more of our children to lead happy, productive lives."
Deeper Learning 2018: Right Around the Corner!

Educators from around the country will be joining together next week, March 28-30, in San Diego, California to focus on creating more opportunities for students to experience deeper learning. This annual event will feature deep dives, interactive workshops, innovative makerspaces, and more!
If you are participating, tweet using #deeperlearning. Can't wait to see what you learn!
Deeper Learning in Action
 Twitter can be a great place to see what's happening to promote deeper learning outcomes in (and out!) of classrooms across the country. Here are a few examples. Be sure to follow @DeeperLearning and check out #DeeperLearning for more!
No single test can or should determine a student's college and career path. These 10 principles are a roadmap to helping state and district leaders build a high-quality system of assessments. Download here: https://t.co/WxQ5Z0aAQM #deeperlearning #edchat pic.twitter.com/Utk0uon6pE

— Deeper Learning (@deeperlearning) March 22, 2018
New image gallery of teachers & students engaging in @deeperlearning provides FREE photos available for use: https://t.co/meqhjFDrZk @all4ed #FutureReady

— Tom Murray (@thomascmurray) March 20, 2018
Learning lots with my sixth-graders as we hit the streets of Oakland. Special thanks to @CityofOakland office of Race & Equity, @OaklandUnityHS & Desi Mundo for an eye-opening, honest look at the work that lies ahead to become a just society. #BetterWorldProject @GeneseeCharter pic.twitter.com/5PQBtVEQBZ — Chris Dolgos (@CJDteaches) March 21, 2018
Oooohhhh! I love this! My kids did a great job with their close reading. #deeperlearning@ELeducation I can't wait to hear their thoughts on Overcoming Learning Challenges… pic.twitter.com/glYOIJNPV3 — Emily Lavender (@emily_lavender) March 13, 2018
The 'Deeper Learning Digest' is a bi-weekly roundup of articles, blog posts, and other content around deeper learning. Be sure to follow @deeperlearning on Twitter, @deeper.learning on Instagram, and like Deeper Learning on Facebook to stay up to date on all deeper learning news.