Deeper Learning Digest: Providing Multiple Avenues to Student (and Teacher) Success

February 06, 2015 12:35 pm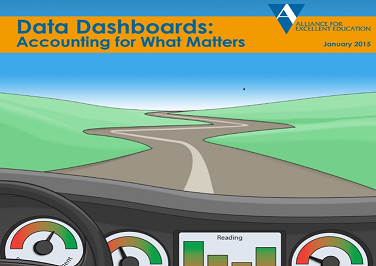 The 'Deeper Learning Digest' is a bi-weekly roundup of articles, blog posts, and other content around deeper learning. Make sure to add High School Soup to your RSS feed to stay up-to-date on all deeper learning news. Please be sure to follow @deeperlearning on Twitter for more on deeper learning.
---
Data Dashboards: Accounting for What Matters, a new report from the Alliance release January 29, makes the case for Data Dashboard systems in schools and school districts. Data Dashboards go beyond a test score when assessing achievement in schools and districts, providing more transparent and precise ways to continuously track performance, monitor accountability, and ensure the most at-risk students are not lost in the numbers.
This week, Monica Martinez, author of Deeper Learning: How Eight Innovative Public Schools are Transforming Education in the 21st Century, announced her online guide to building a deeper learning school. The Deeper Learning Planning Guide, which is based on Martinez's book, "offers practical guidance on the conditions that have to be established for schools to truly change their practices to ensure students leave school with the sophisticated content knowledge and skills needed to be critical thinkers, problem-solvers, collaborators and communicators."   
In the latest entry in the Alliance's "Core of the Matter" blog series, Elizabeth Schneider, chief of staff and senior vice president of strategic initiatives at the Alliance, writes about how several schools featured in the Alliance's Common Core and Equity video series are taking a multi-tiered approach to supporting students – especially those who are traditionally underserved – to ensure they fully absorb the deeper learning competencies that come along with the implementation of the Common Core State Standards.
"Most Likely To Succeed" is a new film that forces audiences to consider "what sort of educational environment is most likely to succeed in the 21st century?" And official selection of the 2015 Sundance Film Festival, the documentary makes the case for education reform that better suits today's economy that has transformed in lieu of public education. Filmmakers assert, "Change in schools seems hard but it's possible – we know because we've seen schools transform. Our team of world class experts has worked with hundreds of schools – public, private, lower grades, higher grades, urban, suburban, and rural – to improve learning."
Scott Hartl, president and CEO of Expeditionary Learning, lays out a framework for powerful and effective professional development for teachers. He writes that engaging teachers in active learning and empowering them with the tools for their own learning are among the ways deeper learning for adults can – and should – mirror deeper learning for students. Learning Deeply
"Would you know deeper learning if you saw it?" Libby Woodfin, a former teacher and school counselor and the director of publications for Expeditionary Learning said it's not as easy as you might think. Deeper learning ranges from traditional classroom work to hands-on activities and new technologies so spotting the difference in this new learning model can be a bit tricky. But Woodfin says it often comes down to looking for "students doing the talking and the thinking, engaged with the material and each other," as well as students "taking charge of their progress and reflecting on their learning."
If you need proof that deeper learning can take many forms, look no further than A. Maceo Smith New Tech High School in Dallas, Texas. The school took the internet by storm recently with a video featuring Theatre Arts Teacher Scot Pankey and his students grooving to Mark Ronson's "Uptown Funk." Pankey contributed the video's success to the teamwork of the many students featured. Click the embedded link below check out the school's video.
An annual report based on two large-scale surveys of education decision-makers reveals that school technology budgets are growing stronger, school leaders are seeking Common Core-aligned instructional materials, and there is a growing demand for tools that improve teaching and personalized learning. eSchoolNews
Dr. Kirk Lewis Career and Technical High School has deployed adjustable standing desks in a freshman geography class which allow students to change the height of the desktop for sitting or standing or for using different technologies in an effort to support project-based learning and open collaboration. THE Journal
At Springfield Renaissance School in Springfield, Massachusetts, founding principal Stephen Mahoney uses "a tight, purposeful, and orderly school climate as the starting place for a teaching and learning culture centered around the three Rs–Rigor, Relevance, and Relationships–in an intentional and transparent way" to help his school succeed. Finding the right balance between "sweating the small stuff" and engaging students in authentic learning experiences, according to Mahoney, sets the table for an environment steeped in deeper learning. Learning Deeply