Deeper Learning Digest: Promoting Opportunities for Deeper Learning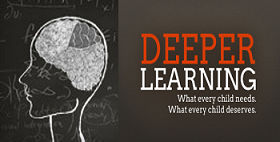 How are different states helping to promote deeper learning? The Great Lakes and Midwest Regional Deeper Learning Initiative at American Institutes for Research  shows how state education agencies are enhancing competency-based education initiatives, personalized learning, flexible learning pathways, and more to help expand deeper learning opportunities in more schools. The figure below shows deeper learning approaches happening at the state-level (click the image to expand).
Wisconsin has joined a group of states that are developing student-centered approaches as part of the Innovation Lab Network run by the Council of Chief State School Officers. In Ohio, there's a competency-based education pilot that provides grants to multiple sites across the state, allowing for the development of programs that innovate learning, deepen college and career readiness skills, and support struggling students to ensure they have mastered a subject before advancing. See more snap shots in other states.
Timing Matters for Deeper Learning
Time matters when it comes to deeper learning, writes Chris Sturgis on International Association for K-12 Online Learning (iNACOL) blog. Because learning on a deeper level requires more time, schools must be mindful about how the day, semester, and year are structured to allow for more deeper learning opportunities and integration of standards and skills. Sturgis also writes about how to factor time into the design of a competency-based learning model, as students demonstrate proficiency at different rates. She also explains that it is critical for schools "to strategize early on about how students with gaps will receive additional supports within the time allocated for projects and deeper learning." Check out the full post.
Deeper Learning Still Not the Norm
In an interview with Ron Berger, Libby Woodfin, and Anne Vilen, the authors of Learning That Lasts: Challenging, Engaging, and Empowering Students with Deeper Instruction, discuss how deeper learning is "not the norm in most schools"—even though most schools could look at a list of deeper learning competencies and acknowledge that these are the skills they wish to instill in all students. The authors explain that teachers are often pushed towards "shallow learning" because of various pressures, including covering a lot of content quickly and an emphasis on testing. In their book they share a model for instruction that is made up of a three-part structure to challenge, engage, and empower students, and promote deeper learning. The full interview is available at: http://blogs.edweek.org/teachers/classroom_qa_with_larry_ferlazzo/2016/08/learning_that_lasts_an_interview_with_ron_berger_libby_woodfin_anne_vilen.html.
Playing Around with Learning Games
Greg Toppo, national K–12 education reporter for USA Today and author of the book The Game Believes in You: How Digital Play Can Make Our Kids Smarter, discusses how games can support deeper learning in an interview with Abner Oakes, the Alliance for Excellent Education's director of outreach and strategic partnerships. Toppo says that good, well designed learning games reflect each of the deeper learning competencies in some way, helping players to "master core content, think critically, and solve complex problems." And, he adds, "In many of them, collaboration is key, as is communication." When it comes to the "learn how to learn" and "develop academic mindsets" competencies, Toppo says that these are the most important things that the games accomplish. "Because games encourage players to spend a lot of time with the material, playing and experimenting and trying out different solutions, they help develop a natural love of learning and, for lack of a better term, a "growth" mindset." Read the full interview.
The 'Deeper Learning Digest' is a bi-weekly roundup of articles, blog posts, and other content around deeper learning. Be sure to follow @deeperlearning on Twitter and like Deeper Learning on Facebook to stay up-to-date on all deeper learning news.