Deeper Learning Digest: Project-Based Learning Leads to Deeper Learning Outcomes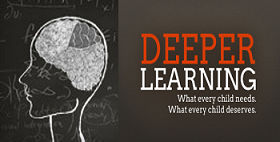 What is the gold standard for project-based learning? Tom Vander Ark explores the different variations of project-based learning (PBL), to help provide a framework for educators who are seeking to select a strategy that fits with their intended outcomes. Vander Ark shares the various elements and principles to consider when designing projects, as provided by the Buck Institute for Education (BIE) as part of their Gold Standard PBL. These parameters include several strategies that have deeper learning outcomes at the center, including ensuring that the project is focused on "student learning goals, including standards-based content and skills such as critical thinking/problem solving, collaboration and self-management." Vander Ark also gives examples of schools using a PBL teaching method that follow these strategies. Learn more: http://blogs.edweek.org/edweek/on_innovation/2016/06/is_it_a_project_or_an_activity_project-based_learning_and_its_cousins.html.
Technology can provide support for PBL in the classroom, says Paul Curtis, director of curriculum for the New Tech Network, changing the "tone" of the classroom by asking teachers to give up the script, according to an article in EdSurge. Curtis notes that technology can fuel curiosity by putting students in charge of learning and exploration, provide a "construct or scaffolding" for project-based work, and act as aid in a flipped classroom model. EdSurge shares fourteen tools that support teachers and students in PBL, since as Curtis explains, "the best way to improve student performance is to improve the capability of teachers…so we're looking for tools that enhance, not replace the teachers." Take a look at the list: https://www.edsurge.com/news/2016-06-22-when-tech-meets-project-based-learning.
In Virginia, one school district is using a Making-centered learning approach that encourages students to solve problems by tinkering, building, inventing, or otherwise creating physical or digital artifacts. Albemarle County Public Schools (ACPS) is one of the first school districts nationally to recognize the value of Making, and was featured by the Alliance in a recent post on deeperlearning4all.org.  Chad Ratliff, director of instruction for ACPS discussed his efforts to bring Maker-centered work to the district and its connections to deeper learning. Check out the full post, including videos of ACPS students in action, at: http://deeperlearning4all.org/deeper-learning/making-an-impact-one-districts-approach-to-deeper-learning.
On Education Week's Learning Deeply blog, Kathleen Cushman shares her experience observing English language learners complete a two-month cross-disciplinary project, as "an example of deeper learning in the elementary grades, with students who are often dismissed as 'not ready' for such thinking." She explains how she saw their teacher "steadily push her students' learning deeper, in a potent fusion that heightened their social and emotional engagement, created personal connections to the material, and helped the children see history all around them." The students engaged in collaborative work, but communicated their learning in individual products, Cushman writes, that focused on social justice movements in California. Read more: http://blogs.edweek.org/edweek/learning_deeply/2016/06/watching_fourth_grade_english_learners_go_deep_part_2.html.